At just 19 years old, the Los Angeles native Ak'Sent (nee Krystle Johnson) is on the cusp of her musical career. Touring with Teen People and working with big time industry players such as Beenie Man, DJ Quik, Scott Storch and Manny Fresh on her debut album International is just part of the process that's helping her climb the industry ladder. Having worked at it for some time though, Ak'Sent is definitely no stranger to the game.
Even before the rapper of hot singles "Zingy" and "Pick Up" landed a Capitol Records contract, she was a small girl with a mind for big things. "I started to get into the industry when I was 14, but 15 was the age where I started to write and create my own songs. By 16 I had already been doing my demo and was looking for a record deal. I had to make my own deadlines," she says of the steps toward a career that was seemingly in the stars. In a way, the lovely voiced half Latina , half African-American beauty grew up destined to do something with her talents inherited from her late father. "My dad was the number one influence because he was a rapper. When I finally went back and was able to face listening to his music and all the stuff he did [before his death] I was finally like, 'Okay, this is something I want to do.' It was a legacy that I wanted to keep going."
Taking charge of her future, Ak'Sent began to hone her skills in rapping, though her talents stretched over a much more diverse arena. "When I was younger, I did a lot of stuff," shares the star. "I sang, I danced--I loved to dance. That was my first passion, but I got bored of it," says the fancy foot-worker who once trained under Debbie Allen and Lula Washington. "Rapping was something I always wanted to do and I just leaned toward that more than anything else. I got it in my head, if you're going to do something, you don't just do something, you have to love it."
Now, to live up to her moniker, Ak'Sent is leaving more than just a small mark doing what she loves to do. Though the female rapper sets her own precedent, she's not unphased by the women rappers that have preceded her. "I am definitely a big fan of Missy Elliott," she reveals. "She's just so talented and creative. I also love Lil' Kim and what she does. She's paved the way for a lot of young female rappers to feel good about themselves. There are definitely people that I look up to, like Queen Latifah and Foxy Brown. They have all given me a lot of girl power!"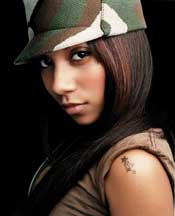 Though Ak'Sent hasn't climbed the highest she is prepared to climb in her career by any means, she's also still not used to the fame her talents have already brought to her. "The most overwhelming thing has just been trying to see regular old me in the industry. I still act the same, I do the same things, my sister and I do the same silly stuff," she laughs. But she's faring well in the world of fame, too. "Being on TV doesn't really get to me. It's like a job for me and it's something I feel like I have to do now because I started off so good. Now I have to finish off good. I'm always on my toes and just trying to make my next move better than my last one."
Speaking of moves, you'll catch Ak'Sent doing more than just "regular" stuff on stage if you haven't experienced it already. "It's crazy!" she says of her onstage persona. "The energy is high and it's nonstop! A lot of people tell me that when they see me perform and when they hear me, it's like night and day. I think the performance is everything because once people see you perform, that's who you are. So I'm definitely working on my performance to perfect it." If you missed her Teen People Rock N' Shop Tour 2006 performances, get geared up to find Ak'Sent on the road at one of her upcoming gigs. She's poised to put the spice in your ear and in your step.
---
RELATED LINKS