Time goes quickly. Take a look at the career of Grammy award winning artist Amy Grant. For over 25 years Amy has been writing and performing Christian, folk, and pop music that has given her worldwide appeal and hits. In fact, she has been credited many times over of helping launch the Christian music genre. Born in Georgia, she now resides in Nashville with her country superstar husband Vince Gill and their family.
On a cool summer night, the outdoor theatre of Ravinia welcomed Amy Grant, her band, and the Ravinia orchestra. Amy walked on stage wearing a long, flowing black and violet dress and immediately hooked in her guitar to perform her vast music selection of songs. What a treat it was with the power and grace of the Ravinia orchestra performing with her and her band. Her songs took on a breath of fresh air and extraordinary sound.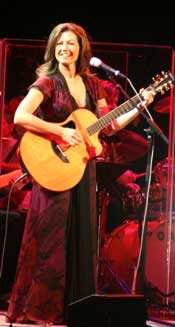 During her performance she smiled brightly speaking of her husband Vince and their family.Amy likes to tell stories, and she gave the large crowd at Ravinia a brief introduction onthe meaning of many of her songs she wrote.One story she told was about her song Ask Me – which is off her multi-platinumalbumHeart In Motion. Amy told the Ravinia crowd that the song was written about a dear friend that she had known for many years. One day, during a long walk, her friend suddenly told Amy about an abusive childhoodshe had. Amy was shocked but amazed on what a wonderful and strong woman she had become, and wrote Ask Me about her friend. She performed other hits like Baby Baby - written for her daughter, Takes ALittle Time, House of Love, Oh How The Years Go By, and gospel favorite El Shaddai. She also performed Joni Mitchell's Big Yellow Taxi, and she sang a breath-taking rendition of Elvis' Love Me Tender.
With a brief intermission, Amy then took stage in a tan,strapless, mid-length dress. She grabbed her guitar and powered on performing her hits, and a few times during the night she simply had her band stop and the orchestra played while Amy sat happily and listened. She closed her set with her Top 40 song I Will Remember You.
Amy Grant is releasing a brand new DVD and CD entitled Time Again...Amy Grant Live.This collection will intersect her road of hits from many genres and is a must for any music fan. Take a listen to Amy or catch her on tour to listen to her vast hit song collection and her purely magical voice.
---
RELATED LINKS