"Lewd behavior, blood, and torture await those who travel further, an unspeakable hell of depravity for those who continue down the tunnel – proceed and you will taste the flavor of your own flesh." – A warning from Rob Zombie's upcoming animated adventure "El Superbeasto", but for now he is back to the music. At the beginning of the show audience members were treated to a little sneak peep show of the wild animation feature due out soon.
Zombie is a multi-talented artist whose credentials include video and movie directing as well as his artistic endeavors in ink; but what really rocks is his music. Returning to the stage in support of his current release "Educated Horses", Zombie gave worshipers what they wanted; a superbeast! This is a straight forward show to revive Zombie with the blood of his fans.
With an extremely stripped down theatrical show, Zombie showed off his muscled toned physique to an adoring crowd. In a relentless show that places Zombie atop of three skulls embedded with foot lights while his video portfolio is projected on the back wall of the stage bringing forth a horrific assault to the senses that I'm sure gave many nightmares. Most of his creativity is going to the myriad of media projects that taxing the Zombie.
This 'Franken-Rocker' jack-hammered a few new tunes from his current release Educated Horses into the audiences' skull but snagged fans attention by in playing some of his most hookable songs. Not afraid of his roots he played catchy tunes like "Living Dead Girl," "Supercharger Heaven" and the White Zombie anthem, "More Human Than Human."
During 'Human' he was joined on stage to what I can only describe as the 'Astro-Creep'; a 10-foot monster alien which brought a kind of happy madness to the show. It was like going back to your childhood and watching old horror movies that use to scare you, but now you laugh at due to the campy sci-fi effect. It's still cool; Zombie makes macabre into melodrama.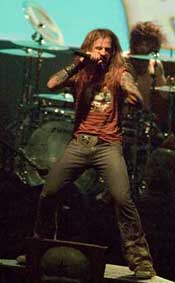 Zombie's latest stick is to goad the audience into going wild by stating that he is looking for the right audience for his upcoming live DVD. With the first rift of "Thunder kiss 1965" Zombie stopped the guitarist and demanded that the audience get wild. After a few pitiable attempts the audience finally got the boogeyman vibe and stomped the floor so hard that the sound board in the audience was starting to wobble. Multiple Massive Mosh pits formed and all hands were raised to the Zombie king.
Zombies' music hits you like a Dodge Durango on a dirty back road filled with road kill where archangels turn tricks for demon drivers; or so I've been told. Witness the sci-fi tribal horror that can be nothing other than Rob Zombie.
SET LIST
"Sawdust In The Blood"
"American Witch"
"Deamone Speeding"
"Living Dead Girl"
"Creature of the Wheel"
"More Human than Human"
"Never gonna stop"
"Let it all bleed out"
"House of 1000 Corpses"
"Supercharger Heaven"
"Foxy Foxy"
"Thunder Kiss 1965"
"Superbeast"
"Dragula"
"Blood Milk and Sky"
---
RELATED LINKS