Snow Patrol took the stage Saturday night at the Riviera to the opening riffs of "Spitting Games" and the crowd responded with enthusiasm that had been building since their canceled show in June.
Earlier this summer, lead singer Gary Lightbody suffered from polyps on his vocal cords, which forced Snow Patrol to scrap most of their US tour dates. Luckily for Chicago, the show was moved from the smaller Vic Theatre to the larger Riviera Theatre, allowing for more tickets to be released for the sold out show. The show was well worth the wait.
During the 90 minute set, the band played many crowd favorites including "Chocolate" (inspiring a sing-along), "Run", and "How to Be Dead". It's hard to tell if it was the Illinois t-shirt sported by the lead singer, his entertaining facial contortions, or the richness of his slightly Irish-inflected vocals, but the crowd was captivated.
After the anthemic "Make This Go On Forever", Gary introduced a song that may have contributed to his throat problems and that he claims they hardly ever do in concert because it is "so hard to f*&%ing sing, but Chicago seems to be an appropriate place." The audience responded by screaming along to the lyrics of "Hands Open" – "Put Sufjan Stevens on / and we'll play your favorite song / 'Chicago' bursts to life / and your sweet smile remembers you."
Snow Patrol also treated us to "Chasing Cars", the lush single featured on one of last season's hottest shows, Grey's Anatomy. This single from the album Eyes Open, following the two million seller Final Straw, and is probably your girlfriend's favorite song.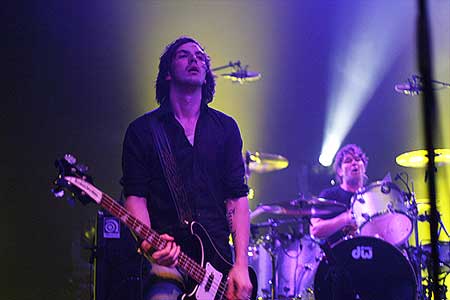 Hailing from Belfast, Ireland, Snow Patrol describes their music as "beautiful powerful songs underscored by some of the most poignant and telling lyrics in rock." Their songs are often poignant and personal ("Run", "Grazed Knees", "Same"), while others build to great rock crescendos ("Make This Go On Forever", "Open Your Eyes"). Part shoegaze, part rock, part Britpop – Snow Patrol has versatility that is rarely matched by most bands.
For some odd reason, Snow Patrol is often compared to Coldplay in the press, but don't believe it. I suppose it is a bit more original than being compared to U2, the only band from Ireland that most journalists can remember, but just as irrelevant. If you missed the show, rumor has it that they won't be back in the Windy City until late next year. I recommend picking up their last two albums (Eyes Open & Final Straw) and tracking down the highly entertaining cover version of "Crazy in Love" (yes, Beyonce Knowels of Destiny's Child!) that is floating around on the internet.
"Strain this chaos turn it into light
I've got to see you one last night
Before the lions take their share
Leave us in pieces, scattered everywhere"
-"You're All I Have"
SET LIST
Spitting Games
Wow
Chocolate
Beginning to Get to Me
Headlights
Grazed Knees
Chasing Cars
Shut Your Eyes
How to Be Dead
Somewhere a Clock is Ticking
Make This Go On Forever
Hands Open
Ways and Means
Run
You're All I Have
ENCORES:
Open Your Eyes
Tiny Little Fractures
---
RELATED LINKS