This was nothing to miss!. Promoted by the popular alternative station of Chicago Q101, the station dispersed tickets through out the week with only a week from the show's public announcement on Thursday - September 12, 2002. One week announcement made everyone scramble to be able to see Disturbed on the September 19, 2002 no other place then the classic venue The Vic, where Metal Icons such as Danzig, Iron Maiden, and the one and only Lemmy with Motorhead had performed years before.
Promoting their new CD "Believe", Disturbed signed autographs at a local music store showing to all their fans that they are there for them. Disturbed is scheduled to hit the road with heavy hitters "KORN" for the remainder of their North American tour starting in October 2002. Disturbed is scheduled to play a few shows in small clubs through out the mid-west giving fans old and new, proving loyalty to a band that started playing in Chicago. Making this rare appearance, not waiting till after Korn showed they have not forgotten how everyone loves their music in this city of Rock and Roll and a pre-tour performance was a must.
Promptly starting at 8:30 PM, rolling out their new single "Prayer" for the long awaited act to get back on tour. This time around Disturbed is world known and we are lucky to see them at a venue of such size making it very personal of all that have attended. Even before Disturbed set their feet on stage, David Draiman greeted the fans from the balcony as everyone screamed and waited in anticipation. Disturbed has made their mark in rock and metal and I am sure that by the next time around they will be playing venues and passing up most metal acts on the scene. We are sure to see Disturbed in the near future head lining stadiums in the coming future as they take the throne of Metal Glory.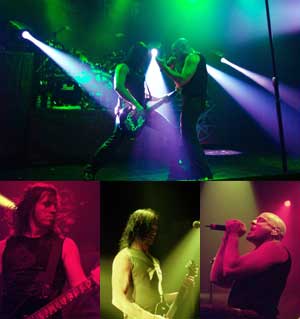 Proving to all in attendance that Metal is not dead, Disturbed put out a full set that must have been more then 90 minutes from their newest and past release. Disturbed has got to be one of the few bands recently that put out a power house CD where most of the songs made radio play. This is no one hit wonder, holding with Metal tradition, putting out metal that will be valid in the years to come and not just something that passes by this week. Rocking hard, proving they are the new kings of metal with a tour to start.
The guys from Disturbed put out a full tilt performance and most likely we have just tasted of what is to come, the year of Disturbed.

Continue to Disturbed Photo Gallery