For those of you who do not know Ani Difranco it would take a long time to describe the diversity of this folk singer. The short description comes from an open letter she sent to the publishers of MS. Magazine for a hopeful request that her grave stone read; "songwriter, musicmaker, storyteller, freak," and not C.E.O.
History will remember DiFranco as a woman who was not afraid to speak her mind. She is the embodiment of the 'everywoman' out there in that her lyrics cut though the bone and yet can be gentile. Defiantly unsure of where life may take her she boldly marched forward in touring of support of her current release "Reprieve."
DiFranco jumped back into her extensive touring schedule, after a bout of tendonitis, at the historic Chicago Theatre (where one of her bootlegs was recorded) as part of a Trio of performers which include Mike Dillon on percussion and Todd Sickafoose playing upright bass.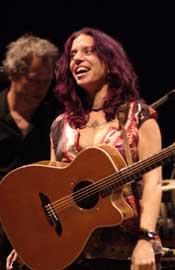 Bodaciously plump from her pregnancy, she wasted no time in rallying the troops in what was a highly energetic and profound concert. The pacing of her show is an enigmatic experience with shouts of praise and requests emanating from the audience. Interspersed with poetry readings and plucky stage banter DiFranco dug deep into her extensive catalogue (18 releases not including bootlegs since 1990) and took no prisoners in her expressive plucking of her guitar.
The absence from the road had given her renewed vigor and with this being the last tour before she takes her own Reprieve to give birth it seemed like she, as well as the audience, didn't want the show to end. But alas after a 16 song set, with two encores, DiFranco's fans were stirred but not shaken in their feministic foundation. Long may the Righteous Babe Reign!
Set List:
Shy
Manhole
Half Assed
Knuckledown
78% H20
Done Wrong
Nicotine
Lag Time
In the Way
Unrequited
Napoleon
Decree
Independence Day
Reprieve (spoken)
?
Recoil
Shameless
Hypnotized
---
RELATED LINKS