Bronze, aiming to be one of the best-selling female R&B group of all times, bringing to the table a blend of R&B, Hip-Hop, and Urban Soul. Bronze is Kimberly McCrea, Tovia Williams, Chantel Gonzalez and Constance Henderson, manage to appeal equally to the Pop and Krunk audiences, blending catchy hooks and a variety of attitude! Fans range in ages from teen to the mid-twenties. Bronze has performed a variety of shows around the Tampa Bay Area ( Florida), always leaving the crowd wanting more!
Bronze's many other talents include dance and performance skills to rival some of the best entertainers, and it does not hurt the ladies that their writing skills are another addition to the list of positives this group brings.
Initially, Bronze's image was set to appeal to all different musical tastes and styles: Kimberly a.k.a. "Lady" is the sophisticate of the bunch bringing "elegance and class"; Tovia a.k.a. "Tahh" represents The Island Doll, bringing the "heat and beauty of the Islands"; Constance a.k.a. "Lil' Mama" representing The Nicety Group, hosting sex appeal blended with a "good girl attitude", and last but not least we have Chantel a.k.a. "D'nique" representing Hell's Angels, letting you know sometimes it's "good to be bad!" Consisting of beauty, talent, freshness and variety of this sexy quad, again I Introduce to you...BRONZE!!! Ready To Color You're World!
---
Dan Locke: What is the genesis of Bronze?
Bronze: Bronze was originally formed in early 2000's, two of us were are sisters (Lady & Tahh) and we were already in a female singing group called "Jevi", which did not work out. Tahh was a dancerette at a local high school, where Lil Mama and D'Nique attended, who were also dancerettes; Tahh mentioned to Lil Mama that they were thinking about starting a new group, since Tahh and Lil Mama were already best friends, Tahh at the time didn't know she could sing! Lil Mama and Tahh were discussing the issue and D'nique overheard the conversation and was like I can sing too!! We auditioned both girls, the "Group" look was already there, we put the sound together and it fit perfectly and Bronze was born!
Dan: How do you define your music?
Bronze: Chamillionistic!! (new word!) Our music and style changes so much! We have a feminine edge to the music, where one song may be soft R&B and then the next song is rock 'n roll!! It can fit into any genre, but our main genre would be R&B/ Soul. Our music deals with different issues, we always try to tell a story in our songs, where there's a beginning and an end.
Dan: How do you see yourself in a year and beyond?
Bronze: WOW! In a year or so, we hope to be signed to a great label and making "HOT' videos! Touring with a large fan base and of course making lots of money!!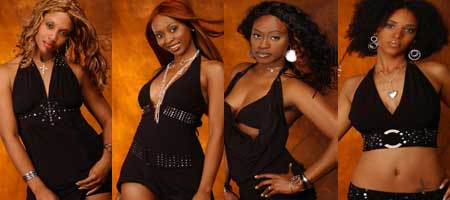 Dan: Who have you open up for?
Bronze: We haven't opened up for any big acts yet, but we're working on it. We usually do events like fashion shows and conventions, things like that.
Dan: Who would you like to open up for?
Bronze: Man, Beyonce of course! Whitney Houston, Jay-Z, but to open up for any star would be a blessing!!
Dan: What is in your iPod player right now?
Bronze: (Lauging) Bronze!! Tahh listens to John Legend, Lil Mama listens to Keyshia Cole, Lady's player has any Old School love songs, and D'nique player has dirty south mixed tape
Thanks so much for the Opportunity!! Bronze Love!!!
---
RELATED LINKS