When U2 announced their New Zealand tour dates about this time last year everyone was extremely excited. My mother lined up an hour before the tickets went on sale to find that the concert sold out in a record breaking time of 50 minutes. We actually missed out on tickets for both concerts, both times and were sad for the next four months.
U2 were due to come this March but cancelled only a few days before the concert due to a family issue. They then re-announced their dates as the 24 th and 25 th of November 2006.
The build up to these shows was amazing, signs were being put up and people were painting U2 on hillsides.
Luckily for us only 2 days before the first show they released 1000 general admission tickets. We managed to get hold of three and secure a spot roughly 50 metres from the stage. The rain was coming down persistently but it still couldn't dampen the mood of the audience who had been holding onto tickets for a year. U2 were late on the stage due to the rain which was pouring down during Kanye West's performance. When U2 came on it was a moment I will always remember, the massive 30 metre staging coming to life and Bono walking on with his warrior's (NZ rugby team whose stadium U2 played in) jacket.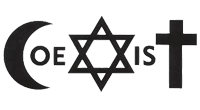 They started off with City of Blinding Lights then went strait into Vertigo. The background staging was amazing and was especially spectacular from where I was standing. Bono then thanked the crowd for waiting and thanked everyone for holding onto their tickets before belting into Elevation then I Will Follow and New Year's Day.My favourite U2 song is Beautiful Day which they played next with Bono adding in "land of the long white cloud" and other phrases that made the song more kiwi.
Finally came the moment New Zealand had all been waiting for, One Tree Hill. Bono dedicated the song to their Maori Roadie Greg Caroll who died in 1986. Bono and Larry Mullins Jr. returned to NZ for his funeral or tangi. The Maori Koru was on the big screen as Bono tried to fight the emotion he felt as he sung the song which he had not played live in 13 years. Bono left out 2 verses of the song at the end when his emotions got the better of him.
Bono still emotional when he finished started talking about Gregs and his father's funerals. It set the mood for Sometimes You Can't Make It On Your Own. The songs lyrics were powerful and hit the audience. I was sure that the girl standing next to me was crying. After several emotional songs, U2 played Love and Peace which was remarkable as Larry took a portable cymbal and drum into the circle staging and played a song with Bono wearing his religious symbol bandana. Bono then traded places with Larry on the drums proving he can do anything.
This led into the next song Sunday Bloody Sunday which I missed out on because the guys behind me decided they would have a drunken punch up ending in one of them being kicked out.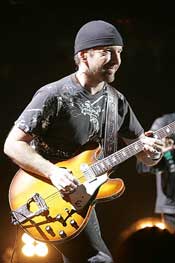 During Bullet the Blue Sky, Bono placed his bandana over his eyes as a symbol of blind in war. In Miss Sarajevo Bono sang not only his part but also took on the role of Pavarotti proving he has some of his father's opera in him, they continued as they performed Pride (In The Name of Love) in which was dedicated to Martin Luther King, Jr. before playing Where The Streets Have No Name. Finally concluding with One before the band thanked the crowd for coming and left.
As predicted U2 came out for an encore performing The Fly, Mysterious Ways and With Or Without You during Mysterious Ways Bono invited onstage a young woman presented her with his hat while he serenaded her. The young woman expressed a shy girlish smile and was overwhelmed with attention. Quickly as the song concluded the young woman returned Bono hat and was escorted off the stage. This young woman has attained some celebrity status in the past week in NZ.
Finally U2 left the stage before coming back one more time for yet another encore which Bono kicked off with their newest hit, recorded with another of my favourite bands Green Day, in the second encore tehy performed The Saints Are Coming before they ended with Angel of Harlem and finally Kite.
The U2 concerts have gone down in history in NZ. People travelled from all shores of NZ and beyond. My mother and I were extremely lucky to have secured tickets and I am glad we did. The only complaint I had was the pain my back was in after 5 hours of standing, however it was absolutely brilliant and worth every bit.
November 24, 2006 Set List
City of Blinding Lights
Vertigo
Elevation
I Will follow
New Year's Day
Beautiful Day
One Tree Hill
Sometimes You Can't Make It On Your Own
Love and Peace
Sunday Bloody Sunday
Bullet The Blue Sky
Miss Sarajevo
Pride (in the Name of Love)
Where the Streets Have No Name
One
The Fly
Mysterious Ways
With or Without You
The Saints are Coming
Angel of Harlem
Kite
The photos presented in this article are by Rob Grabowski. For photos taken at the Aukland, New Zealand show, visit the New Zealand Herald by accessing this link.
---
RELATED LINKS