Three backup singers are warming up in the green room just over the back kitchen of a club on the north side of Chicago. They tighten up harmonies while going over parts for the evening's concert. Still, the star of the show, Josie Aiello is off making sure all of the details of her record release party goes well. Even though she should be resting, Ms Aiello bursts in and begins working the crowd.
The record release party at Marty's in Chicago, IL (her home town) is packed to the gills. Old and new friends, industry professionals and family are all gathered to hear the new songs from the president and CEO of Lady J Entertainment (Josie's own record label).
Aiello is an award winning songwriter that takes her own life issues, ponders tem and then presents them to world. Where I Am, the title track finds Aiello at a cross roads in her career. "I tried to run my life, but it's been running me. Disappointments my friends; who needs enemies. Confused about heaven and scared as hell, yeah I got issues...well," lyrics from Where I Am.
Where I Am has the intensity of her previous release Unkunvenshunal Girl, but chills out vocals with music and incorporates neo-soul with hip-hop, Latin and world beat rhythms. She is multi-talented individual that knows that it takes more than one person to creative a great body of work. From the stage the gives shout outs to producers, songwriters and musicians that have helped her achieve her current project.
Her band comprised of young hungry musicians that walk a spiritual journey with Aiello. She has incorporated some youth members from her church that bring their own musical influences to Josie's style. The Where I Am is more of a group project tan one person's vision. The CD includes local artists: Ladee Flipside, Devin Thompson, Pastor Chris Harris, J. Stokes and Chrystal Harris. Make no mistake, it's all Josie, but she is more like the conductor in this train ride.
Aiello took some time before and after the show to convey where she currently is and where she wants to be. Looking back, Aiello has always been a part of something special. When she was nine years old she worked in her Dad's Sicilian restaurant on the north side of Chicago.
"I would make the salads for the meal. The salad station was just around the corner from a piano in the main dining room. On weekends my older sister would wait tables and sing for tips. One afternoon I told my parents that I wanted sing. They said No, you can't sing, but I was determined and the one time my sister gave me the mic, I never gave it back to her."
Though growing up in a restaurant, she is the fist one to admit that she can't cook. Her talents would flourish elsewhere, and initial persistence to sing carried her along her dream of being a professional singer.
Relocating to Los Angeles Aiello was rewarded with voice over gigs as well as singing in the studio with artist that she had toured with on the road. Some of her voiceovers even made it back to the Midwest in that she can be heard on WNUA 95.5 in some of the station identification spots.
"I was out in LA and my friend Brian Culbertson (A internationally renown keyboard and trombone smooth jazz musician from Decatur, Illinois) and he was doing station ID's and he called me up and said, 'you wanna make some dough?' and I was like yes! (Josie then demonstrates...a vocal hey-a-a-hey...and the stations call letters bringing chills up my spine.) Now you know!"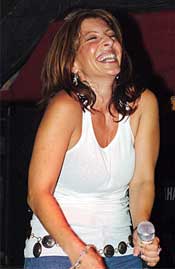 Spending a number of years in Los Angeles, she developed her own hybrid sound; a Midwestern view with Sicilian roots ala' LA flavor. She continued to fill out other artist harmonies with her backup vocals but expanded her talents to songwriting; which is how she hooked up with Quincy Jones.
"He (Quincy Jones) heard that song (Heavy Heart, written with Henry Mason Jr.) on a demo and saw that I was just going for a publishing deal. And he was like, 'who is singing that song?,' and I said that's me. So I went to his house, but I only had a five song demo. He asked me if I had anything else, but I had just moved out to LA and I didn't have any money for a demo. I then asked if there was a piano around, and he said yeah. So I plunked out a couple of cords for a couple of other songs, and that's how he signed me as an artist. The next day I had a deal faxed to my attorney. That was one song and he just felt that it was a well written song, and I won the USA Songwriting Competition with that."
Aiello was now getting her footing in the LA scene. She was singing duets with Kenny Loggins and featured vocalist on the soundtracks for five movies, Southpark, The Out Of Towners, To The Max (Featuring another Chicago treasure Michael Jordan),That Thing You Do, and most recently seen singing in The Guardian. She had just released her first record Unkunvenshual Girl and now she was singed to Quincy Jones record company (Qwest / Warner Brothers Records), but with all things change is constant.
Record companies are continually gobbled up by large conglomerates and sometimes in the process artists have slipped though the cracks when a company is taken over. The parent company for Quincy's record label was bough out an all current projects, including Aiello's, were dropped or put on hold. In the face of discouragement, this still didn't stop Aiello. She went on to write another song that was to be featured in an upcoming movie featuring Faye Dunaway and Michael Douglas.
"The Call, which is the last song on my new CD, was in the Gospel category of the songwriting competition. I actually wrote that song in LA for a Paramount Film called The Calling and it was about this evangelist who was a real radical. It was going to be the title track and then the movie didn't get made. So the song just sat on the shelf for a couple of years. And then I was like you know with the first track of the current CD My Prayer opening the record I need something spiritual and uplifting for the end of the record and I was like, Ah Ha! The Call. And then I recorded it, but it needed something. So I went to church and my pastor's daughter Chrystal Harris, 13 years old at the time, gets up there and blows me out of the pew. So I asked her if she would record that song with me and it only took two takes to get it right. The first take she was just getting levels and then I kept 3/4 of the first take and the second take was just all the ad lib stuff on the end. And I was like, that's it, your done. I'm a firm believer that if you can't get it in the first three takes; forget it."
But the hard times just kept coming and after the death of her cat (which is tattooed on her left shoulder), and a divorce, she decided to take Jones' advice of "Being True," and returned home to her Chicago roots.
The new mantra of her music can be found in the lyrics of the song, Rebel Music. "All I want to do is love another day, but all the rules are getting in my way." The genesis of the song comes from the difficulties in being part of a mixed relationship, but it's message goes farther than what is in the song.
"I don't look at people as my black boyfriend, my white friend, my Hispanic cousin. To me it's a bunch of bullshit. But as a society we have to name and title things and I noticed so many different things and temperatures in rooms when I would walk in to go have dinner with my ex, or my boyfriend at the time. It's not like I only date black men but it's what I noticed. I've dated a Hispanic boy, which was the origin of the song Puerto Rican Boy. Just being a white person in a different atmosphere I got these looks. That's the whole reason why I asked LaDee Flipside to rap on Rebel Music because I was like, how cool is it to have a black woman validating what I'm saying."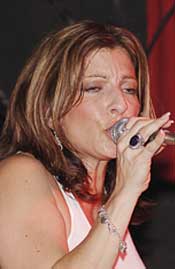 One of the many highlights on Where I Am is the rap solo by LaDee Flipside on Rebel Music. Upon the recommendation by her drummer Anthony Capers Aiello went to see Flipside in a show featuring a slew of local Chicago talent at Exodus on Clark Street.
Impressed with how Flipside held the stage along with 5 or 6 other performers Aiello wanted to showcase that talent further. This aligns with Aiello's Lady J Entertainment production company in that it showcases Chicago talent that can sometimes get lost in the crowd. Aiello wants the people around her to be as successful as she has been. In speaking about Flipside, Aiello takes on a motherly approach and conveys that Flipside is a real hard worker, a must in this industry.
"She has like 18 different jobs. I'm like baby, you need to focus on what you do. She does a lot of these gigs in Chicago, but she's being spotlighted for a minute on some rap show, and I'm like you need to be working on your own show cause you have your own vibe."
It's the 100% belief she has in the people around her that makes the effort all the more rewarding. With the handful of artists featured on Where I Am, it is Aiello's goal to get them heard and then to get them up on the stage. In describing what she vies as a potential artist for Lady J Entertainment she is very clear.
"They have to be creative and they have to be positive. I must be fed everyday. I have to listen to something that inspires me. I got to see something that inspires me. It's just part of who I am....Fear is the opposite of Faith and I can't have that. Even though there is always fear I can't fuel it. I can't focus on it."
Being creative isn't just the goal, but the beginning of the whole process. There has to be a connection between the artists and the audience. There are too many talented people out there that just cannot convey it to the audience. There has to be a connection from the stage during a performance in order for a show to be a success.
"For me as an artist to be up there is to know that it felt smooth; no train wrecks. As an audience member I want to know that the artist steps out. It's like when I went to the India Arie concert and she has like 10,000 people captivated when she broke it all down with a Bobby Caldwell song, she had the whole audience singing. And she was working on being a forgiving person. She was like, think about the person in your life that would be impossible to ever forgive and try to forgive them for one tenth of what they did for just one minute. Let's have sixty seconds of silence. You could hear a pin drop. It was like people who spent like $50.00 a ticket to see India jam and here they were thinking about themselves and listening to what she had to say and focusing on forgiving. You have got to be an amazing artist to have people to respect and trust you to do that."
Where I Am has many tracks about forgiveness, but none as intoxicating as the ballad Venom. I asked her if it pertained to anyone in particular, and if she had taken India's advice on forgiveness.
"I have forgiven that person, well one tenth at least (laughs). It's partly a person and part self abuse. It could be any addiction; it could be sex, it could be a man, it could be about drugs, it could be gambling or alcohol. Whatever it really is Venom is that thing that you still want. It's basically about who's the stranger in the mirror."
Though having noting to do with the movie Spiderman 3 directly, the song Venom (a name of a character in the movie) is tentatively scheduled to appear on the sound track. "If Spiderman is looking in the mirror and going, why can't I walk away from this, then it fits."
This would be just the type of success that she would like to see at this point in her career. It would give a nice inflow of resources for what she has planned for the next coupe of years, but on the short term her goals no more less ambitious.
"What I would like to see in the next 12 months would be a number 1 single, if not two. I would like to get my label going with other artists as well. I like to be a pioneer in Chicago and produce and write because there's so much talent here that never gets tapped, never gets seen. In Chicago you can make a lot of fans and you can do a lot of shows, but it's really hard to get record deals here in Chicago. I would love to be the person that puts Chicago on the map for getting them heard. Whether its deals done though my production company or just getting people out there that's why I have so many guest artists on my record. I really believe that I can't do it all by myself. I'm a collaborator; I thrive on it. I love getting a vibe and seeing if it works with mine. It's always something new, something fresh, and I would love to bring retro soul back to Chicago again."
2007 looks like a very busy year for Aiello and her company. She's planning a tour and radio campaign to bring her rebel music to the people of this great nation, and beyond.
---
Josie releases "WHERE I AM" on her own record label "Lady J Entertainment", and is joined by Grammy award winner "Ashley Ingram" (Desiree) to co-write the title track "Where I Am", Producer / Writer "James Harrah" (Madonna, Elton John) co-wrote and co- produced the track "Venom."
Producers / Writers "Slavic Livins" and "Gene Katsuro" from Hit$quad make an appearance on the CD, and "Chris Robinson" a.k.a "C Major" takes her to church with their co-write and production on the opening track "My Prayer" This project also features Chicago sensations "LaDee Flipside", retro soul vocals of "Devin Thompson", Rapper "J. Stokes", the amazing voices of "Pastor Chris Harris" and 14 year old rising star "Chrystal Harris".
The CD is currently available at CD Baby, iTunes Music Store & Amazone.com. For more information please check her website at www.josieaiello.com.
---
RELATED LINKS