If I go,
Before I'm old
Oh, brother of mine
Please don't forget me if I go

The Dave Matthews Band may be the biggest enigma in the entire music industry. How did a jam band whose sound is forged through non-traditional instruments become the largest touring act in all of America? I still have no idea, but they owe a large part of it to their live shows. People flock to their shows year after year and consistently go see the band again and again. Nobody else could do this. Not the Stones, Springsteen or U2. The Dave Matthews Band is the highest grossing act in North America over the last five years. People like the Stones, Tina Turner, Cher and many others wow us with their gross intake for live performances. Something overlooked is the price of concert tickets. Not only is the Dave Matthews Band the highest grossing over the last five years, but also it is also the most attended. This is utterly beguiling. Every year, they come to town and play amphitheaters, arenas and stadiums and constantly fill them. They fill them whether they have a new album to plug or not. No other band could do this, year after year, not even the Stones.
In Chicago alone since 2000, they have played 4 stadium gigs, 4 arena gigs and 3 amphitheater gigs. That equates to 11 sold out shows, in 26 months and they played to approximately 300,000 people. Those numbers are incredible! No band anywhere could pull the numbers that the Dave Matthews Band does. Why is this? I think there are a number of factors that come into play. First and foremost, they play about two and a half hours on any given night. Also ticket prices are all within the range of $30-$50, which is a steal in today's day and age with the concert industry. This price allows college students to attend the shows, whereas higher priced acts like the Stones and The Who may be a bit too pricey for the college crowd. Matthews has a huge college audience and he had managed to maintain it with these prices.
So what makes the Dave Matthews Band so different and why can they constantly sell shows out?
To start off, I don't think that any two Dave Matthews shows have ever been the same. Just this past spring, the band came to Chicago for two shows. Between those two shows, the band played 34 songs, 33 of them were different songs. That's pretty damn impressive. Plus it gives added reason to go and see them often. It's relatively cheap and exciting each time, just because you never know what is going to happen.
Bartender, please
Fill my glass for me
With the wine you gave Jesus that set him free
After three days in the ground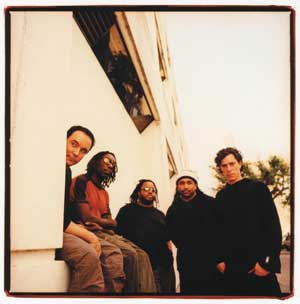 I had never seen the Dave Matthews Band live until this past April. I've always admired them, but found their music a little too much to put my head around. However, I got two tickets early in the year when I was under the assumption that it would be a slow year for concerts. I even thought about dumping these tickets at the last minute because of my lack of interest. Yet, I went anyway. What I witnessed over 150 minutes on that cool April Friday night at the Allstate Arena (aka the Rosemont Horizon) was nothing short of spectacular. The lyrics moved me like they had never moved me before and it was with the help of those other 18,000 who came to the show to do more than just light up. They came to have their souls enlightened. During the performance of "Lie in Our Graves", lighters lighted the entire arena, literally. The Dave Matthews Band somehow made the arena on that given night seem intimate like a club. The arena had a level of intimacy unlike any other arena show I have seen. It did not seem to matter where your seats were, as long as you were there, sharing that moment with everyone else.
When I was young, I didn't think about it
Now I just want to run and hide

I knew that I never gave the band enough credit but upon my return home, I grabbed all of their cd's and studied the lyrics and found them to be incredibly poetic. This along with the combination of their six piece-touring unit makes them an attraction you want to see again and again. They forged through 19 songs, many non-hits, and wowed the 18,000+ Chicago fans. After that, I made a decision to catch the shows whenever time and resources allowed.
Bartender, you see
The wine that's drinking me
Came from the vine that strung Judas from the Devil's tree
Its roots deep, deep in the ground
Ground...
On a perfect Chicago evening, the band strolled into the Tweeter Center, in suburban Chicago. This would be the first of three outdoor shows in the area (the other two were at Alpine Valley in East Troy, WI). The band arrived on stage, cool, calm and mannered, almost to the point that they had no idea what the opening song would be. After about collecting themselves and prepping for over 2 minutes, the band launched into "Grey Street", a track off their most recent album, Busted Stuff. The band has certain elegance with their instruments. Unlike your more traditional rock songs, you do not see extended jams on guitars, keyboards or vocals during a Dave Mathews show. It's more of a team effort, in which every member gets their time to shine, and are essential to the bigger picture.
On this particular night, the band is in fine form. However, the big hits will be missing from the set list, which is always an issue to the casual fans. I found myself being one of these fans not too long ago. I admired this band, but never had the desire to see them live, as I heard enough from their live albums. I will also be the first to admit that they style of music Dave Matthews plays is not for everyone. I had a friend who saw them open for Big Head Todd and the Monsters back in early 1995. He was bored to tears by the performance. That does not mean that they were bad, but it's not his type of show. I have never been a big jam band fan (Grateful Dead, Phish, etc.). Again, I admire these acts; it's just not what I normally listen to. However, witnessing the Dave Matthews Band first hand this past April, here in Chicago, changed all of that. I saw a band completely in tune wit their instruments, the songs, the fans and most importantly each other. Some jam bands have extended solos that go on forever, the Dave Matthews Band is unique in that each solo is essential to the song and after witnessing a particular song live on any given night, you may never want to listen to the studio counterpart again. They without fail build grooves and layer them until they reach a climactic end.
Oh, and if I die
Before my time
Oh, sweet sister of mine
Please don't regret me if I die

The band members; Matthews, bassist Stefan Lessard, drummer Carter Beauford and violinist Boyd Tinsley, sax man Leroi Moore and touring keyboardist Butch Taylor all add a certain level of cohesiveness to the band. They are principally a rhythm section and this is very evident throughout their two and a half hour show. A Dave Matthews show is not about pacing, it's about playing whatever he feels is the right song at that particular moment. After a on your feet opening, he slowed it down for the mid-tempo "Crush", which appeared to be a last minute addition to the set list. "Crush" wound up lasting for thirteen minutes and as I sat back and watched all 29,000 plus fans, all of them were digging each and every second of those thirteen minutes. He then slowly built the momentum through the next few songs until he reached the beautiful "Grace Is Gone", also from Busted Stuff. From here he starts the none-two Crash Into Me punch of "So Much To Say" which leads into the crowd pleaser "Too Much" which showed the band at their best.
From here on out, the set is all about taking chances. What follows are live fan favorites ("Seek Up" and "Don't Burn the Pig") and surprisingly some album cuts from the controversial "Everyday". While Everyday may have been Matthews's most commercial sounding record, none of the "hits" are played tonight. Instead he opts to bring out "When the World Ends", "Fool To Think" and the main set closer "What You Are". DMB purists saw this album as a poisonous one, since they aborted what would become Busted Stuff, for an album that had more of a pop sensibility. Sure, it is a fresh sounding and poppy album, but the ore I hear it, only a handful of the songs are like that. One thing that Matthews does is constantly revisiting certain songs again and again from each album. When bands tend to go out on tour, they play a lot of new stuff and then when the next tour starts up, the previous album seems to get only one or two songs played live. Not with Dave Matthews. He gives each and every song off every album a fair chance. In fact, by doing this, the songs continue to grow not over weeks or months, but years.
Bartender, please
Fill my glass for me
With the wine you gave Jesus that set him free
After three days in the ground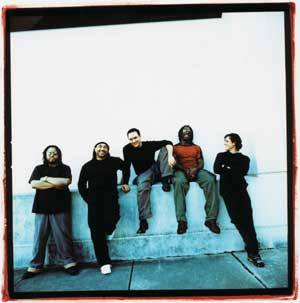 I remember seeing "Bartender" performed in April and the crowd's reaction to the song. I knew the song from the bootlegged Lillywhite Sessions, which eventually became Busted Stuff. But at the time, Busted Stuff was 3 months away from being released but the crowd reacted as if it had been an old warhorse for years. The band proved right there and then in that moment rock n' rolls pure essence, the live setting. This is why people fork over money to see their favorite acts. Right here in now, where the moment outweighs the money spent on tickets, parking, ticketbastard convenience fees, the smell of certain tobacco, a hangover, it all disappears during a perfect moment where 18,000 people are completely in synch with the band as they climax they slowly build "Bartender" down to its finale…the horns pumping energy, Matthew's growling, the searing violin and those pounding drums…all give the release and spiritual rebirth that the narrator of "Bartender" is searching for. It is triumphant moments like these that make concerts awe-inspiring and dreamlike.
The show at the Tweeter Center had a moment like that, except that it was for one of their live favorites, "Two Step". The band has finished numerous shows with this number and tonight's eighteen minute version was every bit as good as pervious performances. On this night, even though the crowd knew this would be the final song, we sat there, in awe, at the sheer precision of how amazing these musicians are. Like swirling emotions running through our heads, they build a template of our mind, bodies and souls by slowly building the song; around rhythm section and Tinley's violin, which is played more, like a mandolin. The song builds and builds until it's climactic end. The band waves, takes their bows and leaves the stage. The crowd, all 29,000 fans stroll out into the parking lot for what will be a solid hour of sitting before any of them actually leave. It's time to take the performance in. You sit back, relax and realize that what you saw was not enough, you want more. Like certain drugs, I feel that the Dave Matthews Band has the ability to connect with people on the same level, but in a much more positive manner. So far I've seen the band twice. The show in April, in Rosemont, was one of their best. Their show at the Tweeter Center in Tinley Park may not go down as legendary, but for 29,000 people, it was all about being there in that moment with 29,000 other people and sharing that experience. What we saw was the latest chapter in a book that is nowhere near the end.
Oh, and if all this gold
Should steal my soul away
Oh, dear mother of mine
Please redirect me…

On Bended Knee

Tony Kuzminski
*All lyrics are from "Bartender" which can be found on the Lillywhite Sessions, Busted Stuff and the forthcoming live album, Live at Folsom Field.