An 'A' list celebrity descended from outer space into a Chicago compound in an effort to provide a plan 'b' for fellow Midwesterners. Sandra Bernhard (originally from Flint Michigan) brought her one woman show, with back up band in toe, to two sold out shows at the world renown Steppenwolf. The main stage, which was set for another production, was transformed into a stand up comedy cabaret featuring biting commentary on everything from Porgy Money to making out with Britney Spears.
Bernhard cuts her emotive comedy with a myriad of musical interludes that pulls from a plethora of classic and contemporary tunes including, "The Boy Is Mine (Brandy)," "This Is A Man's World," (James Brown) and "Welcome To The Jungle (Guns and Roses). So what does all this mean? If you ask Bernhard she'll just say 'figure it out yourself.'
Her vocal stylings are backed by the Rebellious jezebels - Jonathan Loyd (Piano), Eric Hauptman (Guitar) and LaFre Sci (percussion). These are seasoned musicians that follow Bernhard's lead, and sometimes not, in setting the mood and tone for each song.
Bernhard's bratty sexiness and the ability to delegate subject matter into a forum where it can be discussed creates a profound moment in each of the audience member's lives. She is open in relaying her obsession with CNN's Anderson Cooper and having Thanksgiving with the very vegan Chrissie Hynde of the Pretenders. (For the record, Sandra still eats meat!)
During the show, a deep stream of consciousness waves over her as she takes you though the particulars of her world. She pokes at society's wounds and doesn't pull any punches when it comes to making her views known about celebrities. From Paris to Oprah, Bernhard did not spare anyone in her commentary on how some people can no longer relate to the people around them.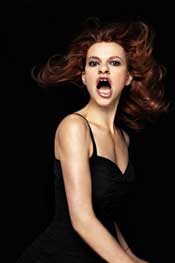 Bernhard does have a softer side though. In-between commentaries. She asked the house manager, from the stage, if her friend in the second row could get up and pee. The theatre doesn't allow for late seating and Bernhard commented that she didn't want the woman's bladder problem on her conscious.
With all of the brouhaha Bernhard breaks it down to ultimately one concept, 'If I can still feel love,' then there is still hope. Her show has poignant moments and continues to evolve with each performance. In a way, audience members are the aliens charged with the duty of observing this crazy world. There is no plan 'b' in this life; only the one that you make for yourself.
---
RELATED LINKS