Band members Peter Baker (Drums, brass), Tom Billington (Guitars, vocals), Alex Richards (Keyboards, vocals) and Tim Slade (Bass, Vocals) have been cooking up their seventies rock sound since 200 0. Billington, a curly headed mop top who's image screams of the "Comes Alive" Frampton era fronts a highly energetic band that is currently on tour opening up for Razorlight.
Mohair developed out of four childhood friends that currently find themselves on a tour of the States. Over the past few years they've paid their dues by trolling around several UK festival stages. Originally from Watford, England the lads cut their teeth on American Soul music which is showcased in some to their previous Commitments cover band experience.
Mohair is musical flashback of 30 year old rock but breathes new life into a sound that was dominated by bands like T-Rex, David Bowie and Slade. The band's current self titled release has that album rock feeling with perfect harmonies to boot. Their live show channels the magic from their studio release and bumps it up a notch. Back in the seventies this band would have been on the King Biscuit Flour Hour, but fortunately you can see them locally; that is until they become too big for clubs and start selling out theatres.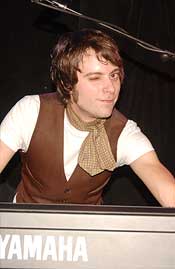 Partial set list:
"Life"
"Sweet Lady"
"Disarray"
"Stranded"
"End of the Line"
The song "Stranded" was number one in Bosnia and a part of a Beck's Beer Commercial.
---
RELATED LINKS