Music is a powerful instrument of discourse that can unify mass audiences in one sitting. Bands travel the world performing songs before legions of fans in an attempt to communicate with listeners; thus, resulting in a shared cathartic experience among those listeners, and in late April, the band Faithless instigated a collective catharsis among a unified mob of animated fans during a show at New York's famed Webster Hall. Originally from the UK, Faithless, consisting of vocalist Maxi Jazz, DJ/keyboardist Sister Bliss, and producer Rollo Armstrong, has gained worldwide recognition as one of the finest live acts of our generation due to its electrifying stage presence complimented by Maxi Jazz's spiritual/socio-political lyricism. With five albums to show for a decade of magnetic songwriting, Faithless is not shy about presenting a wide range of emotion in its music; and as Faithless, plus guest vocalists LSK, alongside their traveling band opened the show with the beat-driven "Sweep," (off 2004's No Roots) an infectious urge to jump while pumping one's fist in the air spread across the two story theater.
With Sister Bliss feeding the crowd's beat heavy appetite behind a cubicle of triple-stacked keyboard/synthesizers, a soothing yellow light consumed the stage. Just then, as the beats per minute reached top velocity, Maxi Jazz, sporting a thin black leather jacket, appeared from out of the yellow mist. Fans welcomed Maxi with a roaring applause similar to that of a holy man on the verge of bestowing wisdom upon an enthusiastic congregation. The lights began to dim synchronically with the pace of the music as Maxi stepped up to the microphone. Decibel levels reached what would be their lowest point of the evening when Maxi's seminal words seeped from Webster Hall's immense sound system; "I can't get no sleep!" from the hit track "Insomnia" off 1995's Reverence. The last syllable to exit Maxi's mouth was immediately preceded by a tidal wave of beats, guitar riffs, drums sounds, and kaleidoscopic strobe lighting effects that exploded into a tirade of audio/visual stimulation.
After the influx of sonic intensity things settled down as LSK (born Leigh Stephen Kenny) was invited on stage to sing a beautiful version of No Roots' "In The End." Backed by Sister Bliss' angelic keyboarding, LSK's voice, smooth and eloquent, gave the audience a euphoric breather which led into Maxi Jazz's spoken word deconstruction of the world's sociological problems titled, "All Races."
All races all colours all creeds
got the same needs, and ignorant leads
the pain feeds the flame
international shame on a global scale
people live and in a hail
what's that smell?
I ain't talking about the poor but the rich
you can have everything you want and life can still be a bitch
which just goes to show that if you don't let go of your ego
you'll never know what peace really means
all your dreams loose magic and become speed teams of devils
and shovels digging levels so deep, they only surface at night,
smile at you while you just keep on, and you can never rest
and like a big dark secret keeping close to your chest,
because you wanna impress, make moves nothing less
then the best will do, don't care who you screw
and got the nerve to wonder what the world is coming to.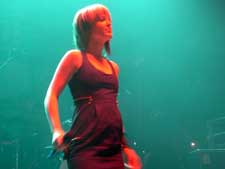 The crowd's vehement cheers after "All Races" were met by a repeating "thump" that reverberated throughout the entire auditorium. The heartbeat "thump" continuously added various layers of multi-frequency sounds together that ultimately morphed into an epic version of Sunday 8PM's seminal classic "God Is A DJ." Faithless continued its captivating spectacle with an intoxicating version of their controversial new song about the price of war, "Bombs" followed by the ethereal "Music Matters," off 2006's To All New Arrivals. The set closed with Maxi, illuminated by a white light reflecting off a surrounding haze, evoking audience participation as he raised his right index finger above his head which initiated a single voice from all in attendance that yelled "We Come 1!!!!!"
The hour and a half show left spectators sweaty and short of breath, but not without a smile. It was as if everyone had just finished an aerobics class that not only rid the body of harmful toxins (which might have been put in there before the show to enhance the experience), but also purified the soul. It was Greek philosopher Aristotle who claimed that melodies of purification give mankind an innocent pleasure, and Faithless echoed that pleasure which, in turn, created a cathartic experience because, on this night, we became one.
---
RELATED LINKS