This particular Thursday night started out with a concert at the Metro in Chicago , and ended with a couple of special performances at an event that absolutely blew my mind. At Underground in Chicago , Hennessy sponsored an event to display the very significant talents of two young artists -- Miri Ben-Ari, a hip-hop violinist and Josh Kelley the singer-songwriter.
Miri was on display and all were ecstatic to get a first-hand look at such an amazingly endowed musician. With hands that moved across her violin a mile a minute, she had everyone in attendance standing with an awestruck look on their face, as they listened to the music that she has played for hip-hop acts such as Kanye West and Twista. She has been featured in videos of both the aforementioned artists, as well as many others. During the end of her time on stage, she busted off a quick 10-song montage that featured a few Michael Jackson tunes as well as some classical masterpieces. She is making a strong name for herself in the music industry with the compositions she makes and is setting herself apart from what many other artists are capable of doing. She is so well respected in the industry that she has become the only person to go to when you are looking to add emotion-laden violin to your hip-hop music.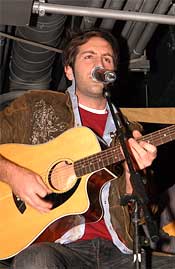 Then to keep the crowd on their toes, and change it up a bit, they trot out Josh Kelley and two other band mates to play a small acoustic set for those in attendance. Just having Josh in such small quarters these days is a big deal, and for everyone at the event, they fully understood this was a once-in-a-lifetime show. As Josh and his band had done a few weeks prior at his show in Chicago , they sang the cover of The Band 's classic song "The Weight,' where the chorus of "Take a load off Annie, take a load for free" is repeated over and over. The crowd had a great time singing along to a hit that most everyone in the audience knew. After playing a few crowd favorites for the exclusive engagement, Josh headed over to his 'private' table, but not so private that he wouldn't let his fans come by and say hi. He was more than happy to talk with some of his adoring fans, including signing memorabilia and snapping photos.
For a night that started with a mediocre concert, it ended up being one of my favorite moments of this young year because I was able to see a couple of big acts at such a small and private venue, and not to mention we were all able to consume as much free Hennessy as humanly possible.
---
RELATED LINKS