Lead singer and guitarist of the Punk Revolutionary Band the Clash died at the age of 50 from heart disease at his home in Broomfield in the county of Somerset. Leaving behind his wife Lucy, two daughters and a stepdaughter. Strummer was born on August 21, 1952 as John Graham Mellor in Ankara, Turkey as an son of a diplomat. The last rock legend to pass away for the year 2002 on December 23rd during the Holiday Season.
Strummer led the Punk movement with the Clash and considered to many as the true sound of Punk and an era of the late 1970's and 1980's. When one thinks of the punk rock kid with high spiked hair and shreaded threads what comes to mind is "The Clash" and the "Sex Pistols". Strummer was the voice of a generation that brought thought to the punk sound when at that time Punk was considered defiant and without judgment to many. The Clash showed the world that punk is more then just a mess of loud pissed off lyrics and musical chords without a real musical foundation.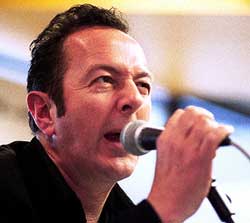 The "Sex Pistols" might have been the inspiration to Strummer and rest of the members of the Clash, however it was not the album "Never Mind The Bullocks", that opened the world to Punk Rock, but The Clash and Joe Strummer with their breaking album "London Calling" with the hit Train in Vain (Stand by Me) that opened the world to the political themes of the music.
The Clash disbanded in 1985 after releasing their last album "Cut the Crap". However, recently it seemed very likely a reunion was brewing. On November 8th it was announced that The Clash would be inducted in the Rock and Roll Hall of Fame. Which is notorious for getting bands together for a one-night stand performance. A week later after almost twenty years the impossible happened. Mick Jones joins Joe and his current band the Mescaleros on stage during a charity gig in London. They performed classic Clash songs "Bank Robber", "White Riot" and "London's Burning". The last time they shared a stage was way back in 1983 in California during the "Combat Rock" tour. But leave it to Joe to have the last laugh and die making it impossible for a true reunion. Now that's punk rock!!

Story by Barry Brecheisen and Adam Bielawski