One indicator that we've reached the sweltering month of July is our penchant for partying in honor of America's birthday. While Japanese people view our Independence Day as a tribute to Will Smith kicking alien butt, America celebrates its freedom by illuminating the evening sky with a barrage of colorful fireworks. For most Americans, celebrating the Fourth of July is as American as apple pie which is why the folks at Shifty Entertainment decided to carry on tradition by inviting Superstar DJs Moby, King Britt, and a handful of talented artists to New York City's banging Highline Ballroom to ring in our nation's 231 st birthday.
Muzique Moderne, as the event was titled, got underway with an animated performance by a trio of Hip Hop heads known as ThE BeATaRdS. Consisting of DeejayO, Capt. Planet, and UTK the INC., The BeATaRdS hibbidy bip bopped their way across the stage to raise Highline Ballroom's party meter off the charts. It was an explosion of spontaneous big beat turntablism combined with freestyle flows as fast as the ear can hear, and the crowd's applause validated ThE BeATaRds energetic dominance.
Following The BeATaRds invigorating performance was a fulfilling tribal set by former Dubtribe Sound System member Sunshine Jones and Michael Sultan. Famous for its live performances throughout the 90's, Dubtribe Sound System developed a grassroots approach to House music which helped define the word "community" amongst fans across the nation. Although DSS officially disbanded in 2000, Sunshine Jones could not ignore his true calling as a self-proclaimed "House Head." In the liner notes of his most recent album, Seven Tracks in Seven Days, Jones explains how he wants "to sing, make music, mix records, and most of all dance with my people, my tribe, in the smallest little holes I can find where no one's hitting on you, and everyone's free to smoke, drink, trip, and travel wherever they need to go in order to shake off the filth of this world," and with Michael Sultan intoxicating the crowd with his mesmeric drum beats Jones' spiritually charged re-vamped sound found a new home inside the ears of all the dancing fans at Highline Ballroom.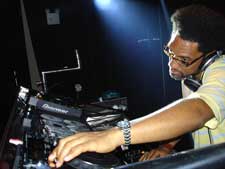 As soon as Mr. Jones and Mr. Sultan were finished pounding hypnotic rhythms into the crowd it was time for Philadelphia-bred DJ/Producer King Britt to step up to the glowing DJ booth on stage. Spinning under the pseudonym "Silkworm," Britt got his big break spinning records for the 90's coffee lounge Hip Hop trio Digable Planets. After Digable Planets split, Britt brought his funk-jazz-Hip Hop fusion sound to the production table as he remixed songs for artists such as Tori Amos, Donna Lewis, Jazzanova, and Gilles Peterson, before releasing his own albums under the King Britt moniker. "As a kid, I listened to my walkman everyday on the way to school," Britt reveals to writer Dustin Driver. "I would stare out of the window of the train and everything was so visual, so coordinated with the music," which accurately describes the upstairs view of the dance floor as the crowd bounced in sync to Britt's funky beats. As the revolving spectrum lights transformed Musique Moderne into a Club 54 throwback party Britt pumped out a diverse mix of tracks from Michael Jackson, Deborah Harry, Red Hot Chilli Peppers, New Order, and Del Tha Funkee Homosapien. Britt's soul food set quenched the audience's funk hunger while simultaneously preparing them for the super-charged sounds of New York City's own Kudu.
Consisting of vocalist/bassist Sylvia Gordon, keyboardists Nick Kasper and Peter Stoltzman, and drummer Deantoni Parks, Kudu is known for its electronic jazz-soul fusion style of urban music. Despite the critical acclaim Kudu has received for its use technology alongside live instruments to create a wall of sound, its Gordon's soulful lyrics and vocal tenacity that has become Kudu's trademark, and Gordon demonstrated her range as she sang the first single off 2006's Death of the Party, "Bar Star." Wearing a dark, yet flowery, psychedelic outfit Gordon epitomized the New York Times review calling Kudu "bracingly physical" as she flung her body up and down to the rhythm of the thunderous beats. Kudu ended its set by dropping enough seismic vibrations to rattle the insides of everyone in the building throughout a pulsating rendition of Death of the Party's "Hot Lava."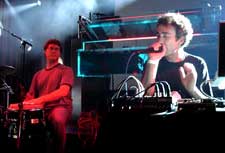 The final, and most anticipated, act of the evening was none other than internationally renowned DJ, Moby. Born Richard Melville Hall, his parents originally nicknamed him Moby after the novel Moby Dick, which was written by his great-great-great-great uncle, Herman Melville. Moby first found musical success with his hit single "Go," which reached the UK top ten in October 1991. He then went on to release such albums as Everything Is Wrong (1995), Animal Rights (1996), and I Like To Score (1997) before attaining commercial success with his album Play in 1999. Following the success of Play, Moby went on to release two more albums, 18 (2002) and Hotel (2005), a series of DVDs, create his own TV show on MTV, Senor Moby's House of Music, headlined the UK's largest and most reputable festival, Glastonbury, with a full band and back up singers in 2003, and opened his own Tea House in New York called Teany in April of 2005. As the humble Moby walked behind the illuminated DJ booth he was met by the crowd's roaring applause, for this was Moby in rare form because he was without his band or singers. It was just him, alone, gearing up to play a DJ set of music he wanted to hear. Before Moby took the stage I had the opportunity to ask him if he was planning on incorporating any of his own music in the set, and he responded with a "maybe." That maybe turned into a yes when he decided to slam the crowd with a remixed version of his original hit, "Go." Moby showed everyone at Highline Ballroom the true strength of electronic music as he slowly built up minimal beats into a full blown sensory rampage. Dancing to his own synthetic compositions, Moby welcomed our nation's birthday with smooth transitions between big bass House and Trance records.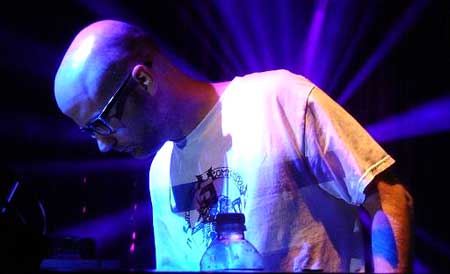 The party continued throughout the night, and as most American's woke up to a rain soaked morning in the Big Apple those people who decided to start the festivities one night early at the Highline Ballroom were rewarded with the privilege to sleep as late as they wanted because the multi-colored fireworks they witnessed came in the form of diverse sonic liberation thanks to ThE BeATaRdS, Sunshine Jones & Michael Sultan, King Britt, Kudu, and Moby. Partying on the Fourth of July is an American tradition, so don't forget to show your spirit.
---
RELATED LINKS