When the trio from San Antonio walked on stage at The Note, in Chicago, the energy shot through the roof and it was like someone opening a cage to release the girls for their hour-long set of punk-rock songs. The girls are on tour promoting their new CD called Both Before I'm Gone. The CD is packed with power-punching songs and the girls delivered right on the knuckles. They opened with the fast-mover The Photographer,which led into Race Car Driver, and their loyal fans were loving every minute of it as they were pushing their fist up in the air and singing every word. Other songs they played were Their Cell and Consider. But the song that really was the powerhouse and showcased the enormous talent of vocalist Nina Diaz was Say . Jenn told the crowd that a new music video for Say was being released soon and thank goodness, as this song is one of their best. Nina let it rip on vocals as she sang; Everyone will quote me on this line/Say-say-say-aye-I/But don't save me/No, don't save me/Cause I'm going away/Baby don't worry/We're not gonna stay too late. Of course you cannot overlook their song Clumsy Sky , which has all the elements of a perfect punk song. With Nina's seductive opening vocals; Picture me away/Are we alright now?/Somethings gonna happen/You're staring off now to the sky / We're staring off now ./ The song then picks up and goes into overdrive as Nina spills out; You are waiting/Are you waiting/For my sign./
Girl in a Coma gave a stellar live performance and in an exclusive interview with the band the girls said that their live shows are always full of "energy, emotion, and interpreted dance." When asked about how they like being on the Warped Tour this summer, they explained it as being in "rock-n-roll boot camp." But they were very appreciated and humble as they expressed their gratitude and excitement on being signed on Blackheart Records. With rocker Joan Jett and her producer/manager Kenny Laguna signing them they were surprised, relived, and thought "is this for real?"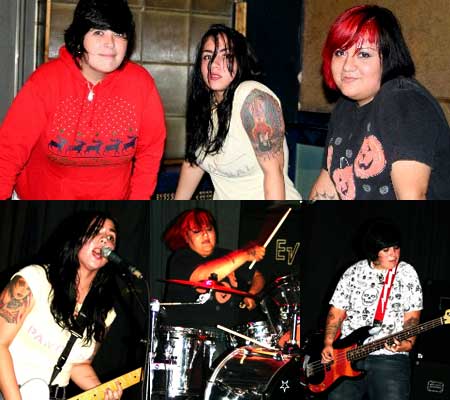 This is a band you must see "live" to experience their raw energy and catchy songs. Now I bet everyone will quote me on this!
---
RELATED LINKS