"These are the seasons of emotion and like the winds they rise and fall
This is the wonder of devotion - I see the torch we all must hold.
This is the mystery of the quotient - Upon us all a little rain must fall"
Led Zeppelin
"The Rain Song"
Houses of the Holy (1973)
August is the rainy season in New York City, and trust me, when it rains, it pours. The instance a falling drop of water hits a New Yorker's head, he or she often scurries for the closest awning insight, but at Central Park's famed Summerstage (Rumsey Field), hundreds of fans basked in the downpour as Grammy nominated DJ/Producer Paul Van Dyk celebrated the 5th Anniversary of his Central Park performance with four hours of heart pounding electronic music less than a week after the release of his newest album, In Between. Bombarded by spurts of torrential rain, PVD kept Summerstage's speakers thumping and the soaked crowd dancing as he battled adverse weather conditions early in the show.
His set began a little after 6:00, surprisingly, under dry circumstances. Although Rumsey Field had not quite filled to capacity this early in the evening, vocal enthusiasm from the fans could be heard two fields over. An ear to ear smile circled the famed DJ's face as "P-V-D" chants echoed from every corner of the crowd. As soon as the lush beats exited Rumsey Field's gargantuan speakers an animated Van Dyk pumped his right hand in the air while controlling the fluctuating beats per minute with his left. Roaring approval in the form of cheers continually intensified throughout the meticulous build up sequences until oceans worth of rainfall transformed the venue into mud puddle city. Under this kind of monsoon-like condition, it is not uncommon for a normal DJ to stop the show until the tumultuous weather subsides, but PVD is not your average DJ from down the block, he is a globally respected DJ/Producer who has revolutionized the way audiences around the world listen to electronic music. That being said, our hero kept the adrenaline flowing as he shielded himself and his equipment with a blue tarp from backstage. Performing under such extreme circumstances really put his dedication to the fans in perspective, and the crowd's uninterrupted celebration throughout nature's wrath reciprocated that same love and appreciation.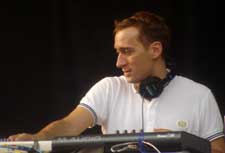 Dampening concertgoers from all angles, the rain had evolved into an unstoppable force of nature, and once people began realizing that things weren't going to get any drier, the umbrellas went down, allowing them to become uninhibited as PVD's cathartic sounds initiated the cleansing process (no pun intended). People from all walks of life enjoyed the experience of being "wet" together as saturated dance circles, reminiscent of festivals such as Glastonbury and Woodstock, began to form. "The New York City crowd is extremely energetic," explained Ryan Merchant, a guest vocalist on PVD's In Between album. Merchant, who performed the song, "Talk In Grey," later in the evening told clubplanet.com how everybody dancing in the rain "kind of enhanced the mood of the show." Within 30 minutes of the tropical shower, a break in the weather got our legendary DJ out from under his tarp hideaway, and gave sopping fans a glimpse of true beauty as the sun's luminous rays glistened throughout New York City's towering skyline. Purples and pinks turned the summer sky into an elegant pastel painting while beams of yellow light reflected off the silver Apple Powerbook placed above the wheels of steel. Recognizing the awe-inspiring visual himself, Van Dyk directed everyone's attention to the fire in the sky as he simultaneously mixed tranquil sounds which formulated a euphoric ambiance that matched the picturesque scenery. After the sun finally retreated behind the clouds, electronic audio collages once again began to flourish, and so did the rain.
As nightfall's darkness swallowed the damp gray sky, bursts of illumination shot from the three large screens above the stage, commencing the show's more visually pleasing portion. Images of Cuba and other mind melting patterns combined with colorful stage lighting and laser effects magnified the celestial depth of PVD's world renowned musical compositions. The emotional rush only grew stronger as psychedelic backdrops amplified each song's individual potency. Fans who were patient enough to endure the earlier weather obstacles were treated to a slew of live performances by singers who lent their voices to various PVD produced songs. Jessica Sutta of The Pussycat Dolls performed a sensuous version of the new hit single, "White Lies," from In Between, which sent the now capacity crowd into a howling frenzy; Ashley Tomberlin performed her In Between track "New York City;" and newcomer Ryan Merchant received the opportunity to express himself during a lively rendition of In Between's "Talk In Grey." Friday night's crowd got a full taste of Van Dyk's catalogue with an ethereal mix of "The Other Side" and a show closer that included Vega 4 singer, Johnny McDaid, reprising his vocals for the encouraging "Time of Our Lives," off his Grammy nominated album, Reflections (2003).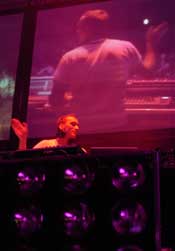 After finishing his set, a humble Paul Van Dyk greeted people at the stage's front area by shaking their hands, taking pictures, and, of course, signing autographs. Watching this pioneer of epic electronica smile as he hugged crowd members was proof that the success of being the world's number one DJ for the second year in a row has not blinded PVD to who got him where he is today: The Fans. "I don't really care what people rank me in, I just do what I love doing and I'm very passionate about it," Van Dyk revealed to clubplanet.com after the show. "You always have to prove that you're a good DJ, a good musician. This, I believe, is what I did tonight with the help of fantastic artists." Paul Van Dyk's live shows have amazed techno devotees on a global scale for more than a decade. Central Park's August 17 th show may have been just another day at the office for this phenomenal entertainer, but to all the thousands of us who sat through rain, shine, and kaleidoscopic wizardry for an evening of transcendental music, it was the time of our lives.
Be sure to check out Paul Van Dyk's most recent album, In Between (in stores now). It's a galvanizing journey through big beat action. The techno saga continues, so don't get left behind.
---
RELATED LINKS