Who can believe that it was ten years ago when three young boys from Tulsa, OK hit the charts with that catchy pop song MmmBop that soared to number 1 and made them international superstars. Hanson is currently on tour promoting their fourth studio album called, The Walk, which was recorded at their studio in Tulsa and released on their own 3CG Records. The brothers broke away for their major label and had the freedom to explore new grounds musically and lyrically.
Hanson had two-sold shows in Chicago , and the opening night proved stellar. Isaac, lead guitarist/singer started playing the opening chords to their anchor song Great Divide , a song released last November on World AIDS Day, and inspired by a trip the band took to Mozambique and South Africa. Lead singer/keyboardist Taylor poured his heart and soul into this performance. Taylor also grooved with new songs Georgiaand Been There Before. They then punched in a few old favorites like the Crazy Beautiful and the pop-style flare of Can't Stop.
p>Then the stage darkened and three chairs were set-up for an acoustic extravaganza and the crowd went wild. The mostly female audience was in a hysterical yet fun mood. When the three came back on stage and sat down, Isaac sang lead on one of the best love songs of the night Being Me . They then performed one of their new songs I've Been Down. Zac, the youngest of the brothers and the band's drummer performed lead vocals on their new song Go , which has to be one of their best new songs on The Walk. Then Taylor yelled to the crowd "Happy Anniversary" and they broke into MmmBop and at this point their fans were overpowering Hanson in singing every lyric to the song. Taylor, Isaac, and Zac were loving every minute of hearing their classic song being sung to them!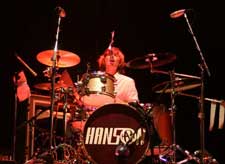 The band then tossed their chairs aside and finished the night performing plenty more of their penned pop-rock songs including Penny & Me (which went to number 2 on the Billboard Single Charts in 2004), A Minute Without You, Running Man- with lead vocals by Zac, and another new song called Blue Sky.
Hanson has once again proven their long staying presence with quality and catchy pop-rock songs and a fan base that just keeps on growing worldwide. They are a must band to catch live as their performance is over-the-top. Their songs have plenty of punch-rock and quite a bit of some mmm-bop to dance to.
---
EXCLUSIVE: Interview with Taylor Hanson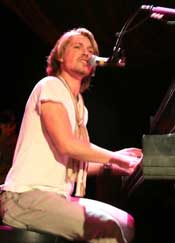 Taylor Hanson sat down with Unrated Magazine before their sold-out show to discuss their new album. Taylor told Unrated Magazine that their song Great Divide is about hope. They started writing this song in Tulsa and had some friends in a medical firm who were donating technology to South Africa hospitals to help communicate in getting the correct medicines to the area. After hearing about this, Zac, Isaac, and Taylor knew that they had to go visit the area. From their visit to orphanages they were inspired by the positive energy they received yet haunted by the AIDS crisis surrounding the area. Taylor said: "How can we make a difference? We can start with our music." Hanson made a pledge that all proceeds from downloading Great Divide will go to the Perinatal HIV Research Unit at Chris Hani Baragwanath Hospital in Soweto, South Africa. Taylor also showed me his shoes. Hanson has partnered with Tom's shoes, and every time you buy one pair, Tom's will send a second pair to a child in Africa Hanson also did a benefit walk in Chicago each day to help raise awareness. Taylor said: "By doing something simple, and unified together, we can make a difference."
For more information on their music, tour schedule, and how you can help get involved in The Walk visit: www.hanson.net or http://www.myspace.com/hansonmusic.
---
RELATED LINKS