Synergetic Reincarnation
"There's a place that started underground. I know you'd like to go. Only requirement to enter is a little bit of Soul."
-Soulive (from the song "Comfort")
Soul Music can make a Sunday morning magical, a hug from grandma infinite, and a spiritual bond between lovers everlasting. Whether it's Booker T & The MG's layered rhythms, Otis Redding's gritty vocals, or Issac Hayes' bass driven harmonies, this invigorating form of self-expression has continually provided a global audience with timeless sounds that elicit revolution in every sense of the word. Despite its early beginnings in the mid 1800s, Soul Music didn't peak in popularity until forward thinking music labels such as Detroit 's Motown Records and Memphis' Stax Records shared these so called "Race Records" with the masses. Unfortunately, while entrepreneur Barry Gordy and Motown Records stood the test of time, Stax Records, founded by Jim Stewart and Estelle Axton in 1957 (the name came from the first two letters of both founder's last names), went through a series of financial hardships before its eventual demise in 1976. After being purchased by Fantasy Records in 1977, Stax became dormant while its catalogue of classic hits survived through various compilations and reissues.
It seemed as though Stax's legendary Memphis sound was down for the count, until Concord Records merged with Fantasy in 2004 and announced the re-launch of Stax in December of 2006. With a platform to re-establish its once innovative prominence, Stax began the second chapter of its acclaimed legacy by signing a band of sonic diamonds in the rough known as Soulive. Consisting of brothers Alan (drums) and Neal (bass, keys) Evans, Eric Krasno (guitar), and newcomer Toussaint (lead vocals), Soulive is a smorgasbord of Jazz, Roots, Hip Hop, Rock, and Soul fused together to form an emotionally charged hybrid of musical ingenuity. While on tour as The Dave Matthews Band's opening act, Dave Matthews, himself, would introduce Soulive as "the greatest band in the world," and in mid 2007, they made history as the first group to release a full album of new material under the revamped Stax moniker with No Place Like Soul; a collection of up-tempo tunes which combines elements of danceable jazz and funky rock intertwined with old-school R&B. "Human beings inherently feel the need to label stuff so that they can make sense of it," explains Neal Evans in response to claims that Soulive and The Dave Matthews Band are too dissimilar to tour alongside each other. "I understand why, but it creates boundaries. There's such a large pallet of sounds, why not paint with all the colors?"
For No Place Like Soul, Soulive not only changed record companies, but the band's approach to creating music went under complete renovation. While previous releases have included guest vocals such as Dave Matthews, Chaka Khan, Talib Kweli, Black Thought (of The Roots), Amel Larrieux, and Meshell N'dgeocello, Soulive has been a trio since the band's inception eight years ago in Woodstock, NY. No Place Like Soul is their first album recorded with a full time vocalist, officially transforming Soulive into a quartet. "We've evolved over time," describes guitarist Eric Krasno. "Having a vocalist for this record made us think more about the song form and less about improv. In a live show one has more freedom. Making this record was really cool." Before joining the band, Toussaint, a gifted singer from Boston, spent several years touring the East Coast with his reggae group, The China Band. "This isn't the tree of us featuring a guest singer," says Alan on the band's website, soulive.com. "It feels like a new band. All of us wanted to go in a different direction."
---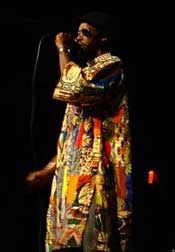 Advancing Identity
"The opportunities to combine the music and the legendary artists of Stax with the contemporary sounds of bands like Soulive are endless."
-Chris Dunn, (A&R Representative,
Concord Music Group)
In juxtaposition with Stax Records' comeback is Soulive's commitment to self-discovery. A band's sound can be likened to a human's personality in that it features specific characteristics which distinguish it from others bearing resemblance, and since Soulive dropped their debut EP Get Down! eight years ago, fans have gotten accustomed to recognizing Alan Evans, Neal Evans, and Eric Krasno's combined musical persona as breathtaking versatile instrumentations. And while the inclusion of singer Toussiant on their sixth full-length album, No Place Like Soul, presents a drastic change in Soulive's songwriting and studio chemistry, will that same influence affect the band's live performance? "We've been playing instrumental music for eight years, and we love doing it," describes Alan on soulive.com. "But we've always strived to reinvent ourselves; none of us wants to hear the same old thing all the time."
While most prolific bands go through experimental phases some time in their career (i.e. U2, Neil Young, Pink Floyd, The Beatles) audiences do not always accept these changes with open ears. The only true way for a band to validate its new style is to play the hell out it before a live audience, and on a chilly Saturday in mid-September, Soulive, the newest quartet on Stax Records' roster, did just that as they performed at New York City's famed Nokia Theatre, located off Times Square. While hi-definition pictures of the band projected from the Nokia Theatre's gigantic outside screens, a line of fans wrapped around the venue. "Our music has changed a lot," confesses guitarist Eric Krasno. "But we're still out there trying to basically do the same thing – move people's bodies and then their minds," which is exactly how Eric's edgy guitar shredding got the show underway with "Outrage," one of No Place Like Soul's two instrumental tracks. Eric's masterful technique was tight enough make diamonds out of coal, and the crowd's enthusiastic roars only made him faster. To Eric's right was Alan Evans; completely surrounded by an escape-pod looking drum kit, equipped with a built-in microphone that wrapped over the top so he could sing and pound simultaneously. On the opposite side of the stage was Neal Evans, adding sonic depth to Eric and Alan's audio abyss from behind four stacked keyboards with a bunch of multi-colored wires sticking out from every angle. The trio's instrumental assault was followed by "Steppin," off 2000's Turn It Out; another Toussaint-less song that ended in a trademark Soulive jam session.
Toussaint hit center stage by the third song to perform an energetic rendition of NPLS's "Don't Tell Me." Wearing a puffy black cap, dark sunglasses, and a colorful Rastafarian outfit, Toussaint's gritty voice, accentuated the band's good vibrations, (for lack of a better pun) lit the crowd on fire. Between Eric's funky riffs, Alan's heart pounding rhythms, Evan's groovy arrangements, and Toussiant's Reggae-inspired lyricism, the updated Soulive machine was supercharged and in full effect. Fan's theatre shaking applause as "Don't Tell Me" climaxed was a clear indication that Soulive's approval rating had just skyrocketed through the roof. NPLS's "Comfort" continued to demonstrate the enchantment of Soulive's modified stage personality as words of enlightenment pulsated throughout Nokia's state-of-the-art speakers. Although Toussaint's addition brought a new element to the band's live act, this particular show was a bit stripped down when compared to prior Soulive concerts where full horn sections have been used to flex their orchestration muscles.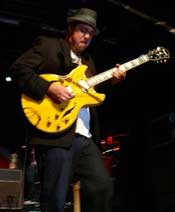 The less-is-more tone really blossomed into an enchanting blanket of warmth when Toussaint began singing NPLS's "Mary," a song he told concertgoers was written for his grandmother. Reminiscent of Sam Cooke's "A Change is Gonna Come," "Mary" is a social commentary aimed at pointing out the trials and tribulations ignorant and less fortunate people face on a daily basis:
Everywhere you looking, another soul misguided.
Thinking his pistol make him a man.
Minimum wage ain't working, he want that fast money
Spend it as soon as it touch his hand.
Why can't he see, he don't gotta try to be
The bullshit he hear on CD.
Mockery of you and me, and I'll tell you what's worse
Heard it in so many a verse
This ghetto living like a curse
Can't even find the truth in church

After the inspiring reality check of "Mary," Toussaint took a well deserved break and let the boys tear things up for a rambunctious version of the hit, "Reverb," off 2005's Break Out. "Reverb" has gotten a fair amount of stage time over the past two years, and after watching how much fun Eric, Alan, and Neal had taking the crowd on a rollercoaster of intense audio explosions made it clear why this song has remained a staple on Soulive's set list.
Other show highlights included: A heart-pounding version of NPLS's "Bubble;" the other instrumental off the new album that mutated into a mind-blowing sonic blitzkrieg which got Neal using two pointer fingers to solo on his keyboards; Eric, face scrunched like someone who just ate 20 sour lemonheads, showering the crowd with mesmerizing reverberations, and Alan unleashing a hypnotic drum torrent strong enough to alter a person's brain patterns. Toussaint's channeling of Jimi Hendrix for a lively cover of the guitar legend's "Stone Free," and the crowd chant he incited, "love take over the world," before closing the show with NPLS's party anthem, "Yeah Yeah."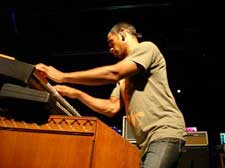 Soulive's personality has most certainly been altered since joining Stax and inviting Toussaint to build camp on their musical playground. Aside from song lyrics written in the group's album inserts, Soulive's stage personality has undergone the most pivotal change with some of the spontaneity being replaced by more structure. The vocals, however, invite more of a repertoire between the band and their audience. Imagine knowing someone who couldn't speak for eight years, and then he or she suddenly becomes a walking encyclopedia that just got back from kissing the Blarney Stone. The excitement of finally learning what has not been communicated over the years can be quite an eye opening experience. Speech is how human beings unleash the power of imagination, and Toussaint's addition to Soulive's personality finally gives a dynamic and positive voice to the infectious sonic collages Alan, Neal, and Eric have been creating for almost a decade. "It's a mindframe that demonstrates the perfect fit between Soulive and the relaunched Stax. I'm so excited," Alan reveals on soulive.com. "Back in the day, everyone on Stax had their own thing: Isaac Hayes, Otis Redding, the Bar-Kays, Carla Thomas – they were real individuals. There's character in that music, and we're ecstatic to be doing our thing as a part of that lineage."
---
RELATED LINKS