Disclaimer: My name is Sam Frank, and I have been a music journalist for a little over four years. Before deciding to write about music I was an avid listener; and one album that resonated with me was The Wallflowers' Bringing Down The Horse: a collection of enchanting songs that earned the band two Grammy Awards, a legion of fans, and mainstream commercial success. This album was also my introduction to Jakob Dylan's captivating voice and soul clenching lyrics; two significant ingredients that have kept The Wallflowers' music sounding fresh throughout the past decade. Their music has become my emotional life preserver; a sound I reach for when the vast sea of darkness called life numbs every bone in my body. To show my appreciation for this group's magnetic sound I have decided to write a personal article describing four separate moments where The Wallflowers' music has impacted me.
---
Back in 1996, I was a high school junior obsessed with two genres of music: Rock and Rap. If Alice in Chains' thrashing sound wasn't inciting head-banging madness then Tupac Shakur's poetic "Thug Life" anecdotes grabbed my attention. While kids today learn about up and coming artists through the internet, I used MTV's Top Ten Countdown as my source for new music, and through this program I discovered Jakob Dylan's unmistakable voice as the video for The Wallflowers' " 6th Avenue Heartache" steadily climbed the charts. To be honest, my first impression of the group was less than favorable. Because "6 th Avenue Heartache" lacked the thunderous roar of bands like Pearl Jam and Soundgarden, and was without the tough edge that made Tupac and Nas superstars I felt that The Wallflowers sound was boring, and that MTV was using it to bridge a looming generational gap in music. That being said, I never would have thought that 10 years down the road my adrenaline filled body would be standing front and center at New York City's majestic Highline Ballroom watching a mature Jakob Dylan perform "6th Avenue Heartache" before a sea of lively fans. What could have happened over the past decade that changed my opinion of The Wallflowers so drastically?
The metamorphosis originally began on my 18th birthday; a week before the start of my freshman year at the University of Florida . In early August of 1997, I went with my friends, Jason and Tony, to see Rage Against The Machine with The Wu-Tang Clan in West Palm Beach , Florida . After the Hip Hop/Rock bonanza came to a close I stumbled upon a flyer for an upcoming Counting Crows concert. Since the show was set to take place on my birthday, August 20th , I figured it would be a great way to celebrate. So, on the day of the show I picked up my friend, Mia, and took a two hour drive towards West Palm Beach on the Florida Turnpike. After finding our seats the lights went down, and The Wallflowers (consisting of keyboardist Rami Jaffee, guitarist Michael Ward, drummer Mario Calire, bassist Greg Richling, and vocalist Jakob Dylan) stepped on stage to open the show. Although I don't remember what song the band began their set with I do remember the surprising force generated during "One Headlight," "Laughing Out Loud," and "The Difference;" all songs from their 4x platinum album, Bringing Down The Horse (1996). While the band's energetic songs got everyone's juices flowing, it was the slower songs like "Josephine," " 6th Avenue Heartache," " Invisible City ," that received the loudest applause. By the end of The Wallflowers' invigorating set I had no energy left for the Counting Crows, and apparently neither did Mia because she asked if we could go home halfway through the Crows set. On our way back to the car Mia turned to me and said, "ya know, the show would have been a lot better if the Counting Crows opened up for The Wallflowers." I agreed with her wholehearted.
That very next day I bought Bringing Down The Horse (1996), listened to it incessantly, and had a blast three months later while watching the band perform at the University of Florida during homecoming week. "We did this tour with Counting Crows in the summer of '97, playing five nights a week," drummer Mario Calire explained to Rolling Stone's David Fricke back in 2000. "And almost every day off we had, we booked a gig somewhere on our own. We would drive way out of the tour route to do our own gigs. We played every city there is to play, shook every hand there is to shake." In 1997 alone, The Wallflowers played a staggering 275 shows.
My next Wallflowers moment came a few years later when I started having problems with my CD player. For a poor college student, spending more than $100 on anything was a big deal, so to purchase a new CD player I opened an account at the closest Target store and bought everything with my Target card. After choosing a three disc AIWA sound system I decided to pick up a new CD in honor of the occasion. That CD happened to be The Wallflowers' newest album at the time, Breach (2001), and from the moment that disc touched the number one slot in my new player it remained there for the next five months. Ironically, though, within those five months my girlfriend and I ended our two and half year relationship. As a result of the break-up my emotional stability began to slip away; I stopped going to classes, became anti-social, and basically turned into a couch potato. Not even music from my favorite artists had the power to lift my spirits. Strangely enough, the only songs that seemed to make any sense during that turbulent period of my life were on that Breach album. The following songs were the most powerful:
Hand me Down
You're a hand me down
It's better when you're not around
You feel good and you look like you should
But you won't ever make us proud
Letters from the Wasteland
Now I send back letters from the wasteland home
Last slowdance to this romance on my own
May take two to tango, but boy it takes one to let go
Sleepwalker
I'm in your movie and everyone looks sad
But I can hear you, your voice, the laugh track
But you never saw my best scene
The one where I sleep
Sleepwalk into your dreams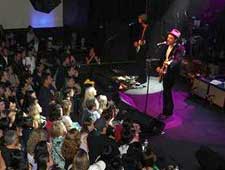 As time passed on things began to cool down. I finished all my classes, passed all my tests, and graduated college. I'm not saying that I graduated college because of The Wallflowers' music, but Jakob Dylan's voice seemed to be the only thing that penetrated my thick wall of despair.
After graduation I moved to Japan and began teaching English to elementary and middle school students. To learn Japanese I thought it would be best live in a town where no native English speaker was within a 50 mile radius, which is why I moved to the Buddhist Temple town of Hiraizumi , located in the mountains of Iwate Prefecture . Hiraizumi had a population 9,000 people, and to get there from Tokyo required a long three hour trip north on the Shinkansen (Bullet Train). My first six months in this foreign land were filled with a series of cultural mistakes ranging from food etiquette all the way to not bowing low enough for high ranked town officials. The only times I ever felt peace during these awkward months were on these long bike rides around the beautiful mountainous terrain; crossing rivers and passing through rice fields as the wind blew intricate patterns in them. As the months passed, though, the isolation began to weaken my spirits, and the feeling of homesickness became a heavy weight on my shoulders. Then, during one of my long bike rides, a funny thing happened.
I stopped off at a supermarket called Jusco, located in the neighboring city of Ichinoseki , to buy a drink. While in the store I noticed a small CD section in the corner. In an effort to amuse myself, I went over to the CD section and started going through the Rock/Pops section. After 15 minutes of searching my jaw dropped as The Wallflowers' Red Letter Days album stared back at me. I couldn't believe it, not only was I unaware that The Wallflowers had a new album out, but that it was actually being sold at this tiny CD boutique in a random area of Japan . With no prior knowledge of the album I immediately bought the CD, rode home as fast as I could, and blasted it at full volume on my crappy CD player, and boy, did that sound hit the spot. "When You're On Top," "Everybody Out Of The Water," and " Three Ways " simply eradicated all the homesick emotions that had plagued me throughout the prior weeks. Jakob Dylan's voice brought me back to America , and when my eyes were closed I would always imagine him on stage performing each song before hordes of screaming fans. The track that inspired me the most off Red Letter Days was "Too Late To Quit," an intoxicating burst of vigor that injected a lethal dose of determination in me.
Too Late To Quit
You've got to keep movin'
You've got to keep pushin'
You're never gonna get back
Anymore than you're givin'
Life is for the living
You've got to be willin'
A song ain't a song
Until someone starts singin'
Those words of wisdom pushed me to study Japanese harder; gave me the energy to stand up in a blizzard after dislocating my shoulder on a mountain while snowboarding; kept me calm as I swam for safety after a typhoon-generated wave pushed me 20 ft. under water while surfing; and haunted me when I thought about giving up music journalism in Japan because I didn't have enough money in the bank to feed myself. Over the years, The Wallflowers' sound has helped me through some of the darkest moments in my life, and the day I realized that writing about music was part of my destiny I vowed to write about this band's contribution to my soul. In October of 2007, I was presented with the opportunity to keep that promise.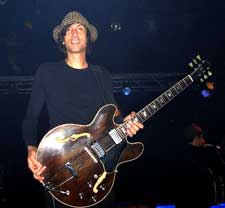 New York City 's Highline Ballroom is like an arena that can house various kinds of sports. As Madison Square Garden can be a basketball court one night, and an ice hockey rink another night, Highline Ballroom can change from a Hip Hop club to a Rock Show venue, and the Rock Show venue was in full effect as the reconstituted Wallflowers (consisting of bassist Greg Richling, drummer Fred Eltringham, guitarist Stuart Mathis, and Vocalist Jakob Dylan) opened the show with "Shy Of The Moon," a song from the band's 1992 self-titled debut album. With the departure of keyboardist Rami Jaffee, Jakob was the only remaining member from that original 1992 line-up, but that didn't stop Greg, Fred, and Stuart from flexing their talents on such classics as "Three Marlenas," "God Don't Make Lonely Girls," and, of course, "6th Avenue Heartache," where the Jaffee's keyboard was replaced by Mathis' breathtaking axe. A delicate balance between the stage's colorful luminescence and the band's enchanting sound created the evening's soft tone. With the exception of sporadic intensity bursts, reminiscent of the shows I saw a decade ago, the Highline Ballroom performance had an overall acoustic feel to it. The more potent moments of the evening came during the lively versions of "The Passenger" and "How Far You've Come," off the band's most recent album, Rebel, Sweetheart (2006). After joking around with audience members, The Wallflowers finished their intimate show with two brilliant songs off Red Letter Days (2003), "Closer To You" and "Everything I Need." Although the crowd favorite "One Headlight" was not part of the evening's set everybody left with smiles on their faces, indicating that The Wallflowers have never been, and will never be a one hit wonder.
What drastically changed my opinion of The Wallflowers is quite simple: I grew up. Sometimes people listen to music, but they don't really hear it, and I had no way of hearing "6th Avenue Heartache" as a 17 year old kid who only listened to Rock and Rap. For me to understand the beauty of The Wallflowers' music I had to travel the world, almost die twice, and hit rock bottom emotionally and financially. But at the end of the day, it was worth it, and for the rest of my life I will be able to use Jakob Dylan's voice as a key to my own inner strength. As for listening to Pearl Jam and Soundgarden; well, (lead singer of Pearl Jam) Eddie Vedder's Into The Wild Sdtk. and (Former lead singer of Soundgarden) Chris Cornell's Carry On are two new albums that portray these legendary rock gods in a softer context, and while Jakob Dylan hasn't veered too far from the sound that earned him two Grammy Awards, both Vedder and Cornell have found new life on the quieter side of town. It only took 15 years for Dylan's harder edge contemporaries to truly understand the magical depth of his sound, but better late than never.
"Everybody has something to overcome. I want to be a great writer. Maybe the thing I have to overcome is this notion of myself, I just have to believe that there are people who don't care where I grew up or how I grew up or what my parents were like."
Jakob Dylan
During an 2000 interview in with
Rolling Stone's David Fricke
FYI: Jakob Dylan is the son of a famous musician, and while "his" voice has touched the hearts of fans worldwide it only makes me want to hear The Wallflowers .
---
RELATED LINKS