Another huge showing by the Tempe/Phoenix chapter came to party and support Black Label Society at the Marquee Theater. This was one of the last shows before Zakk Wylde hits the road with Ozzy Osbourne in support of Ozzy's latest release Black Rain.
I always love going to a BLS show because you may not have ever met anyone at the show before, but the feeling you get is as if you are at a giant family reunion. I don't think there was one single person in attendance that weren't showing their "colors" by wearing BLS garb. I have to say, normally I don't wear the shirt of the band I am going to see, but tonight, even I was sporting a BLS thermal shirt.
Dope opened, and I have to be honest, I didn't even pay attention. I was there for BLS and BLS alone. While I was out on the patio during the set however, and I heard a song that sounded somewhat familiar, but I couldn't quite put my finger on it - until -- a few people came out onto the patio, fists pumping in the air, screaming "You spin me right 'round baby, right round..." Oh my God, is that the song by that dude that looks like a chick from the '80s? Are you kidding me? And people are pumping their fist in the air to that?
As the tech's set up for BLS to start, the crowd was anxiously waiting, and getting louder and louder. As the red lights started spinning the crowd erupted into chants of "BLS, BLS, BLS...." The band finally emerged, Zach looking like he came straight out of the war scene in Braveheart (minus the blue make-up of course) sporting a kilt with his long hair, beard and combat boots. First on the set-list was Black Mass Reverends followed by Been A Long Time and Say What You will. Up next was New Religion, and What's In You. The crowd was banging their heads the entire time and the band was feeding off all that energy. Too bad the guy behind the lighting board wasn't awake. It would have been nice to have some light on the subject. Guitarist Nick Catanese was totally in the dark almost the entire show.
Up next was Bleed for Me and the crowd reacted emphatically. Zach then picked up the acoustic guitar and jammed out a quick little solo. This guy oozes music from every pore. He is so technically perfect on guitar and really seems to also love playing keyboards. It is a pleasure to watch and hear. You can tell that this is what makes him tick. Zach then introduced the band to include Craig Nunemacher on drums, John Deservio on bass and of course Nick Catanese on guitar. What is so great about the introductions is the evidence of how tight this band is. During the exchange of hugs, kisses and total goofing off between the guys, it appears that they truly do love and respect each other and really are brothers. Appropriately, the band now starts playing Blood is Thicker than Water.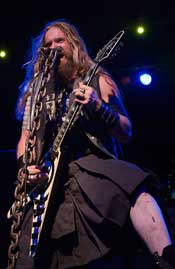 The interaction between the band members spills out into the crowd as Zach and the boys are truly showing their love to the audience and emotionally pulling them in closer and closer. What a perfect time to pay tribute to Darrell "Dimebag" Abbott -- a BLS show certainly wouldn't be the same without this beautiful moment and the song In This River that accompanies it. The entire place lifts is glass in a toast chanting the name of one of the most beloved and legendary guitarists of all time -- "Dime, Dime, Dime..."
Also played was Suicide Messiah and Damage is Done. The show seemed like just a huge garage party with your friends jamming on their instruments and generally having a great time. This celebration lasted for about three hours.
Their credo of S.D.M.F. - Strength, Determination, Merciless, Forever - shines through every performance. I read the title of an interview quite some time ago that really sums it up - the colors of BLS are Black and white - there are no grey issues. With that, their strong patriotic nature, love for family and faith in God really gives them the tightest bond between themselves and their fans (which they call "chapters") across the world. They truly are one of the best bands touring in my opinion and if you have missed them in the past, make sure you get a chance to catch them in the future. You too will have that warm, fuzzy, family type feeling when you leave the venue.
---
RELATED LINKS