Do you remember the days of arena rock bands and all the hoopla that went on when these shows came to town? Maybe I am dating myself, but I do. These were huge events! This show was very reminiscent of those days. Arriving at the Cricket Pavilion showed that these bands can still draw just like they used to when they are packaged well together. Tons of people were out "tailgating" in the parking lot and getting psyched up for the show. When the gates finally opened, the lines to get in were unbelievably long, blocking traffic of the cars trying to get in to park.
First on stage was Foreigner who, back in the 70s and 80's, was hailed as one of the most popular rock acts in the world. The crowd exploded in cheers! They opened the show with Hot Blooded and the energy definitely ramped up from there. Up next was Head Games followed by Cold As Ice and the crowd was singing along to every word. When you looked back into the crowd, every arm was up in the air. Dirty White Boy was up next and then the band broke into Feels Like the First Time and it certainly did - the crowd went absolutely insane. I have not heard that kind of a reaction at a show in a very long time. Up next was Urgent and the bass player, Tom Gimbel, became the sax player and the pure clean sound of the sax was just beautiful. It gave me goose bumps when he hit those high notes flawlessly.
There was what seemed like a little weird lighting issue where the stage went virtually dark for a few moments, but it didn't seem to faze anyone. Jason Bonham then went into an amazing drum solo. As they were wrapping up with Juke Box Hero with a little bit of Whole Lotta Love mixed in, it was funny to look back and where people would usually be holding up lighters, the new technologically advanced youth of today (and even the fans of yesteryear) were holding up cell phones to illuminate the crowd area. The last song was Hot Blooded and I have to tell you, I don't think this crowd wanted this set to end. If you missed this band in their heyday with the original line-up, make sure you don't miss them now.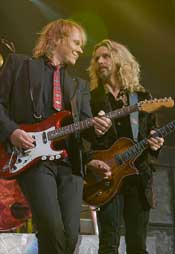 Mick Jones is the only original member left and you can tell that he is excited with the new life and energy that the current line-up brings to the songs that he helped create over the last 30 years. The members of the group are lead singer Kelly Hanson, formerly of the hair band Hurricane. The vocals he lends to this project are perfectly suited with the right combination of a rock and blues vibe and he exudes tons of energy on stage. Jeff Jacobs, who recorded 2 albums and toured with the Billy Joel Band is on keyboards. Jeff Pilson provides the bass and has been in such noteworthy bands as Dokken, Dio, MSG, War and Peace and Pilson/Lynch (with another Dokken alumni George Lynch).
The multi-talented instrumentalist Tom Gimble joins the group contributing flute, rhythm guitar, keyboards and saxophone. That saxophone is a critical part in the song Urgent and it is worth reiterating that those high notes will certainly give you goose bumps. It was amazing. Tom did two tours with Aerosmith playing keyboards and sax and has done numerous TV and film appearances such as Woodstock 2, Wayne's World 2, Saturday Night Live and MTV's Unplugged series.
Last but certainly not least and rounding out that hard-driving sound is drummer Jason Bonham (son of the Legendary Led Zeppelin drummer John Bonham). Jason has been hitting the skins since he was a ripe old age of 5 years old and has played with such legendary names as Jimmy Page, Jeff Beck, David Gilmour, Paul Rodgers, Slash and others. He also sat in for "Dad" with the Zep Reunion performance at the Atlantic 40 th Anniversary show at Madison Square Garden. He also had platinum success for his '80s band Bonham. I was glad to be able to see these guys play and am hopeful for perhaps a new recording in their future.
Up next was Styx who has also had a few line-up changes since their major success in the '70s and '80s. Original members Tommy Shaw and James "JY" Young are both still touring around and jamming on their guitars. Todd Sucherman has been the guy behind the drums since joining the band in 1996. The very quirky and entertaining Lawrence Gowen has been with the band since 1999. He really does the songs justice with his the keyboards and his vocal ability. I hate to say it but Dennis Who? Ricky Phillips is most known for playing with the Baby's and Bad English, and has a long list of major acts that he has worked with throughout the years. One of his many current projects is touring with Styx. Chuck Panozzo does still occasionally join Styx on stage, but due to health issues is not able to tour full time and was not on stage at this particular show.
The band started out the set with Blue Collar Man and then went into Grand Illusion -- both huge hits with the crowd, but when they got to Too Much Time on My Hands the crowd went insane! Seriously, between Foreigner and Styx, I have not seen energy like this at a show in a very long time. They followed up with Foolin' Yourself (The Angry Young Man). I can't' say this enough, Lawrence Gowen, the new singer is the most goofy, animated character I have ever seen, at least outside of Dragonforce. He is very entertaining and plays with the crowd and interacts constantly with the other members of the band. At one point he was standing on his keyboards and beating on his chest like a gorilla. It would seem he would do almost anything to keep the energy of the crowd going through the roof. Everyone was into this performance! It was brilliant!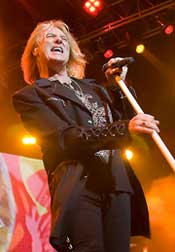 Def Leppard followed as the night's headliners -- I have to say that I had been warned about the last Def Leppard show. I don't listen to what other people say. I take it with a grain of salt, so I was pretty excited to see Def Leppard. When they came on stage, Phil and Vivian look like they haven't aged a day. Joe and Rick Savage, on the other hand, looks like they have been beat to shit by time. The stage set up was reminiscent of their stages back in the day. Unfortunately, the back-up vocals were very weak (and they were used more to cover up Joe's lack of range), the sound was slightly over modulated and Joe Elliott just cannot hit the notes he used to. I'm not even talking about the higher ranges, it was ghastly apparent through each and every song. I was extremely disappointed. At one point Joe was waving his arms as if he was going to take off like a bird... trying to rile up the crowd. It looked as if everyone was just thrown off by his lack of range; the energy just wasn't the same as the openers'. They played all their standard hits, which at times sounded butchered, and I have to say I was less than impressed. I ended up leaving the venue early, still excited about Styx and Foreigner but really disappointed in the performance of Def Leppard. I would like to think that perhaps they just had a off night, but with previous reviews, it seems that perhaps this is now the norm.
---
RELATED LINKS