Picking up where In This Moment left off, Rob Zombie hit the stage with his highly theatrical stage show. I do have to give it to Ozzy on this one though, giving a support band this much leeway with their stage presence was a ballsy move. Rob was clearly the headliner tonight by all means, and probably the biggest ticket draw.
The stage showboated a half dozen or more video screens that constantly complimented the music by displaying various forms of animation and scenes from horror films such as Nosferatu. Most of the footage revolved around vampires, zombies, werewolves, and sandwiched between all this were breasts. Glorious breasts of all sizes, jiggling. Celebrated, dazzling, heavenly, delightful breasts. Everywhere.
All this before the music even started.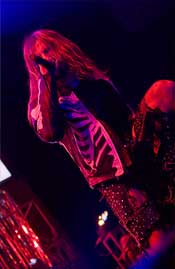 As the band walks out in full skeleton regalia, the show immediately kicks off. American Witch and a thunderous sing-along from the crowd, the show was definitely top notch. Performing with Rob were guitarist John 5, bassist Piggy D and atop a 20 foot drum riser was Tommy. The band was as solid as can be and tore through Dragula, More Human Than Human and Living Dead Girl. The stage had flames shooting high in the air at regular intervals to punctuate various musical points during the songs. The effects Rob uses simply honors the energy in his songs, and never distracts from them, regardless of how over the top they get.
Rob made quick work of his short hour long or so set, which only seemed to lag during John 5's guitar solo. At one point he played a snippet of Eruption, but with odd effects which just didn't seem to fit once you recognized the song.
Set list (may not in order): Sawdust in the Blood, American Witch, Demon Speeding, Living Dead Girl, More Human Than Human, Superbeast, House of 1,000 Corpses, Let It All Bleed Out, Never Gonna Stop, Thunder Kiss '65, The Devil's Rejects, and Dragula.
Unfortunately, Ozzy just couldn't match the exertion of either support band. While I am just as big of an Ozzy fan as the next person, I was astonished at just how bad his stage show has become. While his voice was strong and understandable during the between song exchanges, it was sadly weak and broken during the songs themselves. After he launched in to I Don't Wanna Stop, Crazy Train, Suicide Solution and Mr. Crowley, I knew it was time to go. The show was not going to get any better than it was prior to Ozzy taking the stage, and the momentum in the arena was dropping faster than Britney Spears' panties in a West Hollywood sex shop.
The only thing that kept Ozzy's train from total derailment was the strength of the band, led by guitarist Zakk Wylde. But even then, you could tell they were struggling with having to carry all that weight.
---
RELATED LINKS