Photos by Rob Grabowski
I've seen a million faces and I've rocked them all-"Wanted Dead Or Alive"
There I stood, second row, on November 20, 2000 at the Rosemont Horizon just outside Chicago, Illinois. Bon Jovi had just finished
playing "Wanted Dead Or Alive". For the previous 3 weeks, this song had closed each and every show since opening night of the American
tour. However, that night in Chicago would be different. As the band was taking their bows, the crowds roar reached fever heights that up
until that moment, I had only witnessed twice before, 4 months earlier on Springsteen's final show of his tour at Madison Square Garden,
and the other time was over 7 and a half years earlier, when Bon Jovi played the same building in Chicago on March 5, 1993.
I have seen over one hundred concerts, all over God's green Earth, in every region imaginable and by a eclectic array of acts that if I
were a store, I would be a ice cream shop, because the artists I admire with ardor have more variety than the 31 flavors of Baskin
Robins. Yet, on this distinct night, there was frenzy in the crowd; they were not going to let this band leave the stage without at least
one more number. Little did we know that the band would do the crowd one better? They played two songs; "Twist & Shout" and "Never Say
Goodbye", neither was on the set list, nor were they planned. This is the brilliance of what is Bon Jovi in concert…one of the greatest
live bands on this planet; past, present and I hope...future.
From that night on, "Twist & Shout" was played in every single encore for the remainder of the tour. In fact, over the next few weeks,
the set list largely modeled the Chicago one. The band probably felt, if it isn't broke, why fix it? In life, we have always been put in
the mindset that going the extra mile will get us something special on the back end. On that extremely wintry November night, Bon Jovi
tattooed the show into the minds of the 15,000-plus sold out crowd. On no account would we fail to remember that night as long as we
lived, and more importantly, we would not forget about Bon Jovi the next time they rode through town. Chicago remembered them well. The
following June the band played the largest amphitheater in the United States upon their return to Chicago. They sold all 29,000 tickets
months before the show even occurred. Very few people actually sell this amphitheater out, that in itself is a triumph, but even more
important, was that the band was at the top of their game. It also spurred the band to enhance their performances ten fold over the
remainder of the tour.
I love seeing this band go above and beyond what they think they can achieve. My only worry is that with all of the success they have
received over the last few years, they feel a tad too comfortable in their shoes. As I saw them perform their last two shows, at Giants
Stadium in July 2001, I couldn't help but feel that the set list was rather safe. It was still a great show, anytime you get 60,000-plus
people in one place at one time, who know almost all of the words to every song, and it's rather mind-blowing. Shows like that prove that
a gig does not have to be small to be good. However, the main set was the exactly the same both nights. Part of this may have been
because VH1 was filming the shows for broadcast two days later. Yet, I believe that for a hometown crowd, including many who were going
both nights, they could have been more enterprising.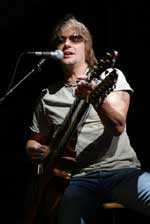 In essence, the successes they have enjoyed over the last few years have hurt their street credibility. They are no longer the underdogs.
They are still fantastic in concert and always will be. However, is it wrong of me to want more? Seeing performers in the flesh is unlike
any other experience on this earth. When you listen to a CD or see a movie, the occurrence is usually done in a subtle setting. There is
nothing quite like seeing a few or many thousand people sing along with each and every song being performed. One of the things that have
always made Bon Jovi one of the best live acts around is the variety of their set lists. This was especially evident in 1995/96. Their
shows would have extraordinary changes on a nightly basis. On any given night, you would have assumed that this would be their final
performance, and they wanted it to be remarkable. I want to be able to look into their eyes and see that appetite for world domination
brewing.
I have always felt that Bon Jovi is as good as any live band on this planet. Many people argue with me over this, but it's true, mainly
because they hold the audience's attention better than any other live act I have ever seen. No one expected much from the album Crush,
yet somehow, it took on a life of its own. Not only that, but the concerts they performed over the course of the next year were among the
best, and most adventurous, the band ever played. Why not switch it up? Why not take some chances? Why not impress the crowd with their
ability to be the best live band on the planet? That is what they consistently do. However, after viewing many of the early set lists
from this tour, I'm a tad concerned. I'm sure they have all been terrific shows, but the set list could use a shot of imagination.
This is not disparagement to the band, but a fan that wants to see them attain the peak levels of success. Consider this an open letter
to the band, and a business proposition from an outside consultant. I'll break this article down into three specific sections:
How to reexamine the set list structure What songs the band has omitted from the set that they should include on a regular basis What songs should be left on the cutting room floor.
At the end of this article, I'll post my dream set list (with song alternates next to certain songs), and one that I hope the band will
consider playing. Each and every tour since 1993, I have taken someone to just about each and every Bon Jovi show I have attended. Why?
Because I want them to experience what I consider to be one of the highest highs imaginable...the live experience that is called Bon
Jovi. Anybody who has ever seen them live knows exactly what I am talking about. I want my friends to walk away from the show feeling
like they saw a show that was more than distinctive, but something that will be imbedded in their minds and hearts forever. It's
injudicious, I know, it's only music, it's only rock n' roll, but I like it and seeing performers go above and beyond what people expect
enthuses us, and it inspires us to heave more money at the band upon their return trips. Believe me, I would like for nothing more than
for Bon Jovi to get lethargic and call each performance in, it would save me a lot of money. By the end of this February, I will be
attending my 18th Bon Jovi show and my 14th in the last 3 years.
Why would one want to see a band that many times in concert? Anyone who has ever seen their favorite performer live can answer that
question. It's a high like a legal drug. However, bands like Bon Jovi only come through town every few years. However, in this day and
age, with ticket prices sky-rocketing higher than the national deficit, we are taking fewer chances with whom we choose to go and see in
concert because of the prices. Seeing Bon Jovi live is an experience in and of itself. They somehow can take a song that you may have not
liked on record and transform it into something else in the live arena. One wonders why they just don't produce their albums themselves.
I truly believe they give 100% of themselves each and every night they play live, however, I want to see them give 110%, the extra 10%
will go farther than they ever dreamed imaginable. You want your crowds to exert themselves to the point of exhaustion. I just hope Bon
Jovi has not lost that edge that distinguishes them from other acts.
What follows are some suggestions to triumph crowds over with this winter and spring. I've never walked away from a Bon Jovi show
disappointed, but I think it's time for the band to stop relying on old tricks and come up with a few new ones. They did this on their
1996 tour which toured stadiums in Europe and Japan exclusively. No two sets on that tour were alike. In fact, they switched sets up so
regularly; it was hard to keep up with what they were playing. I want to see another tour like that again.
* * *
Suggestion #1: The Same Old Song & Dance- The Set List Structure
Hook me up I'm reaching out for you, come on – "Hook Me Up"
The sets on the current tour have been opening with "Bounce" an upbeat rocker. I was disappointed with this selection when I first heard
they were opening with it, not because it's a bad song, but only because "Hook Me Up" has such an infectious in-your-face groove that
perfectly suits an opening number. I could almost envision the curtain being dropped as Jon begins the chorus "Hook me up!" signaling the
beginning of a wild ride. However, either song makes a fine opener. However, it's the beginning and ending of the main set that worries
and dare I say it, bore me. For years, going back to 1986, "You Give Love A Bad Name" has always been one of the first songs played. It's
a rock classic which no one will doubt that. However, seeing the band play that song on every TV show possible over the last few years
has made me sick of it. When I went to get tickets for this upcoming tour in November, I slept out for tickets to one show and discussed
all things about life, love and music with those fellow Bon Jovi fans. One thing they all agreed on was how sick we all were of "Bad
Name". I'd love to see them drop it for a tour and then bring it back when it seems fresh, but that is highly unlikely. However, then why
not showcase it later in the set the way songs like "Keep The Faith" and "Lay Your Hands On Me" have been showcased? My suggestion is
that they dig deep into their back catalog and resurrect the song "Shot Through The Heart" from their debut album. It's an impressive
song and one that was performed exceptionally well on their early tours, they even segued it with Cher's "Bang, Bang" (which the guys
later re-recorded with her in 1987). I'd say, about six or seven songs into the set, play "Shot" followed immediately by "Bad Name", not
only would this make a great 1-2 punch, but it would shed a new light on one of the biggest hits, which has become safe and tired.
The other troublesome part of the set is the end of the main set. Since 1988, "Bad Medicine" has closed the show in some fashion. It's a
fun song and adding, "Shout" to the end of it is a sure-fire crowd pleaser, but after fifteen years, it's time to change it up. I propose
putting this early in the set. One thing that bands forget is that the momentum of the crowd is so strong and the blood is flowing so
freely that you could come out and play anything and get an unbelievable response. You have about three songs to take chances before you
should have to unleash a big hit on them. This is where new album cuts and old deep album cuts should be played. The band played "I
Believe" at about half of the shows in Japan. This is an incredibly wise choice, keep it early in the set, it's one of the best songs
that band ever recorded and the live performance of it puts it into a realm of another world when you see the band perform it. After a
few album cuts, play the new single and then possibly crank out "Bad Medicine". When Richie Sambora went on solo tours in '91 and '98 he
played the song early in the set and teased them with the drums beginning before the keyboards cranked in. They should do this here and
they can still keep "Shout" attached to it. Once again, they would be breathing fresh air into a song that has grown rather trite.
The pairing of "I'll Sleep When I'm Dead" and "Bad Medicine" back-to-back goes back to 1993 and the Keep The Faith tour. While it was
interesting back then, it has worn out its welcome. Plus, the best part of "Sleep" was the interlude in which the band would play a cover
version ("Jumping' Jack Flash", "Brown Sugar", "Glory Days", and "Rocking All Over The World"). Towards the end of the last tour, the
band dropped the covers and was playing it straightforward. This made the song, relatively insipid, and with the exception of the nights
the band brought 20 or 30 people on stage with them, the song just fell flat. It was just too conventional. I then realized that I only
looked forward to the song to see what cover they would play on that particular night. While it's a fun roadhouse song, it's rather
monotonous considering it has always led into "Bad Medicine". Yet, the song can convey a lot of power to a show. I would personally like
to see the song dropped from the set altogether, but I know of a way to add new life to it. Make it a medley. Springsteen did this in the
70's and 80's with a number of Motown tunes called "The Detroit Medley". Bon Jovi could do this by simply taking the best of old school
rock 'n roll and mixing it in with one of their own songs. It's creative and a way to keep things fresh and fun for the band as well.
I'll admit it, if done in this fashion; this song could be the show closer nightly. Songs I think they should add include "Dancing in the
Street", old Stones songs ("Get Off of My Cloud"), Springsteen songs ("Glory Days") and maybe even a song or two from his hero Southside
Johnny. The best thing is that leaves options open for them and they could possibly add a certain cover in certain towns correlating to
the town's musical heritage. It would also help keep the song fresh, as no two performances of the song would be the same.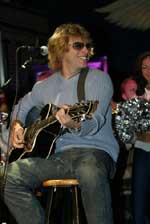 The band has had a long-standing tradition to always play cover songs. This annoys some fans, but what they don't realize is that it's a
delicacy for the band. It gives them something they can truly enjoy and have fun with on stage. However, they tend to over play certain
covers. This happened with "With A Little Help From My Friends" back in the mid-nineties. However, now I'd love to hear it again since it
has been given a rest. "Twist and Shout" has been played at pretty much every single show since that cold November night in Chicago in
2000. I would say it's time to semi-retire it, or find a way to work it into "I'll Sleep When I'm Dead". The band recently added David
Bowie's "Heroes" to the set, which is a great choice and one I look forward to hearing live. One cover I'd love to see them cover is "In
My Life" by the Beatles. Instead of having to play "Never Say Goodbye" at the end of certain shows, this would be a most welcome addition
to the set list. Not only that, but Jon and Richie could trade off vocals and it would showcase Dave Bryan's brilliant piano playing.
It's just a proposition, but I just can't think of any band, other than the Beatles, who could play this song as well, or give it as much
meaning.
* * *
Suggestion #2 Something For The Pain…Glaring Omissions
Faith: don't let your love turn to hate- "Keep The Faith"
There is no possible way for a band like Bon Jovi to play all of their hits. It would be unfeasible yet with a little imagination they
can have a set list as daring as the recent sets performed by the Rolling Stones. I would suggest a minimum of twenty-five songs nightly.
They won't be able to do any ten or twelve-minute versions of any of the songs, but this will be for the better. This way they can play
plenty of new material and leave lots of room for the older songs. However, there were two glaring omissions from the Japanese set lists:
"Keep the Faith" and "Lay Your Hands On Me". These two songs have been highlights of each and every show I have ever seen the band play.
Their non-inclusion in the set list is more than just disappointing; it's a terrible idea. No one wanted "Keep the Faith" to be the first
single back in '92. However, the band stuck to their guns, put it out and the song has continued to evolve into possibly the best live
song in their repertoire. I cannot begin to explain the amount of energy the song has and how the crowd reacts to it. A large part has to
do with the musicianship of the band on the song. It's rooted in the rhythm section of Huey McDonald and Tico Torres who are at their
best during this song while Dave Bryan does his best to play two keyboards to keep the balance, as Richie Sambora wails on his guitar and
it reaches a climax unlike any other song I have seen by any other performer ever. The band is so tight and in tune when playing this
song that Jon has even thrown in bits of the Rolling Stones "Sympathy For The Devil" in it. It's a brilliant song, and if I had my way,
it would be the main set closer each and every night. The band Bon Jovi made a choice in the early nineties to make rock 'n roll with
scruples. They grew up and the highlight of their early nineties material shines through on this song. Its non-inclusion in any show is a
travesty.
I can show you how to fly and never ever come back down –"Lay Your Hands On Me"
"Lay Your Hands On Me" is a song that one would have thought would grow old and tired after the New Jersey tour; however, the band has
made it the center point of their shows. It's where the crowd gets to interact with the band. This song should be kept near the end of
the set, with "Undivided", their 9/11 inspired rocker preceding it. If "Undivided" is Good Friday, the day Christ died, then "Lay Your
Hands On Me" is Easter Sunday, the resurrection. Drop the drum and keyboard solos and slowly crank up the organ as we conclude
"Undivided" and initiate "Lay Your Hands On Me". Jon's communication with the crowd is unlike anything else I have ever seen by any other
performer. It is quite a sight to be able to challenge and command thousands of people on get on their feet, singing in unison together
and waving their hands in the air. If done by any other band, this song would be their signature song. They need to keep this song in the
set as it is the ideal way to build momentum to a climactic finale of the main set; "Lay Your Hands On Me", "Raise Your Hands",
"Everyday", "It's My Life" and "Keep The Faith". These are the perfect songs to put together. They run through a theme of camaraderie,
hope, redemption and faith. This is the idyllic way to conclude the main set and to have the audience pleading for more.
One of the illustrious aspects of their 2000/01 tours was their willingness to dig deep into their vaults. They pulled some real gems out
to be played live including "Living In Sin", "Raise Your Hands", "Wild Is The Wind", "Homebound Train" and numerous others. With a
catalog that so vast and wide why should any two shows ever be the same? Another pleasant luxury would be the inclusion of b-sides like
"Edge of a Broken Heart" which could help give a tiny taste of what is to come on the forthcoming box set. It's a song that almost every
Bon Jovi fan loves, and is one that has never been performed live. If the Stones and Springsteen can open buried treasures and play songs
they have never played live before, so can Bon Jovi.
These Days is Bon Jovi's most underestimated album and one the band continues to disregard in live concerts. It's their Darkness On The
Edge of Town or Achtung Baby. It's an unbelievably profound, shadowy and yet amorous album in which Jon Bon Jovi and Richie Sambora
exposed their souls to the world. Unfortunately, this album has been overlooked since the 1996 tour. They should allow one slot in the
show to a song off of These Days. It's a way to still turn people onto this album and if played after a big hit, it can help pace the
show. The most fitting songs to perform would be "These Days", "Something For The Pain" and "Letting You Go". However, if they were to
choose one song, I would have them do "Something To Believe In". The song was used on numerous NFL ads and it's inclusion on the last
live album shows that the band enjoys performing the song. It's also the best song off of These Days that can possibly turn into a sing
along with the "hey, hey, hey, hey" chant (with the help of the video screens).
One wish I have been having for years was to see Richie Sambora sing at a Bon Jovi concert. Richie performed "Stranger In This Town" a
handful of times at the end of the last tour. However, the great surprise last month in Japan was they let Richie sing "I'll Be There For
You". Joe Perry of Aerosmith and Keith Richards of the Stones get to sing, why not Richie? This is the perfect song for Richie to be
showcased in. He's an amazing singer and he's singing one of the bands biggest hits. Also, it's a song that if it were up to Jon, he may
not have in the show every night. This version is a keeper.
Close your eyes and see my blue skies breaking through these dark clouds
You are the light
In my mind I see your red dress and your arms are reaching through the night
I'll never give up the fight
I'll go the distance, I'll go the distance


- "The Distance"
There are lots of songs in the Bon Jovi canon but there are a few that deserve to be played on a regular basis, if not every night. No
song, from Bounce is more deserving of this than "The Distance", the typical Bon Jovi big monster rocker/ballad of how far we will go for
the one we love, its simple theme, but the driving guitars and keyboards make it an instant classic and a song that should be the next
single. I feel this song has the greatest chance of generating a huge increase in album sales. "Love Me Back To Life" also deserves live
airings as well, because of the driving force of Torres drums beats and the impassioned vocals from Jon. Most importantly, I hope to see
"Captain Crash and the Beauty Queen From Mars" on a nightly basis. This is simply the best rock song that Jon and Richie have ever
written and a song that is so smart, groovy and infectious that Mick and Keith are probably wondering why they never wrote it.
* * *
Suggestion #3 My Guitar Lies Bleeding…Songs To Leave Behind
The band now has 8 studio albums to pull material from, and this does not include a wide range of cover songs, b-sides and solo
adventures. However, there are certain songs that I feel the band should stay away from. Among these are the following:
"I Got The Girl" – Yeah, I know Jon wrote it for his daughter as a sweet little love song, but it's the ONLY song that I have ever seen
people sit during at a Bon Jovi concert
"All About Loving You", "Joey", "Right Side of Wrong" – Fans are largely in agreement that these are the three weakest songs on Bounce.
However, while "Joey" and "Wrong" may be well intentioned, they just fall short and frankly, are songs that I have yet to find a Bon Jovi
fan that has actually liked them. "All About Loving You" is just not one of their finer songs and when you are touring behind an album
with so many strong songs with great potential in the live setting ("The Distance", "Love Me Back To Life", "Open All Night") playing it
would be ill advised. In Japan "Wrong" and "Joey" were performed in the middle of the set along with other new material, which if done in
America, will lose the audience's patience quicker than a thought provoking Tom Cruise or Adam Sandler movie. I just feel that they have
about seven songs that can showcase the best parts of the album nightly and will integrate with the old warhorses better than these
three.
"Bed of Roses" – This is one of Jon Bon Jovi's personal triumphs in expressing his deep soul on record. Seeing it performed in 1993 was a
huge highlight, because of the passion in which the band performed the song. However, I saw this song a few times towards the end of the
2001 tour, and while I longed to hear this song over "Thank You For Loving Me", I felt it was rather clichéd and merely showed the boys
running through the motions. With so many genuinely illustrious ballads to choose from, I say leave this one on the sidelines for a year
or two until that little spark is back.
* * *
Bands nowadays cannot simply meet fans expectations, they need to go the extra mile and have to surpass their hope. Bon Jovi is planning
on a return jaunt to the US this summer in major markets in which they would play stadiums. The best way to sell these shows out in a
rather crowded summer; engulf your fans this spring and let the near three hour shows speak for themselves. People will hear about what a
staggering show they missed and will be sure they don't overlook it this summer.
Rock music is in a major state of decay. There are a lot of up and coming bands right now who show a lot of talent and the ability to
possibly blow open the entire industry the same way Guns 'N Roses, Nirvana and Pearl Jam did, however, I'm not sure how many of them we
will be paying big bucks to see twenty years from now. Ten years from now, most of the bigger concert acts will be retiring (Springsteen,
the Stones, Eagles, Kiss, The Who, Aerosmith, etc.). So far, there are three bands today that should have no problems filling stadiums in
ten years: U2, the Dave Matthews Band and Metallica. The other act out there now that stands the best chance is Bon Jovi. If they want to
fill stadiums ten years from now, they need to start putting a deposit down now. If people walk away from a two and a half hour plus
show, they'll hark back to it more than the ninety minute shows many acts still give, despite through the roof ticket prices. If Bon Jovi
plays their cards right, and give close to three hours or twenty-six to thirty songs a show. They'll have a stadium fan base that will
pay to see them anytime, anywhere. They need to go out there and make sure that people will remember their shows. With everyone wanting a
piece of the pie and going after fans hard earned dollars for shows, it's time to give it their all to cement their place in these
people's hearts and minds.
I've had enough of cryin'
Bleedin', sweatin', dyin'
Hear me when I say
Gonna live my life everyday

-"Everyday"
I just want people paying to see Bon Jovi to walk away with the feeling I had the first time I saw them back in 1993. Up till that point,
the shows on that tour had been around two hours. Apparently, there was a war of words between the promoter and Jon before the Chicago
show. What took place, I never got specifics on, but I think it was whether or not they were still relevant. Apparently this upset Jon
and he went out to that Chicago crowd determined and ready like a solider heading into battle. What I witnessed over the next 2 ½ hours
was possibly the greatest performance I have ever seen by any band at any time. They were hungrier than any other unsigned band in any
bar in the world. They were like a band that wanted to capture the world's attention. On that night, they caught the attention of the
18,000 people in Chicago. They played seven songs not even on the set list. Jon was quoted in Rip and Kerrang magazines how that show was
the turning point of the entire tour. It was a turning point for the band and everyone who saw the Keep The Faith tour was rewarded with
some of the strongest shows put on by any band ever. Bon Jovi during that tour was more strong-minded than ever to survive the grunge
scene, which they did with flying colors.
At almost every show I have attended over the last decade, I have taken a friend to see Bon Jovi. At the end of the show, I look over at
them and see that sparkle in their eye. That sparkle tells me that they just saw something they had never witnessed before. That sparkle
tells me they saw more than a rock show; they took part in a religious experience. I'm taking a number of people to shows throughout the
Midwest later this month and I will be looking for that sparkle. What does that sparkle look like? They look like they have just
experienced something otherworldly, the look you have after hooking up, the look of being in love, the feeling that you can accomplish
anything after witnessing someone who performs their art to perfection. I have felt this just about each and every time I have seen Bon
Jovi live over the last decade. However, I just don't want to see them slip. More importantly, I want to continue to see them live over
the next ten or fifteen years. The Stones, McCartney, The Eagles, Kiss, Aerosmith and Springsteen are all nearing the end of their
touring careers. Music, specifically in the live arena, is blood that flows through my veins. It sounds ludicrous, but as these acts
retire one by one, I need someone to continue the tradition. I hope that band is Bon Jovi.
Whether or not they will still be relevant in ten years is irrelevant. Hopefully, like the Stones before them, they're live performances
will have become larger than any fad or fashion that will occur in the next decade. What is important and relevant is that they give more
than we expect, stay adventurous and stay true to who they are. It's time to start the next chapter and play every show likes it's their
last. Most of the top grossing acts today are well into their fifties and will not be touring ten years from now. This leaves a handful
of acts to carry the torch. People may not realize this, but in ten years they may very well be viewed as one of rock's great survivor's.
If they stick to their guns and exceed the audience's expectations, they will take their place next to acts like the Stones, Aerosmith
and U2 because they have gone the distance. Till then, I'll see you all out on the road…
Anthony Kuzminski (aka Captain Kid)
My dream set list (in order) (multiple song titles show songs that can be rotated)
Hook Me Up
Bounce
I Believe / One Wild Night
Captain Crash & The Beauty Queen From Mars
Misunderstood
Bad Medicine/Shout
Something To Believe In / These Days
Shot Through The Heart / Runaway
You Give Love A Bad Name
Born To Be My Baby
In These Arms / Wild In The Streets
Just Older
The Distance
Someday I'll Be Saturday Night
I'll Be There For You (Richie on vocals)
Wanted Dead Or Alive
Undivided / Wild Is The Wind / Hey God (leading into the organ of…)
Lay Your Hands On Me
Raise Your Hands
Everyday
It's My Life
Keep The Faith


Enocre #1
Always / Mystery Train / Living In Sin / Next 100 Years
Love Me Back To Life / Edge of A Broken Heart (certain shows)
Blood On Blood
Livin' On A Prayer


Encore#2
I'll Sleep When I'm Dead Medley (w/covers in the song)
Rocking In The Free World (certain shows)
Never Say Goodbye / In My Life (certain shows)

---
RELATED LINKS
Recent Reviews: Saturday Night In The Windy City