Publicity Release June 5, 2003
Endo hailing from Miami, Florida will make their debut appearance on Ozzfest 2003. The heavy metal music fest launches on June 28 in San Antonio, TX and concluded on August 28 in West Palm Beach, FL. A fitting end for the band Endo, right near their home.
The first single of Endo recent release, "Songs For The Restless" is "Simple Lies" and is scheduled to be served on nationwide radio in mid-July and now can be heard on the "Daredevil" soundtrack. Except the CD in your stores on July 29, 2003.
---
The news going around the radio stations, the net and other media outlets that Disturbed is coming back to OzzFest 2003. As well as other grand acts as Korn, Marilyn Manson and Chevelle. You can call it the return of the gods of metal.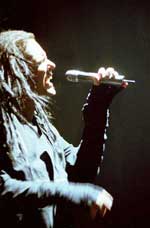 Disturbed got huge recognition when a few years ago, Distturbed where moved from the side stage to main stage because of the turn-out of fans overwhelmed the side stage.