Seldom are Jimi Hendrix and nineteenth- century violinist Niccolò Paganini mentioned in the same breath, but it was the amalgamation of these influences which gave us Yngwie Malmsteen. After brief stints with the bands Steeler and Alcatrazz, Malmsteen hit the scene in the mid-80s as a solo artist, unleashing his unique style combining speed-guitar, prog-rock, and classical influences which has yet to be rivaled.
With close to 20 studio albums under his belt, Malmsteen is about to release his new 'baby,' Perpetual Flame. This 12-track disc - pushing 70 minutes of play time - is Malmsteen's first release on Rising Force Records. But the new album, label, and tour aren't the only things this guitar virtuoso has to be excited about. This month Malmsteen will be inducted into Guitar Center's Hollywood RockWalk of Fame. And in addition, Fender Guitars will be unveiling the new, limited edition Yngwie Malmsteen Stratocaster in November. With 2008 being the year of all things Yngwie it's a shame he wasn't born in the US or maybe we could have convinced him to run for president as well.
---
We caught up with Malmsteen at the beginning of his new tour, with only one show under his belt and with a schedule that has his head spinning, but it seems he wouldn't have it any other way.
"I wish I could explain how incredibly hectic my last few weeks have been, I'm serious -- I don't have time to eat food, nothing. I've done 10, 12 interviews every day from 8:00 in the morning until 11:00 at night. And I'm trying to rehearse at the same time, I'm going on the road and doing gigs, but anyway let's enjoy the interview!" Malmsteen said jovially after flooring me with the answer to my basic query: 'How are you?'
Beginning the tour in Puerto Rico, Malmsteen was elated with the response of the first gig.
"It was very good, I'm happy about that. But I'm happy about a lot of things. There are a lot of things going on at the same time. I tried to get the band to rehearse some of the new stuff for a couple hours and we're loading up the trucks and the bus is leaving now for Texas -- I'm going to fly out later but I had to make sure all my stuff is there, I've got a new guitar tech, and so it's just completely insane. It's funny you know because the title of my record, Perpetual Flame, and it couldn't be more true, it just doesn't stop. In all the years I've been doing this, and trust me there've been a lot of years, this is the most extremely busy -- I don't even have time to go to the grocery store and buy some shampoo or whatever, it's ridiculous."
But why now, after more than two decades in the music industry, is Yngwie Malmsteen's schedule so much more assiduous than in the past?
"I think the scene has changed so dramatically that the last time I put out an album it was like, 'Yeah, so what.' Now, it seems like the whole world is taking notice. Brazil, Australia, Germany, the United States, Japan -- it doesn't matter, it's a very very strong attention getter. I don't know if it's the record or the scene or what, I don't know what it is, but it's a combination of everything. I'm not complaining it's just kind of breath-taking."
The work on Perpetual Flame was a heady task in itself when Malmsteen found himself with an abundance of songs that he wanted to weed down to a dozen.
"It was very difficult to do. Normally I record maybe two or three extra songs, but on this I recorded ten. And what I mean by that is they were completed with lyrics and mixed and everything. So it was very difficult, and I'll probably release them later on but still it's very hard to do. I really put everything into this, there's blood, sweat, and tears in every song, in every lyric, every piece of production. I tuned the drums and then I put the microphone on it and EQed it; I really really did minute things from the very beginning to the very end. So these songs are like my children, you know? Every aspect of the whole recording process I'm doing, it's not like I come in to do a guitar solo and it's done -- far from it."
And not that coming in to lay down the guitar tracks and then leaving is something that Malmsteen has ever done, but even so his involvement in putting out Perpetual Flame is still above and beyond.
"I have been very involved but not to this degree, this is extreme. And that's not necessarily a bad thing, it's just extremely demanding. I even engineered it, I usually have an engineer, and I produced it too. But the good thing about how this album was made was that I started, then I went on the road, then I came back and I continued. So it wasn't like starting at one point and just finishing it. It turned out to be a really good thing because I came back every time with different perspectives on the record. Once you start, if you stay in the studio it's very difficult to keep a complete distance to it. This is a good thing. There's always more you can do. Always. I might drive around and listen to it and go, 'Oh man, I could have put a counterpoint right here,' again, it's a perpetual thing. You have to stop somewhere and call it."

Malmsteen goes on: "I just got an actual copy of the record today and I put it in my car and listened to it. It was weird because I've been on this record for a year and a half or something and it was just like, 'Wow.' And 'Red Devil,' 'Death Dealer,' 'Live to Fight (Another Day),' whatever, I was just like, 'Yea!' It's like, "Oh I love this song!' and then the next song comes on and it's, 'I love this song!' I can not [chose a favorite], these are my children."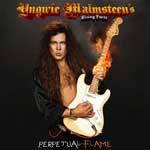 In his early years, Malmsteen would derive most of his influence from classical composers rather than from other guitarists who were, frankly, influenced by more guitarists. But is it still classical music which ignites the creative juices for Ynqwie Malmsteen?
"That's a good question, I don't need to. I don't need to listen to any music to get any sort of influence in any way, shape, or form. It's been hard-wired and deeply implanted a long time ago. So when I start to improvise or when I start composing it's automatic, that's the way it's going to turn out. The only thing that I actually take outside influences on and spend more time on than anything else is the lyrics. I worked really hard on the lyrics, listen closely to the lyrics, you'll see. The music, it's very interesting, because the music -- I let that take the lead and I just follow it, it's the natural evolution of things that just happens -- I don't have to think, I don't have to do anything, it's just automatic. It's like that auto-composing, it's coming from somewhere, I don't know where it is, it just happens. And that's it, I can't push a button or turn it on or off, it's just automatic, and I've learned how to wait and just catch the moment when it happens and allow that to happen naturally instead of forcing it. The music is automatic and natural, that's just the way it is and it's not going to change. The reason it got to where it is is because I wanted to explore the guitar a little bit more in the way a classical violin would be played, for instance. And the chord progressions wouldn't be just the regular 12 - bar blues; they'd be inverted chords, diminished chords, so forth and so on. And so there was very much a classical influence from years ago, but now it just happens. It's just automatic from so many years of being into that."
Back in 2002, Malmsteen performed his Concerto Suite for Electric Guitar and Orchestra with the Japan Philharmonic Orchestra and released the performance on DVD. For fans of Malmsteen who might also be just as fond of traditional classical music, this performance was a long awaited catharsis, but did it feel that way for Malmsteen as well?
"Yeah, of course, but it was scary to me at the same time. I'd never played the thing live with an orchestra, and then they said, 'Yeah, by the way, we're filming it.' I was in England and I flew from England straight to Tokyo, no rehearsal, nothing. I had to memorize the whole thing but I hadn't played it in four years; I recorded it four years earlier -- and somebody must have been looking down at me that time. It's a combination of things - there are a lot of things to remember but also you have to be inspired to improvise along with it, it's called colla parte -- which is 'follow the soloist.' So the conductor - he did an amazing job with that. So I'm very very proud of that, somebody or something was looking after me that day."
After having engineered and produced Perpetual Flame, is Malmsteen just as comfortable behind the mixing board as he is in front of it?
"I've always been involved in the recording; my uncle was part of the team that developed CD technology and everything like this. And he built a recording studio back in the 1950's that I kind of inherited when I was 12 or 13 years old; I got his place. I was always recording, always; I had a reel-to-reel recorder when I was a little guy. So obviously that wasn't the real deal but you learn and little by little you know about EQ, things like this. And I've always hired people to do it but this time around I didn't hire an engineer, I engineered it. And my engineering entails which microphones to use in EQ and how to mic a drum set and all that stuff, which is a big thing, you know, but I really enjoy it too, it's fun. But I've always been involved in it but not totally by myself, there was always somebody around. But not this time," Malmsteen chuckles.
On the road, however, Malmsteen won't be quite so alone. Joining him for vocals is former Judas Priest and Iced Earth frontman Tim 'Ripper' Owens, and there's Michael Troy on keyboards, Patrick Johansson on drums, and Bjorn Englen on bass. Englen, who's worked with a multitude of musicians over the years, is having a ball playing with Malmsteen.
"It's been great and much better than most past experiences. I have worked with a lot of disrespectful, angry and frustrated - famous and not famous - musicians in the past. Yngwie is nothing like them and he has no reason to be either. I have always had a lot of respect for him and his playing [and] music so it's an honor to be working with him. He really knows his craft to say the least and he is very clear about what he wants He doesn't nitpick strange things and likes to jam a lot and improvise, which suits me well. Plus he's a funny guy," Englen chuckles.
Has it been tough at all for Englen to adapt to Malmsteen's music?
"I was a fan of his music already at age 14 so I was very familiar with what he does when I started playing with him. Somehow it felt very natural playing with him even the very first time I jammed with him. But, sure, some of the songs have difficult parts, but it's all about learning them well in order to be comfortable with them. With this kind of material you sure don't want to be on stage going: 'How does this one go again ?'" Englen laughs. "He is a very strong player and his material can be very challenging, so, yes, you have to know your stuff well to keep up with him."
Talking to Malmsteen one is able to feel this positive energy rolling off of him. What, if anything, has sparked this seemingly newfound drive and enthusiasm?
Malmsteen explains in earnest: "Well, about four or five years ago I made some serious changes in my lifestyle, and that's resulting now in me being extremely focused, and very very very very sharp in my vision. I have no obstruction, I'm completely focused. In the past there was a lot of -- how should one say? A lot of substances, you know -- alcohol and stuff. I'm on a complete health streak now for like three years, and it really makes a difference. I'm not the kind of guy to preach to anyone, but for me -- oh my god -- everything's crystal clear, every day, every moment, every note -- everything is just perfectly in focus which I think has resulted in this particular record being extremely focused."
What does the future hold for Malmsteen?
"Right now, I'm just gonna rock. I have plenty of time to do more classical stuff which I'm willing to do, and I want to do some scoring and stuff like that -- I'm a big movie freak. But there will be plenty of time for that, right now I just want to jump around in front of Marshall stacks and have a good time."
Yngwie Malmsteen is currently on tour, more on Malmsteen's scheduled tour dates can be accessed at Pollstar.com.
---
RELATED LINKS