<!cfinclude template="_menu_left.cfm">
Band Concert Review
<!cf_getBannerNS GroupID=2>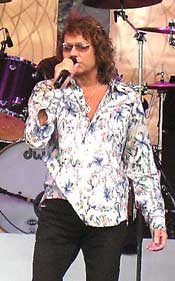 Starship's Mickey Thomas: Knee Deep in the Hoopla with Starship!
American Pavilion at EPCOT – Orlando, FL, USA – October 2, 2008
Rockin'-n-Rollin' at Disney? Well...yes! Visit the American Pavilion at EPCOT for their Eat to Beat series of bands during the year and you just never know who might show up. Starship starring Mickey Thomas performed a sea full of hits spanning several decades. Mickey and his new band line-up amazed the crowds as they performed their classic hits like Sara, Nothing's Gonna Stop Us Now, Miracles and Count On Me. Stephanie Calvert handled the lead vocals to timeless hits like White Rabbit and Somebody to Love flawlessly. Of course the Disney crowd sang along to one of their biggest hits – We Built This City. Fun times at Disney and Starship put the icing on the cake!
For more information click here: www.mickeythomas.com or www.myspace.com/starshipmickeythomas.
---
RELATED LINKS