Magnified Plaid (M.P,), a.k.a. MxPx., played a smashing set at Chicago's club Metro with a show that many will be talking about for years. These guys have been rawking since 1992, and don't show any signs of slowing down. The misleading representation of the band's name comes from a stylistic quark of drummer Yuri Riley's handwriting, as his periods appear as X's. Riley was the one who initially made the posters for the band, so in lieu of trying to correct the name, it just stuck.
When MxPx hit the stage the club became alive with the charged vibe of punk rawk, circa 1976. There were mohawks, piercings and tattoos scurrying against the barricade to get a good view of the band. The difference from old school punk and MxPx is that they seem to have fun instead of having an eternal bad day. Lyrically their music is like a pierced tongue playfully placed into a young punk's cheek. Other contemporaries, and some retro-punks, have the musical dynamic of pissing shattered glass; it's all ARGH!!!!!
MxPx features Mike Herrera (Vocals/Bass), Tom Wisniewski (Guitar) and Yuri Ruley (drums) in support of their current release, Secret Weapon, (which they played). The band treated fans to heaping helping of their musical brutality by playing Connection, The Wonder Years, Shut it down and Chick Magnet. A fan sign in the audience requested the song Family Affair, which they do not perform live, but after a brief band meeting on stage, they decided to give it a go. The song was a little awkward, but due to phenomenal moral support from the fans, they played triumphantly. At one point they seemed to ditch the set list and just looked toward the crowd to see what they wanted to hear.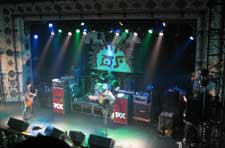 Then came time for the cover song in their set, and after much deliberation they settled on Brian Adam's Summer of 69. The band closed the evening with their national anthem Punk Rawk Show which ignited the mosh pit flame with a vengeance. Long may Plaid be Magnified!
Selected Set List
The Wonder Years
Secret Weapon
PK PK
Shut it down
Connection
Family Affair
Chick Magnet
Summer of 69'
Punk Rawk Show
---
RELATED LINKS