Erykah Badu was born Erica Wright in February 26, 1971 in Dallas, Texas, changing her name in her teens to mimic the scats sounds of Jazz. Her future was defined as an R&B sensation from youth. Making the big break while opening up for "D'Angelo" in 1994, then shortly signing with Kedar Entertainment. Recently turning 32 and winning another Grammy at 45th Award Ceremony on February 23, 2003 for Best R&B Song, "Love Of My Life (An Ode To Hip Hop)".
As a singer/songwriter, Erykah debut release, "Baduizm", from conception, almost entirely hers, "Baduizm", generated chart status in 1997. Receiving universal critical praise and allowed her to receive her first Grammy Award as "Best R&B Female Performer".
Erykah gave a retrospective look back as she walked out on stage wearing platform shoes, multicolor dress and hair in afro-style. Expecting to see Badu either in a head dress or in dread locks gave the audience exactly what they came to see, Erykah always re-inventing and continually setting a trend that is unique to her.
The Chicago performance at the House of Blues on January 17, 2003 lasted for more then two hours of R&B, Jazz, Reggae, Soul and Funk. Classified by many as either Neo-Soul/R&B or New Age Soul/R&B. Erykah Badu and her band consisted who were the "Erykah Badu Experience". Recognizing the talents with her on stage, Erykah introduced and supported all her back up singers and musicians. A full cast of talent, who together made beautiful sound of standard R&B and at times dipping into freestyle. Erykah smile ran all night long as she sang, danced, arranged music and gave us spoken word verse. Aside from performing, Erykah expressed her belief in a non-warring world as she proclaimed her stand of no war, "Fuck War", with many applauding. The song list consisted of much of her career including her award winning tracks as "On and On" and "Mama's Gun" and other favorites as "I'm Special","Badu Show", "Certainly", "Apple Tree" and many more.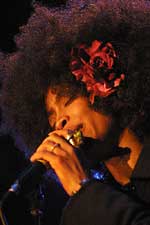 A diverse audience of fans collected themselves together to enjoy the sounds of Grammy Award winning woman and her unique jazz funk sounds. To compare Erykah Badu styles to others is non-existent, however if one must with song she has been compared to the likes of Billie Holiday and considered a true successor. To hear her live is delightful, deep and soulful. Erykah combines traditional sounds of past R&B and her own style that vibrates your emotions of your inner soul.
Erykah Badu has a divine sound that cannot be easily forgotten. From her wonderful divine presence on stage, her mesmerizing eyes, and full independence as a woman who is in love with the music she makes. Erykah Badu is the songwriter of a new generation of unadulterated the sounds we love.
---
Photo Gallery of Erykah Badu