With the cool mid-October air showing signs of a early winter in Manhattan a Caribbean breeze swept through the city as Universal Motown's charismatic new singer/songwriter, Shontelle Layne, performed her hit single, "T-Shirt" to a packed crowd at Club Twelve 21. A month before the release of her debut album, Shontelligence, her first single, "T-Shirt" had already found a spot on i-Tunes' most-downloaded top song chart, as well as received airplay at over 150 radio stations across the country. Not too shabby for the 23 year old Bajan beauty who only few years earlier was well on her way to becoming an entertainment lawyer "I always wanted [to sing]," Shontelle explains to UnRated. "But I wasn't sure how to make it happen from Barbados."
Known for its beautiful beaches and flying fish, the island of Barbados has suddenly become a hotbed for musical talent. It's only been five years since record producer extraordinaire Evan Rogers, and his partner, Carl Sturken were vacationing in Barbados when they discovered a 15 year old singer named Rihanna who is now a multi-platinum selling artist in more than five countries. With that kind of track record its no wonder Shontelle took the call from Evan Rogers very seriously during her New York City visit three years ago. "I happen to be in New York and I got this call from Evan Rogers," Shontelle remembers. "I said, 'Evan Rogers, that sounds familiar,' and he said, 'Yeah, I'm the guy who signed Rihanna. I know about this song "Roll" that you wrote and I like your style of writing,'" but during their impromptu meeting in Bronxville, NY, the production duo took one look at her and asked if she'd consider being an artist for their company, SRP Records, rather than a songwriter. "We couldn't believe that Shontelle was such a great singer, and so young and beautiful, and hadn't been discovered yet," Rogers recollects.
Although the global community had no clue who this future superstar was at the time the local community in Bridgetown, Barbados were slowly learning, "I got into the local [music] scene, and really started making name for myself. Then I wrote this song called 'Roll,' and that was performed by the Queen of Soca, Alison Hines. People knew about it in the U.S., and it was getting played at certain clubs." The success of "Roll" may have gotten Rogers and Sturken's attention, but her magnetic songwriting and commanding vocal prowess on Shontelligence is what will get her to the world stage; thus, giving her international superstar status.
The eleven captivating songs on Shontelligence were recorded over a two year period. Co-written with producers Sturken and Rogers, the album presents an array of songs which display Shontelle's depth and versatility; like the motivational anthem, "Battle Cry," also featured on a compilation album inspired by President-Elect Barack Obama's campaign called Yes We Can: Voices of a Grassroots Movement, and "Life Is Not An Easy Road," a reggae-influenced track that encourages strength in the face of adversity. Positive messages like "don't you ever ease up/Never give up/Don't let go," from "Life Is Not An Easy Road" never go out of style. While rhythmic soca bangers "Roll it" and "Focus Pon Me" keep dance floors packed Shontelle also takes listeners through the emotional turmoil that results from a broken heart on "Crave You," a beautiful song influenced by Sting's "Shape of My Heart." "Sting is one of my favorite artists of all time," Shontelle confesses. Shontelligence closes with the atmospheric "Ghetto Lullaby," and "Flesh And Bone," a beat-driven song that confronts the difficulties associated with life altering decisions. "I think you should decide do you wanna be/running in the streets/or living here with me," is a dilemma every man faces sometime in his life, to give up what he perceives as freedom in exchange for the person he loves, and on "Flesh And Bone," Shontelle uses it to safeguard herself from getting hurt by men who make the wrong choice.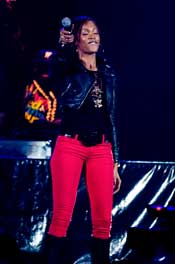 Since dropping her album in mid-November, Shontelle has been touring America while simultaneously planning future shows in Europe and Asia. Between all the tours, promotions, and guest spots does this girl have anything else on her mind besides music? "I'm a real movie buff," Shontelle admits. "I saw Sex In The City three times in the theater, but my favorite movie is Zoolander." Her warm Caribbean sound might have appeared out of place in New York 's mid-October chill, but like the Flying Fish of Barbados, Shontelle Layne found a new life outside her world, evolved to master her new surroundings, and now enjoys the freedom of being airborne. But how long can Shontelle sport the blue steel look? Well, earlier this year in Japan a flying fish set the world record when it spent over 45 seconds in flight, so by my calculations, this means Shontelle will become the worldwide face of soca music in three....two....one.....now!!!
---
RELATED LINKS