New York may be known as the city that never sleeps, but in mid-December it could have easily been deemed the land of lame excuses. "I'm drinking with my friend that night," "I got called into work and am not in a position to refuse," and the classic, "I'm filming with my theatre group that night," were among the most inane reasons why some New Yorkers declined to see Oasis at Madison Square Garden during the band's most recent world tour to promote 2008's Dig Out Your Soul. This being the first time in three years Oasis has toured America, wouldn't a show at Manhattan's famed Garden be a hot ticket? This band has sold over 50 million records worldwide; had eight UK number one singles; received nine Q Awards; four MTV Europe Awards; and five Brit Awards, so why would anyone turn down a chance to see these guys for free? Some argue that the band's sound has become trite over time, and their live shows appear lackluster and uneventful; but when Pat Gilbert of MOJO Magazine asked Liam about the state of Oasis he kindly replied, "I think the band is without a fucking doubt a million times the best it's ever been. As long as people get off on coming to the concerts, I'll forgive them for not buying the records." Liam's cheeky arrogance may seem disproportionate to the band's success stateside, but to the 500 thousand people who immediately bought tickets for their concerts the day they went on sale, Oasis is still the dog's bollocks.
"This has to be the most tickets ever sold by an artist in the UK in one day," said Oasis co-promoter Chris York of SJM Concerts. "This proves Oasis continue to go from strength to strength and increase in popularity," but most people on this side of the Atlantic act like Oasis stopped making music after their smash hit single, "Wonderwall," off 1995's What's The Story [Morning Glory]. With songs like "Champagne Supernova," "Some Might Say," and "Don't Look Back in Anger" crowding American airwaves Oasis kept the story and the glory proper in London as the global success of ...Morning Glory propelled them to international stardom. The mass exposure also gave Oasis a leg up on their local Britpop rivals, Blur, headed then by current Gorillaz front man Damon Albarn, who in 2008, beat out Oasis by approximately 320,391 friends as MySpace's most popular musical act of the year. Coincidentally, that number falls just 29,609 shy of how many units of Oasis' third album, Be Here Now, were sold on its release date back in 1997. By the end of that week albums sales had amassed to 696,000, making it the fastest-selling album in British history. "The really interesting stuff from around that period is the B-sides," Noel admitted in 2008. "There's a lot more inspired music on the B-sides than there is on Be Here Now itself, I think." The next two albums consisting of new material were 2000's Standing On The Shoulders and 2002's Heathen Chemistry. Maligned by line-up changes, low album sales, and problems on tour it seemed like the Gallagher boys had passed their prime, and these records were to be their final coda until 2005's Don't Believe The Truth fueled a resurgence in Oasis' popularity. This being the band's sixth album to enter the UK album charts at number one, Don't Believe The Truth produced two U.K. number one singles, "Lyla" and "The Importance of Being Idle," and earned the band a special People's Choice Award and Best Album honors at the Q Awards. Despite going triple platinum (900,000+ sales) in the U.K., Don't Believe The Truth sold less than one third that amount in America.
"I didn't even know they were still making music," confessed Arian Rustemi, a young professional in New York City's bustling workforce; but her London contemporaries, on the other hand, first learned about Noel Gallagher's idea for a new album during an interview with NME back in January of 2007, "All the tunes I've written recently have been on the kind of acoustic side, you know? But for the next record I really fancy doing a record where we just completely throw the kitchen sink at it," he explained. "We haven't done that since Be Here Now. I think since Standing On The Shoulder of Giants we've been trying to prove a point of just bass, drums, guitar, and vocals and nothing fancy. But I kind of like fancy! I'd like to make an absolutely fucking colossal album," and by October of 2008, Oasis gave the public their seventh studio album, Dig Out Your Soul. Tenacious cord progressions combined with magnetic vocal harmonies simmering in a bowl of psychedelic stew briefly describes the album's first single, "The Shock of the Lightning." Bassist Gem Archer's "To Be Where There's Life," "Waiting for the Rapture," and the Liam Gallagher written "I'm Outta Time," are some of the other standout tracks that not only highlight Oasis' acclaimed songwriting ability, but also adds another dimension to their live performance. "It sounds like [Oasis] have entered into some strange uncanny spiritual crazy door and have just lost themselves completely to it and it is marvelous," singer/songwriter Ryan Adams said of the material on Dig Out Your Soul; Adams signed on to open for Oasis on their first U.S. tour in three years. The North American leg of Oasis' world tour got underway in Oakland , CA on December 3rd , and arrived in New York City two weeks later.
Despite Oasis officially selling out Madison Square Garden more than two dozen people turned down my free ticket offering. Between the people's lack of enthusiasm and ignorant comments made by music philistines my own doubt ensued, compelling me to sell the extra ticket on the digital gray market site known as Craigslist. But soon after the sales post hit up cyberspace my blackberry began vibrating like a possessed tickle me elmo doll. My inbox was instantly flooded with emails from people dying to see the show. "The best way to see Oasis is in a crowd with a few thousand other people," Noel told MOJO Magazine in late 2008. "Stadium gigs like that are all about it being a gathering and a shared experience," and after a "real" Oasis fan bought my ticket we both headed towards the Garden ready to feel the noise.
Liam's confidence in his band may be unharmed, but what are his thought regarding their live gigs? "They've been fucking rockin' from where I've been standing," which was actually front and center of the stage with his brother, Noel, playing guitar on his left, Colin "Gem" Archer pumping out wicked bass lines on his right, and Chris Sharrock (who replaced Zak Starkey, Ringo Starr's son, in early 2008) hammering out mind-bending rhythms behind from behind him. The four enormous lead screen panels hanging above the stage acted as the perfect backdrop; projecting a spectrum of multi-colored visuals that accentuated each song's essence. One of the visual sequences included a strobe effect from the house lights as each panel resembled a different color and style door. As one door opened, exposing its kaleidoscopic innards, another one closed like some inter-dimensional time portal one might see on TV's Stargate. The eye candy continued as all the panel doors opened at once; revealing a tidal wave large enough to spark Laird Hamilton's interest before displaying Beatle-esque apples while each panel door individually closed, ending the segment. Dynamic visuals may have enhanced the dance, but it was the band's diverse set list and immaculate sound that resonated most with fans.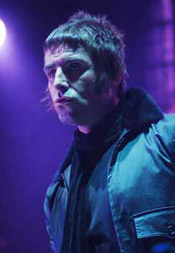 Oasis got New York's attention with a spiced up rendition of 1994's "Cigarettes & Alcohol," a song from their debut album, Definitely Maybe that peaked at #7 in the U.K. top ten; a mass sing-along during 1995's "Wonderwall," and one fierce version of their 1995 rock anthem, What's The Story [Morning Glory]. Although the set list had a fair amount chart toppers there were also a handful of new songs from 2008's Dig Out Your Soul. "Having a good time?" Liam asked, basking in the crowd's deafening praise, as a light sitar intro slowly evolved into the Indian-fused cerebral head trip, "To Be Where There's Life." Other new songs performed at the Garden were "Waiting for the Rapture," "The Shock of the Lightning," and two of the three Liam Gallagher penned songs, "I'm Outta Time," and "Falling Down." The show wrapped up with a riveting, distortion-filled cover of The Beatles' seminal classic, "I Am The Walrus."
"We provide a service to let off steam," commented Noel in a 2008 interview. "A proper rock'n'roll night out," which is exactly what Oasis gave New Yorkers in mid-December, and there was nothing trite or uneventful about it. Oasis brought their A-game to the Garden that night, and passionate fans stripped their throats expressing appreciation for the band's hard work; but what is most perplexing is the number of New Yorkers who turned down a free chance to witness this legendary band at the top of their game. If somebody offered you a free ticket to see Billy Joel at Madison Square Garden would you (1) turn down this opportunity for the monotony of drinking with a friend, (2) say you'll go then show your true colors by flaking out, or (3) go see the piano man in action? When somebody offered me a ticket to see Bon Jovi at New York's famed Central Park back in July of 2008 it was a bit overwhelming. The decision to go not only re-shaped my opinion of Bon Jovi, but it changed the way my ears hear his music. It's called broadening your horizons, and for those people lucky enough to have caught this tour, Oasis' music will sound better forever.
SET LIST:
Rock 'n' Roll Star
Lyla
The Shock Of The Lightning
Cigarettes & Alcohol
The Meaning Of Soul
To Be Where There's Life
Waiting For The Rapture (or The Turning?)
The Masterplan
Songbird
Slide Away
Morning Glory
Ain't Got Nothin'
The Importance Of Being Idle
I'm Outta Time
Wonderwall
Supersonic
Don't Look Back In Anger
Falling Down
Champagne Supernova
I Am The Walrus
---
RELATED LINKS