On Friday, February 21st Chicago area Metalheads were given another opportunity to experience a LIVE performance by one of the most dynamic and explosive bands in today's heavy music scene. The triumphant return of Maverick Records Recording Artists UNLOCO to Oasis One-Sixty, was well promoted and very highly anticipated by their loyal Chicago fans. The club was packed and the Oasis Metal Maniacs were primed and ready for the "onslaught." Finally, UNLOCO invaded the stage as the Austin, Texas based band opened the show with a thunderous version of "Crashing" from their forthcoming release entitled, "Becoming i." The Oasis crowd immediately went ballistic as a mosh pit rose from the middle of the floor like a phoenix rising! The UNLOCO Metal Legions were in a "state of frenzy"…and they stayed that way the entire show! Months of touring with well known bands such as Disturbed, Papa Roach, System of a Down and 40 Below Summer, have truly paid off in a big way as the band blazed flawlessly through titles from their first release "Healing" and the soon to be released, "Becoming i" (release date, March 11th).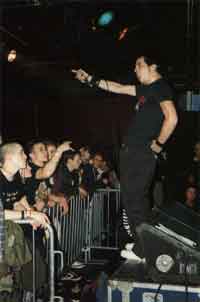 Vocalist Joey Duenas proved once again, to be an incredible performer with unbelievable vocal talent and a commanding stage presence. The charismatic singer connects with the audience well and virtually had the frenzied crowd in the palm of his hand as the band scorched through their first single, "Face Down." UNLOCO guitarist Marc Serrano has done a fantastic job of replacing former guitarist Bryan Arthur and without question, relentlessly "shreds" like a beast! The bull-dozer like rhythm section comprised of Victor Escareno (bass) and Pete Navarrete (drums) absolutely slammed throughout the set and especially during "Bruises", the bands last song of the night. Joey sang that final song atop one of the stage barricades as wild UNLOCO fans held him up on one side and club security held him up on the other. The place was INSANE!
UNLOCO's ragging energy, intensity and dynamic LIVE performances are quickly becoming legendary. But what really sets this band apart from others, is the unique way that UNLOCO manages to occasionally mix soft, flowing melodies, with all that heaviness. And lyrically, there's a feeling of honesty. So honest that it almost hurts, but it hurts so good…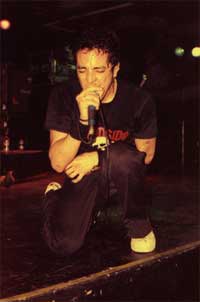 The show was a huge success as UNLOCO gave their fans everything they had (the band members could barely walk or talk after the gig). And their fans gave back with their undying, enthusiastic support. You can catch the UNLOCO "attack" this spring, as they continue their assault on American Metalheads during the "Music As A Weapon Tour", featuring Disturbed, Taproot and Chevelle. Whatever you do, don't miss the next opportunity to witness for yourself, the "Metal Machine" from Austin, Texas known as…UNLOCO!
---
Related Links
Unloco Official Web Site