UnRated Magazine's entertainment writer Stefanie Newell has penned her debut novel The Buzz. Described as an introspective look into the fictional world of R&B, The Buzz tells the story of Ebony Jenkins an Internet addict and celebrity gossiper.
Stefanie came up with the idea for The Buzz while writing for UnRated Magazine as well as her own blog The Music Hot Spot. "I knew that I wanted to write a novel about the entertainment industry. But I also knew I wanted to present a fresh take on it."
That desire led her to lurk on various blogs and message boards. "I would read gossip on singers like Beyonce and Brandy and the strong opinions that people had intrigued me. The conversations would get so intense that I wondered who starts celebrity gossip? What motivates them? And when I started trying to answer those questions, I decided that The Buzz could be one person's story. Ebony's story," Stefanie says of the novel.
Ebony, one of the main characters of The Buzz considers herself to be the baddest chick in the "Chi." In her mind this means that no celebrity is off limits to receiving her hate, including the new media darling R&B singer, Arika.
Arika is the newest phenomenon emerging from Chicago and from the "buzz" she's receiving it seems that she's about to take the music industry by storm!
Buzz is an unsigned rapper and producer. He's seeking a record deal and wants the support of his girlfriend Ebony, but Ebony can't lend her support because she spends most of her free time on the Internet gossiping!
The Buzz is the story of three people all searching for "buzz" in their own way. But what happens when Buzz and Ebony's lives cross paths with the newest R&B sensation Arika? Will Ebony's hatred for female celebrities like Arika motivate her to ruin Arika's career? Or will a dirty little secret spill out and the buzz be all about her?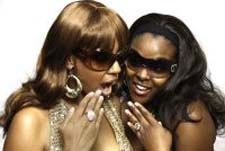 Purchase The Buzz for $14.95 at www.writeonepublications.com! For a limited time shipping is FREE and includes an autograph and free bookmark. The Buzz can also be purchased from Amazon.com and BarnesandNoble.com!
Want to win a copy of The Buzz? UnRated Magazine is offering 2 autographed copies of The Buzz by Stefanie Newell. Here's what you have to do to win...
Email us a celebrity rumor that has never been confirmed but you always wondered if it were true. The two best rumors win an autographed copy of The Buzz and a free bookmark!
You can write to Stefanie Newell by clicking here.
---
RELATED LINKS