Fans of Mae (multi-sensory aesthetic experience) are always ecstatic to see the guys when they are back in town for a show, but on this night Mae was playing Reggie's Rock Club, a very small, old-school-looking music venue just south of the Loop in Chicago. A place that walking up to it you felt you would see stickers from bands that were around 10 years ago, tape leftover from flyers of shows 15 years ago, the smell of old stale beer that had been spilled on the floor 10,000 times, and see the haze from the cartons of cigarettes that were consumed within the confines of the brick walls - but the ironic thing is, Reggie's has been open less than two years. Mae wants you to experience their show with every one of your senses ablaze, and it could not have worked out any more in their favor than playing somewhere like Reggie's.
After experiencing Reggie's for the first time, I'm hoping more well-known bands decide to utilize this venue more often, as it provides one of the best atmospheres for a rock concert in the city of Chicago. The fact that Reggie's can hold less than 400 patrons, some larger bands may avoid this venue for lack of ticket sales, but bands that are wanting to give back to their fans by providing a show where they cannot be further than 30ft from their most-distant admirer, may choose a venue such as Reggie's.
Mae had a few different bands open for them Thursday night, one being Kenny Vasoli's new side-project Person L. You may have heard Kenny's name before as he is the front man of The Starting Line. Person L provided much more of an emotional roller coaster than the pop-punk tunes of TSL. It seemed that Kenny was so vested in the music he was singing that at one point I thought he was going to pass out from singing with so much vigor and passion.
Part of Mae's 'experience' was to hand out 3D glasses to everyone attending the show. We were informed that during the last 3 songs of their set, we were to put on the glasses, and look back to the screen that was set up behind the band. While images ran on the screen throughout the show, the last 3 songs had wonderful 3D images running across the screen and really did add a whole new dimension to Mae's already spectacular live show!
Some neighboring fans of ours at the show, Tim and his girlfriend Maureen were both enthralled with the whole Mae experience in such a confined space. When the guys of Mae played "Suspension," the crowd offered a raucous reaction which included singing every word loudly, pitching in and helping sing the chorus and a very loud applause once the final note was played.
Mae had decided to do something interesting, heart-felt, and quite different that other bands in 2009. They have been on a fundraising mission and will continue to do so throughout the rest of the year. "12 Songs. 12 Months. 1 Goal. Make a Difference." Each month Mae is releasing an entirely new song on their website. Each song is available for digital download after a donation is given -- $1 minimum. Already, through only the first 5 full months of donations, Mae has raised over $44,000! With the help of Habitat for Humanity, Mae and their fans have been able to provide enough funds to pay for a new home for Rhonda Floyd and her 3 children. During the upcoming months, Donors Choose will be the charity of choice. With so much success coming from this endeavor, it would not surprise me to see many more bands doing something similar, and making this world a better place one donation at a time.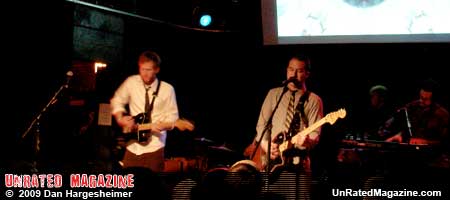 Mae has currently made some of these songs and others available on an EP called (m)orning. The upcoming songs they are working on will most likely be on a future EP called (a)fternoon.
For you Chicago rock music fans, make sure you get over to Reggie's to check out a show, you will not be disappointed in the set up of the venue! For you Mae fans, make sure to keep checking their website so you can get the latest and greatest Mae tracks each month, and to keep tabs on how their fundraising efforts are going! And next time Mae decides to come back to Chicago and play a smaller venue like Shubas or Reggie's, don't miss it... you don't want your friends to be telling you, "I told you so!"
---
RELATED LINKS