In September of 2007, I got a chance to meet up with Taylor Swift as she was making the rounds across US and Canada. She was starting to move from the opening act to the second performer on the bill; on her way to being the headliner. She was in Toronto, during the Brad Paisley tour, but didn't have enough time to catch up, so we settled for a phone call several weeks later during a break in the million or so apportionments on her calendar. She was gearing up for the next round of awards shows and looking forward to prom and high school graduation. She ultimately got her diploma in the mail because of her touring schedule. Following up her self-titled debut, she had just released two EP's, "Sounds of the Season: The Taylor Swift Holiday Collection" and then "Beautiful Eyes," along with a live record sold exclusively on iTunes called, "Live from SoHo: Taylor Swift." Preliminary work was being done on her second full release "Fearless," though a majority of it had been written, tracks needed to be recorded in-between tour dates. She was calm and centered but still full of excitement as she began to sit with what it means to be a successful artist out on the road. Her tour-story; pre-headliner.
---
Jackie Lee King: How does it feel being up for a CMA Award, considering you've toured with, every single Entertainer of the Year Award nominee?
Taylor Swift: Yeah, definitely it's so unbelievable to be nominated because; you know there are so many people who have come out within the last two and a half years who could have been nominated too. It's unbelievable. You know, I suppose it's okay to not be nominated. It would be okay because, you know life goes on no matter what awards you win or don't win. I mean, what you can control and what I can control is what I do onstage and that's what I try to focus on. But being nominated for that award was just, you know-- it's unbelievable.
JLK: So, you've toured with Kenny Chesney, Brad Paisley, Rascal Flatts, and George Strait?
TS: I've been very lucky.
JLK: So how does it feel being a usual suspect because that's what you are now?
TS: Well, you know for me I just feel so grateful that people are willing to take me out on the road, and you know it's their name up on that bill, and those people, you know they walk away happy. And the fact that they're relying on me to open up the show for them. It's really fun and it's kind of helped to have learned from every single one of those people. Like you take away certain lessons from certain people and you realize why they are where they are. Kenny Chesney, he gets up at the crack of dawn every day.
JLK: Good Lord!
TS: While the stage was being put up and going around the parking lot and talking to people. There's a reason why he's there, and when you go out on the road with him you see that and, you know it makes me want to become more like that.
JLK: So what do you do since you've been on the road for almost a year now?
TS: Well, I started to do yoga in the past couple months a lot. Every single day we have a yoga instructor come out and work out with me and the band because we've found that it really helps out your stage performance to incorporate all these different cool moves to like let go. And it also helps out your breathing.
JLK: The people that you've toured with-- they're going to be touring, you know, for the next twenty years. They'll pretty much die onstage. When do you think that you'll get off the road, if ever?
TS: I really--right now I don't see it happening. It's become so consuming. I just love it so much. It's where I get my livelihood. I'm so fascinated by it.
JLK: What's the thing that you never realized about touring? Like-- "Oh that's interesting..."
TS: I think that I never really realized the surrealness of all of this until I was in it, because I was that girl in the crowd, you know before this, and I don't think that I realized at that point that the people that are up there on that stage are just people. Now I'm in this position and, you know in my mind I'm just a person.
JLK: Do you have male groupies?
TS: There are people that show up to most of our shows definitely, but I mean, you know... I think that it's important to be there for all your fans.
JLK: Do you get any time to yourself?
TS: Yes, actually. When we were in Toronto the other day, you know there's this beautiful waterway right near our buses. I took out my IPod and went out and walked around. You know, it's really fun to kind of go off by yourself every once in a while and just kind of experience who you are.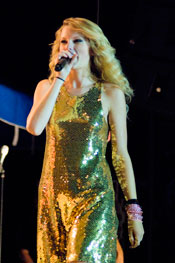 JLK: I really love that you opened up with an Eminem song ["Lose Yourself"]. Are you going to keep that song in the setlist?
TS: I love doing covers where nobody expects me to do them. Like I'll do a Beyonce cover or Rhianna or Eminem. I never want to do a cover song that people have heard me cover before.
JLK: It's funny because at the end your band really started kicking in and making it country, and I was like 'whoa, this actually works as a country song!'
TS: Thank you.
JLK: And then you got people up on their feet, you're really a good opener. So, when is your solo tour coming up? [First solo tour 2009]
TS: I do not know, because you know you have to pace yourself. You have to kind of be in the moment and be excited about what you are right now. What I'm excited about is graduating to a second spot again.
JLK: So how's the second album coming? I know that it's probably going to be next year sometime? ["Fearless" is released on November 11, 2008]
TS: Yeah. It'll be probably like this time next year and we're going to record it in December [Beginning recording 2007]. I'm so excited. I'm writing like all this stuff. Right now I'm just crazy! I'm so excited.
JLK: Any other little things that you give to yourself on the road? Like DVDs or...
TS: ...I don't have like a big like drug addiction or.... (laughs)
JLK: (laughs) ...Yeah, like I'm really going to send you like heroin through the mail. "Hey Taylor! Here's the good stuff!"
TS: Yeah exactly.
JLK: What advice would you give Taylor Swift a year ago that you have now?
TS: Oh my God. I really-- to be honest -- I would not have changed anything. There is not one thing that's happened in this past year that has happened for a reason. That's the most important thing. You know, you go through life and you make mistakes, but if you hadn't made those certain mistakes you wouldn't have learned the lesson that you've learned. You wouldn't be the person you are now.
JLK: So if anything, even just a little word of advice that you would give to yourself, like you know "Oh, don't eat too close to show time or..."
TS: If I would have said, "don't ever-- don't let one thing pass you by. Don't stay there. Don't sleep in. Wake up and experience every single city that you're in. Wake up and experience every day that you're in." Because you know you can get lazy sometimes after you sang for three hours the night before, and I try to force myself to get up every single morning and walk around all the cities. Because you know, it's important and it's life experiences that I'll never have again.
---
Just one year later from this interview, she's taken her own advice by appearing in one of her favorite television shows C.S.I. (Las Vegas), and lending one of her songs "White Horse" to the September 2008 premier of her other favorite Grey's Anatomy. She's made cameo appearances in a couple of movies, had a very public break up, made lots of friends, and continues to support a myriad of philanthropic causes (Red Cross, St. Jude Children's Research Hospital and Victorian Bushfire Appeal), including donating her 18th birthday present of a pink Chevy pick-up truck, given to her by her record label (Big Machine Records), to the children's charity the Victory Junction Gang.
Taylor is now in the midst of her first heading tour and she's in good company. Gal pal Kellie Pickler and new comers Gloriana join her on the Fearless Tour which winds it way all around the world and back in 2009. She still keeps up with her best friend Abigail from High School, who is now off at college on a swimming scholarship. As of this writing, she's having conversations with the record company to put out album number 3. Try and catch her now, before she takes a well deserved break from the road. On second thought, I think she's gonna ride this horse as long as she can. Chapter two is in the books, now on to the next adventure.
---
RELATED LINKS