It was a cold February night as rock fans started filling the seats at the Allstate Arena just outside of Chicago. Once known as the Rosemont Horizon, Allstate Arena has housed some of the greatest performances in rock history. Thousands of rock fans poured into the arena for a chance to flash back to the 80's and 90's when arena rock was at its all time high. Dokken opened the evening, followed by Whitesnake and the Scorpions.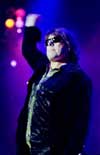 As a regular attendee of the old school hard rock and heavy metal arena concerts of the past, it was easy to see that the crowd was much older and more sedated than at the concerts of more current acts. Dokken had a difficult time warming up the crowd, as many people were still in line buying beer or coming in late. Although there were a few obvious hard-core Dokken fans dancing and cheering them on, lead singer Don Dokken was not getting good vibes from the audience. Several times he walked to the front of the stage, leaned down, and screamed, "Come on Chicago! Let's make some noise!" with only a lukewarm response from the older, not-yet-drunk-enough crowd.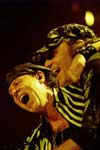 Dokken has been together on and off for 18 years, and is a product of the hair band days of the 80's. Don Dokken was joined by band members Alex DeRosso (guitar), Barry Sparks (bass) and Mick Brown (drums). Lead guitar player George Lynch, who used to add so much to the band, was unfortunately not a part of the show and currently has his own band. Although there was a certain edge missing from the new versus old on this particular set, the evening rocked and we'll be looking forward to their next performance.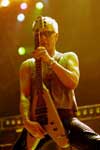 Dokken played all of their hits from the 80's and early 90's including Tooth and Nail, Into the Fire, In My Dreams, and of course their power hit ballad Alone Again. Despite my craving to hear George Lynch's guitar, Dokken put on a decent show and made a great opening for the rest of the evening. Whitesnake sent me on a nostalgia trip remembering the days of romantic rock ballads, and poofy hair. However, everybody was anticipating the performance of the Scorpions, one of the earliest of the great arena rockers, who brought back all of the emotion of all of those shows blazed in our collective memory. They played all of their hits in spectacular fashion. Their performance included a stunning guitar standoff, as well as one of the greatest drum solos that I have ever seen.
There were no pyrotechnics involved in any of the band's sets, which may have been done to respect the Great White tragedy in Rhode Island. Nevertheless, the music and the nostalgia surrounding the show made up for all of those loud bangs and booms for which arena rock concerts were famous. I don't think anyone missed them, as the fireworks were really in the vibes that the bands put out this fine night.

Michele Mussatto - Contributing Writer
---
Related Links
Dokken Photo Gallery
Scorpions Photo Gallery