The start of the night opened up with a bang!! A small band from Washington D.C. named Sev opened for Nick Carter. Sev blasted out onto the stage and really got every one going! Then after this the crowd was hyped up for Nick Carter!!
Nick Carter came onto the stage and the crowd went wild! Nick's music consisted of Rock and Pop songs, where in between he mixed his more upbeat songs and ballads.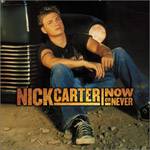 Nick Carter's music consisted mostly new songs from the new CD (Now and Forever by Jive Recordings), also he choose a few songs from the Backstreet Boys!!
His first song was Help Me!! During the song Blow Your Mind, The girls all screamed with delight for Nick!! For the song Do I Have to Cry For You, he choose to mix it with the song Everything I Do, I Do it for You. Played twice, Once with the whole band and once with just acoustic guitar and keyboard. For the song Girls of the USA, he changed a line in the song to be all the Chicago girls for the night of the concert. Those are just a few of the songs from the new CD that he choose to sing for us!!
Some songs from the Back Street Boys that Nick Carter chose to do were As Long As You Love Me, Quit Playing Games With My Heart, and The One!! Nick's enthusiasm and charisma mixed with the crowds energy made the night memorable!!
It was a night enjoyed by all and hopefully one to be remembered!!