Heads bobbed and lips synched with nearly every word that came out of Ben Kweller's mouth at Metro on seventh of March. Kweller matched the all ages atmosphere of this night with his prepubescent humor. This was most obvious from his cover of Vanilla Ice's 1991 smash hit turned frat party gag "Ice, Ice Baby". His version was charmingly gimmicky, but ultimately indicative of his still coming of age.
Cleverness aside, Kweller gave a solid performance. He has made tweaks in his musical showmanship and musicianship comparable to other Kweller performances of the summer of 2002. Kweller drew heavily from his influences of Weezer's Rivers Cuomo, Beck, and Ben Folds as he careened the stage among his electric guitar, keyboard, and even the folk fashioned acoustic guitar harmonica combination. The other three band members nicely complement his sound with effectively subtle harmonization.
While the talent Ben Kweller displayed was dazzling, his depth of catchy and irresistible songs gave the show the staying power to hold the audience's attention. The predictable and inevitable radio hit "Wasted" unsurprisingly brought the house down. But the depth of his songs did not stop there like some would expect. "Debbie Don't Worry Doll" was a notable heartfelt tune that exemplified his Texas roots and musical versatility reminiscent of the Old 97's. While the majority of BKs song lack musical ingenuity, it is refreshing to see an artist that truly enjoys performing. Ben Kweller showed a vibrancy and spunk that was not pretentious or smug—a refreshing change of pace from sarcastic, ironic whippersnappers in the pop punk-emo genre.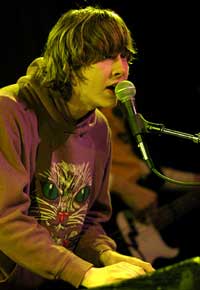 Kweller is a success at this point in time. He rocks his audience with confidence but does not put on an air of cockiness. His problem is exactly that which gives Ben his pop sense and success, his influences. The potential easily has the capabilities of lasting a long time based on the depth of winning songs he has already crafted. Ben stands at a point now where his current tether is held taut. He must find his slice of the creative pie or future work will forever be doomed like the single "Wasted" to be confused as "the new Weezer single".
Make no mistake Ben Kweller does have the ability. Has it fully come through on recordings to the public yet? No. Performances like this at the Metro, in a city he appreciates for supporting and nurturing rising talent comparable to his, tell us that Ben Kweller is capable of creating something genuine in the future or to be forgotten and joked about for his creative lacking like Ben himself mocks Vanilla Ice. This night of diverse set lists, talents, and audience captivations seemed to violently point to the former.
Ben Kweller was raised in the small town of Greenville, TX and began playing the piano as soon as he could reach the keys. In 1993 he formed the three-piece punk group "Radish" that dazzled the Dallas music scene. Radish recorded an EP and LP in 1994 and was signed by a major label in 1996. After Radish scored a top 40 hit in the U.K., the group disbanded in 1999. Kweller began booking solo gigs opening for Evan Dando, Juliana Hatfield, Moldy Peaches, and Jeff Tweedy. BK self-released FREAK OUT, IT'S BEN KWELLER in 2000. In 2001, ATO Records release a 5-track EP named E.P. PHONE HOME. Finally, Kweller released his full-length solo debut in 2002 dubbed SHA SHA.