The moment it was announced that British Rock Legends, Status Quo would include Chicago as one of only seven cities for the U.S. leg of their 2003 "Heavy Traffic" World Tour, the event was inevitably destined to be remembered as "one for the ages." So on Monday, March 3rd, Rock N' Rollers of all ages and from around the world, eagerly gathered at Chicago's House of Blues to catch a rare LIVE performance by one of the most popular Rock N' Roll "boogie" bands of all time. After 35 years of performing and recording, England's Premier Boogie Band…Status Quo, came to Chicago and proved once again that they can still pack quite a Rock N' Roll punch, as witnessed by the highly energetic and enthusiastic crowd at "The House." This is the same Status Quo that released the classic hit single, "Pictures Of Matchstick Men" on their debut LP "Picturesque Matchstickable Messages From The Status Quo" way back in 1968!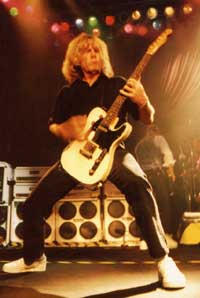 The show began as rhythm guitarist Rick Parfitt stepped up to the front of the stage and relentlessly blazed through the intro to "Caroline." From that moment on, it was a non-stop, boogie down, Rock N' Roll PARTY! Classy frontman and lead guitarist Francis Rossi did a superb job of showcasing his vocal expertise during titles such as "Rocking All Over The World" and "Don't Waste My Time" as well as on other Status Quo classics from the 70's, 80's and 90's. Keyboardist Andrew Bown, a full member of the band since 1976, masterfully blends keyboards with Quo's guitar driven sound as he brilliantly demonstrated his talent throughout the set and especially during a magnificent version of "Burning Bridges."
But the real power, strength and longevity of the Status Quo legacy has ALWAYS come from within all those extremely catchy, twin-guitar boogie style riffs that are flawlessly executed by original band members Parfitt and Rossi. And their adoring fans quickly found out that nothing has changed over the years as the guitar wielding warriors forged their way through new song titles "All Stand Up" and "Solid Gold" from the recently released "Heavy Traffic." The rock-solid rhythm section of John "Rhino" Edwards on bass and Matthew Letley on drums, absolutely slammed as the band "boogied" through fan favorites "Big Fat Mama" and "Forty-Five Hundred Times." The place was still jumpin', dancin' and shakin' as Status Quo reached the end of their song list with a stunning rendition of "The Waltz."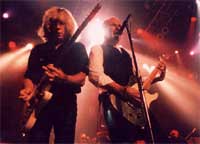 As I glanced around the venue during that final song, I couldn't help but notice all the smiles and looks of satisfaction on the twenty, thirty, forty, and yes, even fifty year old faces that were savoring every last moment of this very nostalgic event. It was obvious, that Status Quo, and their fans, have withstood the test of time. And yes, this Rock N' Roll Extravaganza was truly…one for the ages.