High energy opened the night at the Vic Theater with new comers to the hard rock punk scene here in Chicago "Die Trying". Mentored by long friends Papa Roach, Die Trying did not just step on stage tonight, they dedicated their lives to be where they are and worked godless hours to make it into the circuit of Rock Stardom.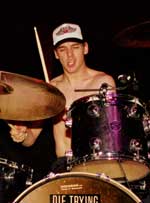 Die Trying got the fans at The Vic theater in the right mood this Saturday night on March 29, 2003. You can feel the sheer hunger coming out of front man Jassen only going by first name as he rapidly stormed the stage back and forth performing to Chicago. Many made their way to reserve spot up front ready to get into the pit for Die Trying. A young band that had fans already steady to their diet of melodic punk with a flair of metal. The support was overwhelming for these 4 guys from Sacramento, California consisting of Jack (guitars), Steve (bass) and Matt (drums) and Jassen.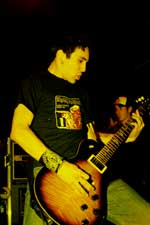 Recently signing with Island/Def Jam Recordings will bring a fresh sound to listeners and fans of this special blend of punk. Things are going well for Die Trying with a scheduled debut set to be released this coming June of 2003. "Oxygen Gone", already a single in rotation on Internet Radio and many stations through our cyber world and cities in the states was one of the recognized tunes by those that follow Die Trying from their infancy. Supporting Papa Roach, the veterans in the mix who have been good friends see potential rising out of the 4 guys in Die Trying. If you have not caught Die Trying, check your local music scene cause they are on tour through mid-May 2003 with Papa Roach. Next time around the roles may change and support band will be headlining their own tour and we are looking forward for the band and all the luck in their path to rock stardom.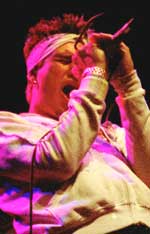 Fully dedicated from start, Die Trying are pouring out their blood on stage, pushing punk sound with a melodic flair into 2003.
---
Related Links
Die Trying Photo Gallery
Die Trying Music/Video at Island Records
Die Trying Label Site (Island)
Papa Roach Photo Gallery