We have waited more then 2 years for the release of "House of 1000 Corpses". From the opening scene you can taste the influences of a Rob Zombie Project. If you have ever seen a Rob Zombie concert or ever bought a CD you can directly related to the Zombie Extravaganza.
Go back a quarter century when every Saturday night your local TV station hosted its own "Creature Feature Night". If you are too young to remember the days before cable and adjusting your antenna to get reception, step back about a decade when Elvira was making national news about her show, even here in Chicago everyone used to look forward to local Creature Feature host "Son of Svengoolie". In our feature "House of 1000 Corpses", the creature feature host introduces us as we are viewers watching our black and white TV on griddy film and bad reception. Now what is a late night horror movie without commercials? These offbeat advertising spots given to anyone with some coin, in our movie it's one of House's main characters "Capt. Spaulding" played by Sid Haig who is the proprietor and runs horror novelty shop called "Capt. Spaulding's Museum of Monsters and Madmen". Not only selling his horror museum but his famous fried chicken to put a twist into the Movie for a quick laugh. Capt. Spaulding is a deranged clown with a offbeat sense of humor that right off you question what's his story? One can image Rob Zombie as director, writer and music score, of how much a fan he is to the cult classics. Even in the opening scene after the introduction as we drive up to Capt. Spaulding's place Zombie artistic creativity of set design as used in Zombie's onstage presence and music videos.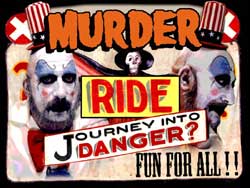 Two young college age couples drive up who are cruising cross country writing a book about the back roads of America. When they pull into Spaulding's for gas and discover the unusual of cult classics. The couples walk into the store to discover the famous Capt. Spaulding who invites them for the ride through "famous murders and cannibals tour ride". The ride within the walls which is pushed by one of Spaulding's hands goes through a rooms made up to entertain the museums visitors, introduces and gives a taste of local legend Doctor Satan. The legend of the Doctor Satan as told by Spaulding. Doctor Satan was experimenting in human operations of horror and cannibalism and taken to death, buried and the body disappeared. We heard it all before. While the 4 were about to take off with a full tank of gas, one of the youths runs in to find out how to get to the home of "Doctor Satan". I guess since we are in the neighborhood let's pay the doctor a visit.
The four youths of our story were snobby and arrogant and you know they were in for it all and probably well deserved. As they drove off from Capt. Spaulding on this Halloween Eve, the two guys talked their girlfriends to take the rural route to Doctor Satan's house and explore the local legend. As the weather turned to a pouring rain they run into a hitchhiking pin up Barbie named "Baby", played by Sheri Moon. Rob Zombie direction here introduces her with scenes of how innocent she really is - "NOT". Jumping between flashes of b/w and polarizing effects. Fortunately for the four, Baby knows the way to Doctor Satan's house because it's right next door. How fortunate for our four characters who are to visit the doctor's home from the first detour on a ride that is set to go cross-country. However before reaching the place their tire blows out, but again Baby is there to save the day because her brother is also a tow truck driver and can repair their tire. They just need to walk to Baby's home and get him. She asks one of the 4 to go with and of course the guys oblige to go with her, since she is a walking sex pot, through the rain. This is where the gore and the movie begins taking you back to traditional horror and gore movie from more then a quarter century ago of such classics as "Night of the Living Dead" and "Texas Chain Saw Massacre". You may laugh through some scenes, but the movie is there to scare and put fear into you as Zombie intended. Not what has been produced in the past 20 years of teenage-based horror flicks. This is true obsession of fears that we all hope never exist. Check out House of 1000 Corpses Web Site for story, characters and other awesome stuff about the flick.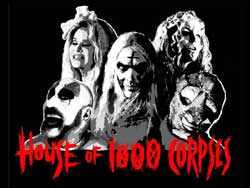 To compliment Rob Zombie's movie you can go grab the recently released 25 track CD for the movie, which already features several tracks making airplay on video and radio stations. Probably the most played song is the famous remake, "Brick House 2003" featuring Lionel Ritchie and Trina. Another kick ass tune is "Run Rabbit Run" new from Zombie which if you see the movie will make perfect and works right on with the flick. Zombie's past works included on this disc are from Zombie's "Sinister Urge", "House of a 1000 Corpses". In addition to the greats of American Punk, featuring Ramone's "Now I Wanna Sniff Some Glue", as well as other music icons Helen Kane, Buck Owens and even Slim Whitman. If you see the movie they fit right into the soundtrack. The CD has many good tracks and exerts to from the movie. You will definitely enjoy the new tracks even if you don't listen to the whole soundtrack it worth the buck to get it. This soundtrack is definitely a cool addition to your CD collection.
"The House of a 1000 Corpses" CD features what you need from Rob Zombie of his creative imagination which includes five new tracks. Even if you are not much of a SoundTrack buying fan, this one you need to get.



---
Related Articles:
House of 1000 Corpses CD
Rob Zombie Concert Marry Mayhem Review
Rob Zombie Photo Gallery
Rob Zombie Official Web Site
House of 1000 Corpses Web Site