Scorpions announced their 'Final Sting' tour quite some time ago. A tour which will lead them all over the world to their fans, for as long as demanded, as Schenker added to in his goodbye. In the meantime the tour is running for over two years with Scorpions releasing "Comeblack" as an ode to their followers. The German rock brigade will subsequently release a brand new album in 2013. An album consisting of old songs from their "Blackout" and "Love at First Sting" recording sessions. A release to look forward to even though the band will not tour, anymore.... At all.
That being said, tonight's Oberhausen show is the second to last show of their long spanning career. A magical night per se, opened by one of Germany's upcoming stars; Eisbrecher!
Risen from the ashes of MegaHerz, now filling to large footprints of industrial rockers Rammstein, the band finds themselves onstage in front of a nearly sold out venue. Eisbrecher takes the stage with enough self-confidence to make it work. Loud thunderous metal delivered with impeccable precision. "Exzess Express" and "Willkommen im Nichts" are propelled by the same marching beat as that of their fellow countrymen, though leaning less on the wall of sound as Rammstein pulls up alongside the buzzing guitars. Wesselsky is a power shouter who clearly knows how to entertain an audience. Eisbrecher instantly wins over a large chop of the crowd and thrives throughout this gig. As time goes on, "Prototyp," "Engel" and "Heilig" win over more and more hearts, making the final a big bang. "Verrückt" builds up towards the classic Megaherz re-recording "Miststück 2012" which is sung along to by nearly the entire arena. The midsection with Falco's "Amadeus" and a sing off contest are funny as hell, making this show a real treat.
While the audience is entrained with an intro video with high lights of their career combined with newsflashes from this era, the drum platform rises while fireworks go off. This show is a go!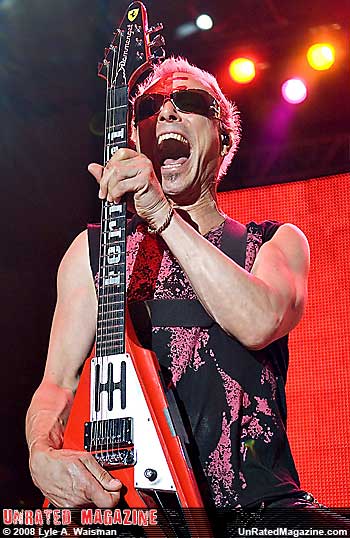 Rudolf Schenker, Klaus Meine and Matthias Jabs take the giant stage by storm alongside long time Scorps Paweł Mąciwoda and powerhouse drummer James Kottak. The band is a well-oiled rocking machine which presents a two hour show of classic melodic rock highlights from their illustrious career. "Sting in the Tail" worked itself up to be an instant classic blending in perfectly with classic fist up rockers "Make it Real" or the reggae inflicted "Is there Anybody out there?" Schenker storms forward and back on the long catwalk which puts him inside the audience. Loud riffs fired onto his fans while his arms fly up and down. The man is the ultimate performer, entertaining his crowd easily with his mimic and interaction. While Rudolf runs back and forth, Jabs delivers his fine guitar work and solo's. Less focused on his stage presence, more in league with his playing, the guitar tandem is one of the best in the genre and with Meine. The band has one of the best vocalists out there. Klaus' typical nasal sound stood the test of time. He fires up his fans, while giving one of his finest performances I've seen. Little mishaps he covers up with his charisma and interaction with his fans. Klaus Meine shines brightly tonight when the band embarks onto oldies "The Zoo," "Coast to Coast" and "Loving You Sunday Morning." All songs welcomed by the enthusiastic crowd celebrating the best musical export product Germany ever sprouted. On the giant led screens clips are shown inter laced with camera footage from the gig itself, while pyro keeps blasting away. Firecrackers go off, and fire is spit into the air over and over again. "We'll Burn the Sky" is in effect while performed, leading us into another newbie "The Best is yet to Come" again with fireworks blasting away into the ceiling of the giant arena.
The boardwalk is taken by Jabs and Schenker armed with acoustic guitars. Not just acoustic guitars by the way. No, Jabs has his typical explorer shaped acoustic six string, as where Schenker comes on with an acoustic flying V. Meine and Kottak join for intimate versions of "Send me an Angel" and "Holiday", in between fans putting up their cell phones instead of the classic lighters from the old days.
When Kottak returns behind his kit it's time for the heavier second part of "Holiday" and some other oldies. "Raised on Rock," "Tease Me, Please Me" and "Hit Between the Eyes" blast away prior to the band leaving the stage for Kottak's solo spot. A drum solo interlaced with videos depicting him in artwork from the band's many releases, molded into a roller coaster ride story. It's entertaining even though it takes the pace out of this rock show. The animal Kottak is embraced by the fans ever since he joined in the 90's and today is celebrated again. Beer flies through the air and fists fly up when James is standing on his kit some 25 foot high in the air, taking off his shirt displaying the large "Rock and Roll Forever" tattoo on his back.
Schenker storms onto the stage with bandages around his head and forks in front of his eyes for a furious outburst in "Blackout." His guitar's smoking while Jabs storms forward to lay down some twin melodies. During "Six String Thing" Matthias gets his solo spot with a recognizable fragment of "Eruption" woven into the song. The hammer "Big City Nights" blasts away accompanied by fireworks and smoke canons while in the back Time Square is depicted on the screens with the name Oberhausen being displayed. With a big blast the show comes to an end, but soon after Klaus and his band are hauled back onstage by the enthusiastic crowd.
For a moment we can spot Meine emotional as he thanks the crew, and many fans that flew in from all over Europe. An honest "Thanks You" from one of the best rock bands on the planet which brings this night to an end with their biggest hits "Still Loving You" and "Winds of Change," before ending once more with a big blast firing "Rock You Like a Hurricane" into the arena. The audience goes wild and fire spits up into the sky again while firecrackers and fireworks set the stage ablaze. The standing ovation which follows is long and lasts for well over 10 minutes... a salute to the band.
It's a true shame if this band really stops performing. Not only is this hard rocking hit machine one of the finest song writing teams in the genre, it is without a doubt one of the best rock teams ever to taken the stages in the world of hard rock. Entertainers with an eye open towards the present, presenting a staggering night of sheer rock mayhem. Melodic fireworks go hand in hand with real fireworks, for almost two hours straight!
Setlist:
Sting in the Tail
Make It Real
Is There Anybody There?
The Zoo
Coast to Coast
Loving You Sunday Morning
We'll Burn the Sky
The Best Is Yet to Come
Send Me an Angel
Holiday
Raised on Rock
Tease Me Please Me
Hit Between the Eyes
Kottak Attack
Blackout
Six String Sting
Big City Nights
Encores:
Still Loving You
Wind of Change
Rock You Like a Hurricane
---
RELATED LINKS