I'm sure by now you've heard about the musical Fela! starring Destiny's Child member Michelle Williams. The musical based on the life of late Nigerian music pioneer Fela Kuti is a three time Tony Award winning play produced by Shawn "Jay-Z" Carter and Will & Jada Pinkett Smith.
Thursday by way of the historic Fox Theatre, Fela! opened to a packed house and a bustling red carpet including lead cast member Adesola Osakalumi. Atlanta's bustling entertainment scene was also on hand to support the cast. Celebrities such as Ludacris, Kandi (Real Housewives of Atlanta), Demetria McKinney (House of Payne), Marlo (Real Housewives of Atlanta), Comedian Rodney Perry, Monifah (R&B Divas), Darrin Dewitt Henson (Soul Food), Jasmine Guy (Different World), Chanita Foster (Football Wives), Arrested Development, Q Parker, cast members Sharlinda, Kahdijha, and Brie (Big Rich Atlanta), Pat and Rayah Houston (The Houstons: On Our Own), AOA students, Fred Williams (Coach of Atlanta Braves), and Congo recording artist Innossb, hit the carpet to give support to the creator of afro beat—a blend of jazz, funk and African rhythm and harmonies.
From the moment the show opened the music ignited the audience with thunderous dance moves and spell bounding rhythms. More than just music, Fela! tells the story of Fela Kuti who used his creation of afro-beat to propel his human rights activism into the spotlight. Kuti was influential in using his music to put the spotlight on any injustice or corruption thus drawing attention to the perpetrator and Adesola Osakalumi did a great job in showcasing Kuti's strength. Osakalumi portrayed through his powerful delivery how Kuti openly assailed Nigeria's corrupt and oppressive dictatorships.
Cast member Michelle Williams as the most recognizable person in the musical did a stand up job in her role as Sandra Isadore. Williams shined on stage. Her delivery was magnetic and the songs showcased her voice perfectly.
Highlights of the show included Fela's (Adesola Osakalumi) humorous interaction with the audience. Osakalumi's stage presence was captivating as he kept the audience's attention with his subtle and not so subtle punch lines and insistence on the audience moving to the beat of the drums. All in all Fela's opening night in Atlanta, Georgia proved to be an appropriate close to Black History Month and a must see.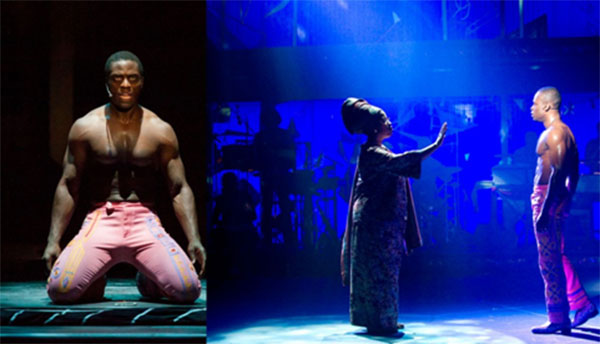 Stefanie Newell is an Atlanta-based writer and author of The Buzz: When celebrity gossip goes wrong....You can check out her musings on all things writing at TheWriteOneBlog.com and her The Life Of A Writer series on YouTube. http://youtube.com/TheLifeOfAWriter
---
RELATED LINKS