Tuesday night, CBGB punk poet legend, Patti Smith, pushed her way through Chicago with a two hour set filled with classics and new tracks to everyone's enjoyment. Proving that she still has the power to move with words and music. This was her second of two sold out shows.
Chicago born Smith, moved around during her childhood from town to town and state to state before finally heading to New York in the late 60's to find a new life. And that she did. She seemed to be at the right place at the right time with the right people very early on, including a romantic relationship with Photographer, Robert Mapplethorpe, who shot most of her early album covers including the now iconic 1975 classic, "Horses." Lived and learned life at the Hotel Chelsea and became regulars at Max's Kansas City and of course, CBGB's. These early influences certainly help shape Patti to the "Grandmother of Punk" she has become.
Flash forward almost 40 years and Patti Smith is still going strong. Her latest and 11th album release, "Banga," is a poetic mix of blues, rock and punk. Recorded at the legendary, Electric Lady Studios in New York City, the title track, "Banga" and single release, "April Fool," stands out as well as proving crowd favorites live.
"Banga," is a huge collaboration album with contributions from not only her bandmates Lenny Kaye, Tony Shanahan and Jay Dee Daugherty, but even her own children Jackson and Jesse. Other notables, from a list of over 20, include Tom Verlaine of, "Television" and Johnny Depp on drums and guitars on the title track, "Banga," This album is deep, thought provoking and just plain rockin! The live performance really captures this raw emotion of melodies and throws it in your face.
Armed with an acoustic guitar, mic and armed band, Smith came out strong with, "Kimberly" and continued on for two hours of non stop music, interactions and words to the wise that included new and old hits, cover tunes as well as a peppered with garage rocker jams and classic story telling.
Early on in the show, Smith was distracted with a wild fan, who sounded like a cackling hen with shouts or joy and admiration for the Punk Pioneer. This came to a head when others around this woman, couldn't take it anymore and shouted back at her, SHUT THE FUCK UP LADY!" At which immediately draws laughter and made Smith chuckle. She then proceeds to respond to the woman with why it's not cool to act out that way and gestures good spirits and vibes her way. What punk show would be complete without an F Bomb thrown at least once!?
Smith owned the stage. She sang her songs with a passion. Let the boys play a couple tunes while she waltzed around in the front row stage areas hanging with fans and jumped back and forth with the jams as needed.
This was a personal show to witness. She and the audience really messed. The set was impressive and rewarding. A three song Encore was the icing on the cake. This is the girl who's not afraid of pushing too hard. The people may have the power, but because this night, belongs to Patti.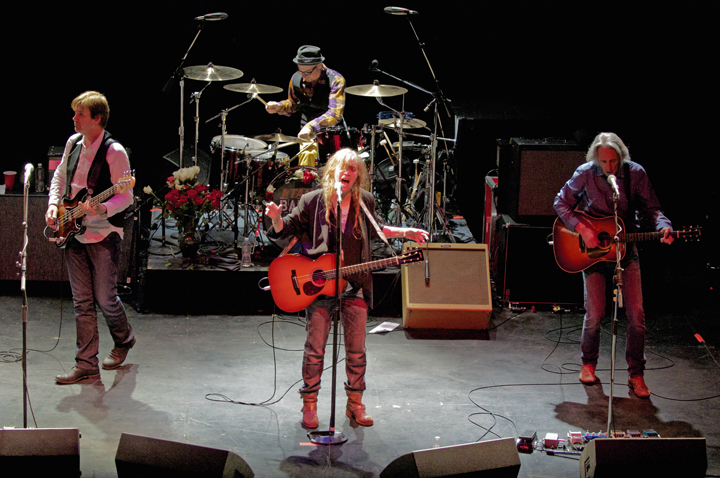 Set List:
1. Kimberly
2. April Fool
3. Redondo Beach
4. Free Money
5. Fuji-san
6. Banga
7. This Is The Girl
8. Ghost Dance
9. Beneath The Southern Cross
10. Night Time
11. (We Ain't Got) Nothing Yet
12. Born To Loose
13. Pushing Too Hard
14. We Three
15. Because the Night
16. Pissing in a River
17. Land
18. Gloria
Encore
19. People Have The Power
20. Babelogue
21. Rock n Roll Nigger
---
RELATED LINKS