Class: Rock 'n Roll 101 (The First Half Century)
Instructors: Tom Petty & The Heartbreakers
Location: The Vic Theater, Chicago, IL
When: April 13-19, 8:15 pm
There are certain consistencies in life that are always persistent; You can always count on going to New York City and being able to walk around at all hours of the day in the city that never sleeps, The Simpsons will always provide the best humor on television and the Chicago Cubs will draw capacity crowds even though they are out of the pennant race by late April. Last night, I learned that Tom Petty and the Heartbreakers are just about the most constant rock band out on the road today. They've never had a number one album or single and have been eclipsed numerous times by other bigger rock acts. However, for the past twenty-five years this band has delivered one of the best rock shows on earth. It may not be flashy or run by you at lightening speed, but it's always steadfast.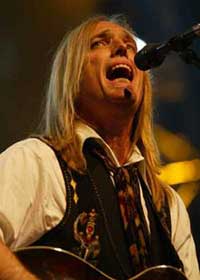 In the second of five sold out shows at the Vic in Chicago, a capacity crowd of 1,400 people were able to witness a truly bravura performance showcasing the best rock 'n roll has to offer from it's past, it's present and it's future. Those going to these shows expecting a greatest hits set list will no doubt be disillusioned. However, what they don't realize is that they are seeing something truly extraordinary, a distinguished rock band playing an intimate gig. The few fans who were able to obtain tickets were able to witness an act at the top of its game be uninhibited. You could see that while performing, it appears that the band had a weight lifted from their shoulders, which helped them, be spontaneous and perform with ease and conviction. Intimate club gigs allow the artists to indulge themselves; they don't feel it is necessary to play all of their big hits. You have to respect and admire this, if for no other reason, that it helps make an artist excel, keep things fresh and possibly give the audience that "wow" factor which will differentiate these shows from their huge arena gigs of 20,000 plus people. We are able to see up-close that our heroes are also fans of rock and they in turn, hope to turn us onto their influences, so the next time we are in a record store, we may give the blues, Animals or the Byrds another chance and pick up a few discs by one of these legendary artists instead of whatever appears to be hip on that given week.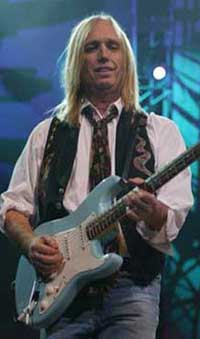 Petty arrived on stage and immediately blew into the great Muddy Waters classic, "Baby, Please Don't Go", paying homage to Chicago's great musical background. For the better part of the next three hours, Petty and his comrades ran through a slew of covers, blues numbers, deep cuts, new songs and classic hits. Early highlights included the lost Wildflowers gem "Crawling Back To You", the melancholy song shined in an evening full of surprises. It's hearing songs like these that you begin to realize that these acts release full albums, in some instances, containing ten or twelve truly great songs (as is the case with Wildflowers). However, this was just the tip of the iceberg, as the show soon evolved into something none of us could have possibly imagined. The first set also included some choice covers which included "Feel A Whole Lot Better" by the Byrds and a magnificent cover of a obscure Animals song, "I'm Crying". He also played some new material including "Black Leather Woman" which was just performed for the first time last week on Jay Leno. For those of you who have not heard this one, it's a keeper; it's raw and big on guitars. Late last December, Petty did something that had never even occurred to me; he added a lost gem to his set list; "Handle With Care" from the first Traveling Wilbury's album. Petty dedicated it to Orbison and Harrison who I am sure was looking down smiling like proud parents. I got my $50 worth on this song. Utility musician Scott Thurston (who fills in on guitar and keyboards) added sweet harmony taking over Orbison's vocal on this track. This is easily one of those moments where you loom around and see the joy on people's faces and you realize how blessed you are that God gave us rock 'n roll.
After a twenty-minute intermission the band came back for a 12 song acoustic showcase, in which they did everything one could possibly imagine from the annals of rock. Highlights included "Walls" and "Angel Dream", a pair of songs from the She's The One soundtrack album. He also included numerous covers including an Elvis styled version of the Ray Charles classic "I Got A Woman" and many new numbers, which Petty did not even address to the audience. What is consistently amazing is the top-notch performances by piano player Benmont Tench and guitarist Mike Campbell. Campbell played an electric mandolin throughout the majority of the acoustic set and I can't tell you how staggering it sounded, a feat that is not easily accomplished. The band sounded so tight that you would have assumed they play these songs nightly. The one standout of the newer songs was "Next Time You See Memphis" which was a luscious and picturesque mid tempo song that I can only hope will appear on his next album...or during WXRT's live broadcast this Saturday night. However, the clear standout of the acoustic set was the old Buddy Holly classic, "Peggy Sue". It was during this song that Petty evoked the greats of rock's past and etched his place along rock greats like Dylan, John Fogarty and Buddy Holly. He embraced a song that is nearly a half a century old and not only did the place go crazy, but the song was played to perfection, with the help of the remarkable rhythm section of Ron Blair (bass) and Steve Ferrone (drums).
The end of the main set concluded with an original and new incredible blues rocker. Petty & the Heartbreakers continued to pace the song along until it ended with an extensive jam that had the whole crowd awestruck. The irony is that no one knows the title, as Petty did not introduce the new number, but none of that mattered to the 1400 smiling faces. Closing out the main set was the rarely played "The Waiting" which had the entire crowd singing in unison. Upon coming back to the stage, he talked about how much he loves the music that has come from Chicago and wanted to play a song recorded here. He immediately went into Chuck Berry's "Carol" which put the place into a frenzied mode. From there, he closed out with "You Wreck Me" and the rocking in-your-face "Refugee".
There is no doubt that numerous people walked away disenchanted because they did not hear "American Girl" or "Free Fallin'", in those cases, they simply missed the magnificence of these gigs at the Vic. Seeing shows like these are a once in a lifetime experience. I relished each and every second, as I was able to witness what is possibly the most consistent rock band over the last twenty-five years embrace the entire history of rock 'n roll. They may not be as legendary as the Beatles, Stones or E Street Band, but Petty has never taken an extended hiatus from recording or touring and may not have as many classic albums as other rock icons, but he's consistent, which does count for something. Petty embraced all that rock has offered us over the last half century and put it together for 1400 people over three hour lesson. It was like a rock 'n roll class, which Petty and the Heartbreakers are instructing 1400 lucky individuals nightly. Anyone who has been able to witness one of these shows should feel blessed as it's rare to see acts this good, in venues this small. The camaraderie shown by the Heartbreakers is more than unique...it's a phenomenon.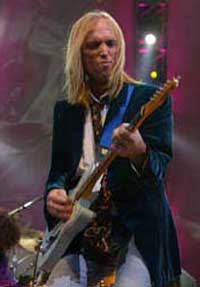 Something Petty never can get enough credit for is his fan-friendly attitude. He kept ticket prices for these gigs at $50 when other acts this summer are charging upwards of $100 for stadium gigs. Petty could charge more, but he doesn't see the point. He has stated time and time again he still makes millions when he's on the road, regardless of his ticket prices. He is the last of the fan friendly rock stars out there. In a world where promoters are robbing fans blind, Petty does everything in his power to make sure that his fans get the best seats and at a good value. I can only hope that some of the up and coming bands today will take a cue from Petty; never whore out your fans. Long live Tom!
For my money, the best acts to see in rock today are those who have forged friendships that have lasted decades. They can read each others minds and know what the other is going to do just by the way they raise their hands or lift their guitar. The E Street Band and Bruce Springsteen are one of those bands and after Monday night, dare I say it, but technically the Heartbreakers may be just as good. The best thing about Tom Petty and the Heartbreakers is they still have lots of rock left in them and you can be sure that they won't back down and will continue rocking and rolling as long as it is possible.
It's an indulgence to see other people, let alone rock legends, enjoy themselves. The shows at the Vic Theater in Chicago this week are about being a fan and student of rock 'n roll. We all have much to learn from its past and the second we stop looking back and embracing it, is when it will die. Tom Petty and The Heartbreakers are enthusiasts of this old school rock, and they did the best to show the privileged Chicago audiences where they have stolen their tricks from over the years. They treated the sold out crowds this week in the Windy City to a tutorial in the finest that rock can offer from it's past, present and future.
Related Articles: