The Indigo Girls have always had a steady and solid fan base throughout the US. One of the Mecca's for that fan base is at the Cabaret Metro in Chicago. They were just here in February at the 3,000 seat Chicago Theater, but found enough reason to come back and play the legendary Metro. It's one of their favorite places to play and even recorded parts of the 1400 Curfews live album there. In fact, the Metro is such a glorious room, that the Smashing Pumpkins chose it as the place of their final show back in 2000.
Unlike other tours that coincide with record releases, this tour is unique for them, as it is just Emily Sanders and Amy Ray touring, with no backing band. Sure, it may not be as rowdy or rocking as a usual rock show, however, it does allow the songs to breathe a little easier. Anytime an artist breaks a song down to it's beginning origins, you relish the lyrics more and come to realize that they may have deeper meaning than anything you have realized before.
The 100-minute set encompassed the band's entire catalog and even brought out a few new surprises. Opening with the crowd pleasing, "Lease Complicated" the two folk-rock veterans gave notice to the capacity crowd of 1100 that feeling that they were seeing something unique and special. "Least Complicated" was cheered on and even had the crowd chanting along with the "nanas" at the end of the song immediately giving the small and intimate gig a sense of community. What followed over the next 100 minutes was an encompassing look over their entire career. Five songs were performed from their 2002 disc, Become You, however, the highlight of these songs was "Starkville" which was even more beautiful stripped down as Emily and Amy performed the song un accompanied by nothing other than their voices and guitars.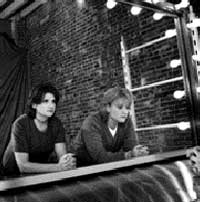 While the show gave a nice overview of their career, it did have its little gems. The rarely performed "Devotion", from their 2001 Retrospective album was performed to great excitement among the crowd, because this is one of those songs that is obligatory to all "Greatest Hits" discs, and unless the song becomes a big hit, it usually goes into a black hole to never be performed or recognized by the artist again. It was a delight to see such a rarity performed. "World Falls" from their "Nomads and Indians" also made a rare appearance showing that they were willing to play at least one song from just about all of their albums. They even played a few new songs, "Cold Beer Remote Control" and "Fill It Up Again". The latter was so new that they needed music stands for the lyrics and music. "Fill It Up" will most likely be on the next album as it has the classic Indigo Girls sound to it.
However, while these little nuggets were all nice, the standards received the greatest response of applause from the sold out crowd. "Get Out The Map" and "Closer To Fine" has the capacity crowd clapping along and rocking the whole way through...as did "Shame On You" which was a surprise hit for the girls back in 1997, but it's infectious melody is still terrific and a perfect campfire song. "Galileo" was saved for the encores, and met with excitement and fervor. I even saw two guys near the front speakers shaking their heads and moving their bodies in sync with one another as they sang along. While I see this at dozens of rock concerts, it just shows the power of the lyrics that these two women have written and how well they connect with their loyal audience.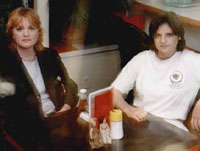 I guess if I had any complaint is that I wish they had played a bit longer. It's rare you get to see any artists bare and naked in front of a wide audience. When acts go on the road for an acoustic tour, which is exactly what they do. Many people do not realize it, but when Springsteen toured back in 95/96/97, he opened his heart, soul and catalog to the world by letting them in and those yelling out for big stadium hits clearly missed the point. It is the little things that make these intimate gigs so special; seeing their squinting eyes when they hit an poignant lyric or the passion on their face when singing lyrics that we overlook in theaters, arenas and stadiums and last but not least, the smile when the audience connects with the artist. These small club gigs allow the fans to be close to their favorite artists in more than just a physical manner. You get a little closer to who they are as artists. While the Indigo Girls may never graduate to big arena shows, that is perfectly fine with them and their fans. The Indigo Girls have a deep history and their music, at it's best will be introspective, is like great comfort food...it will relieve your thoughts and placate you through those trying times and forces you to look down the tunnel for the light at the end of it. For 100 minutes on a spring night in Chicago...I got a little closer to fine.
---
The Indigo Girls Official Web Site