When I look back at how rock music has evolved over the past few decades, one must recognize how the genre clashing artistry of Al Jorgenson and Ministry has changed the way we define rock music and its culture today. When Jorgensen formed Ministry in 1979 he was heavily influenced by post-punk dance, along with his love for fast aggressive music and his admiration for the British new wave scene. In the early 80's he met respected dub/noise-funk producer Adrian Sherwood and began working with him on several projects for Sherwoods's (On-U) soundtracks which were mostly bits of over modulated beats with an intimidating white noise. This stuff was created when music was considered dry and hair bands were making their debut. So, Jorgensen started to get pissed off jolting him to develop a sound through his influences that became a new creatively assertive sound. This would prove to be a gutsy move that took us all by surprise. It most certainly led the way we feel when we listen to heavy rock, punk, dance, metal, and alternative music and the culture that evolves around it today.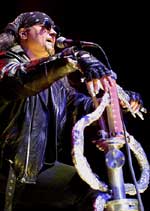 It wasn't long before Jorgenson would go on to meet Paul Barker (the Blackouts) and produce a series of EP's set to release on Chicago's Wax Trax Label. Jorgensen and Barker began to work together combining their love for British post-punk with a deafening white noise to create a highly innovative and influential sound that can even be found in popular club mixes today. In 1988 Industrial rock was born with the creation of The Land of Rape and Honey (1988), The Mind is a Terrible Thing to Taste (1989). Staying loyal to Wax Trax they also released many of records credited to the Revolting Cocks, Pailhead, 1000 Homo DJ's, Acid Horse and PTP. Then the duo recorded Psalm 69 using guitar, bass, and drums. With this new heavier sound the metal scene would come on board. Ministry's raw power earned them a slot on the 1992 Lollapalooza tour and their first platinum album. In 1995 they would go on to record Filth Pig, which would become Jorgensen's favorite. Then they would record The Dark Side of the Spoon, Their last recording with Warner Bros. was a copulation Greatest Fits before signing with Sanctuary Records in 2001. The next year Sanctuary released Sphintour a live CD and a DVD featuring Ministry's 1996 Filth Pig tour.
Well here it is 2003 and the release of Animositisomnia. (Sanctuary) I went to Ministry's web site to find out what inspired Jorgensen to create their new CD. "We live in a culture that celebrates the mundane and the ordinary, as if tying one's shoes were an act of epic proportions deserving of a reward. The truth is that the world has gotten much more dangerous. As a result, art needs to follow suit. The music scene needs Ministry now more than ever, and on Animositisomnia, the band throws down the gauntlet" "Ministry founder Al Jorgensen explains it simply." "I got pissed off again!"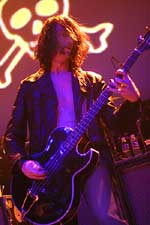 Well, it's Earth Day of all days and Ministry's rapture would hit Jorgensen's hometown of Chicago, IL. The Vic Theatre was completely filled to capacity as the crowd anxiously awaited Ministry to hit the stage. At 8:05pm Ministry took the stage, Jorgensen's energy discharged and spread like wild fire as they started off the night with their new cut Animosity. Body Surfing was instantaneous. Ministry hit us hard with their 2 drummers, 2 guitars and bass. Al came out wearing a blue bandana and a motorcycle jacket as he released his fury from what looked like a podium of welded together motorcycle exhaust pipes, electric lights and handlebars. Al looked relaxed, assertive and confident. There was a huge video screen in the backset of the stage that flashed images of old 1960's and 50's television coverage. When Ministry played (New World Order) the screen flashed visions of Saddam Hussein and Adolph Hitler's dictator propaganda and cars on fire, while he stuck his nose up and pinched it as if he smelled something wrong with our governments political shape today. The song ended with a vision of a whipping tornado wiping us all away. Ministry went on to play a few more cuts from Animositisomnia (Sanctuary) as Al encouraged the screaming fans to "Bring it on!" Then Ministry gave the crowd "Just One Fix"! The climax of the show came when Al handed off the microphone during the neo punk tune "So What!" He began taking running dives into the fan-crazed crowd. With a running start he dove into the crowd 6 times during that song as the fans safely returned him to his stage. Then he pops out wearing Eric Daze's Chicago Blackhawcks Jersey #55 and a winter cap as the hometown crowd went nuts! The first encore Jorgensen claimed that he had not played it live in 15 years "Breathe" as he smoked a cigarette and spit all over the stage. As the song played the video screen flashed images of starvation, electrical power and windmills, and even the SR71 Blackbird, with a focus on environmental waste, cars, trains, recycling, bomb shelters and single cell organisms. Then they go on to play "Stigmata" and leave the stage once more. Then Ministry comes out for their second encore and plays a cut from their Wax Trax label (Revco, ding a ding dong!). With video images flashing lesbians with jointed dildos, ICBM.'s and drag racing motorcycles. The crowd was worn out as ministry kicked their ass!
So the show came to an end. If you get a chance to see Ministry in 2003 you will not be disappointed. They bring a hard-hitting, kick ass show that will only leave you wanting more.
---
Related Links
Ministry Official Web Site