Halford The 2003 Metal Gods North American Tour April 25th Chicago House of Blues Chicago has always been a city with a loyal and devoted "Metalhead" population and a healthy Heavy Metal Music scene. So it was really no surprise when Rob Halford & Company announced that The 2003 Metal Gods North American Tour would originate from the Windy City's own,
House of Blues
. Heavy Metal music may not be the first choice of preference for many of today's music listeners, but on Friday, April 25th at "The House", Heavy Metal once again, "Reigned Supreme!"
As if unleashing Halford and co-headliner Testament on Chicago's Metal Minions wouldn't be enough in itself, "The Metal Gods Tour" also features several other top shelf, internationally known Metal bands. The "all ages" event began at 4PM with Halford Lead Guitarist, Mike Chlasciak's own band, called Pain Museum. "Metal Mike" wasted no time "Delivering the Goods" as did Swedish Metal Giants, Carnal Forge and Poland's Black Metalers, Behemoth. All three bands had The House "headbanging" as they ignited the crowd for the next band, Germany's Primal Fear. These Metal Crusaders are "old school" tyrants with heavy, early Judas Priest influences.
Next up, were Norway's incredible "Sons Of Northern Darkness"...Immortal. The "Blizzard Beasts" were EXTREMELY impressive, as this unbelievably tight three piece band played like "Mountains Of Might." Immortal's relentless aggression and immense intensity are nothing less than "Pure Holocaust." The almighty Testament, were the next "Metal Gods" to hit the stage to further annihilate Chicago's Metal Legions. Legendary vocalist Chuck Billy (back from health problems) and guitar hero Eric Peterson, never sounded better as the band flawlessly delivered "classic" Testament hymns as well as titles from their most recent release, "First Strike Still Deadly." Testament left no doubt that they are still, an undeniably powerful force in the worldwide Metal music scene.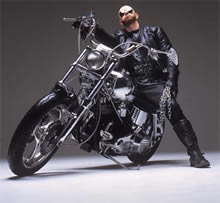 It was now finally time for THE "Metal God" himself to grace the historic House of Blues stage. Halford and crew viciously opened the show with a blood curdling version of "Painkiller" that truly blew everybody away! From that moment on, it was all out, balls to the wall, "Classic Heavy Metal." Although Halford songs from "Resurrection" and "Crucible" were featured throughout the set, it was the older, classic "Priest" gems that dominated the show and received the largest response from the crowd. Halford performed many of those "oldie but goodie" Priest anthems, such as "White Heat, Red Hot" from 1978's Stained Class LP. Halford even treated his fans to a very nostalgic version of "Never Satisfied" from Judas Priest's 1974 debut release entitled, "Rocka-Rolla."/i> Frankly, I've heard The Metal God "vokillize" a little better in the past. However, Rob Halford can still, without a doubt, "howl and prowl" with the best Metal has to offer.
The 2003 Metal Gods Tour was a very memorable event that Chicago "headbangers" won't soon forget. HAIL...to The Metal Gods!
*Special Note: This tour has since been CANCELLED due to inappropriate booking activity. More details on this to come...
---
RELATED LINKS
Concert Photos
Crucible CD Review