There are advantages and disadvantages to everything in life. As I have ventured into writing more and more, I have found a vast outlet for energies I would otherwise not be able to use. I irrevocably get to let the world know how I feel about a noteworthy musical artist, movie, song or album that moves, shakes and rattles the foundation of my soul. And then there are the days where you are given tickets to a show you would otherwise pass over but have to do in order to get future credentials. So how does one write zealously about something they are not fully occupied in emotionally?
This was the struggle I was dealing with on Friday May 2nd. I had a long week at work and just basically wanted to go home, catch "X-Men 2" and call it a night. However, tickets for the Matchbox Twenty and Sugar Ray show landed in my buddy's lap (not literally) a few hours before the show. So off we were in rush hour traffic, on a Friday no less, to see a few bands that I like, know a few songs, but probably would not go to excessive measures to see live. I have Matchbox Twenty's first album, Yourself or Someone Like You, and it's a damn good album. Almost every song on the album is instantly recognizable and appealing. It was their Thriller, Born In The USA, Achtung Baby, Slippery When Wet, Rumors, etc. The album they will still be playing five or six songs from nightly if they are still touring in twenty years because a generation of people will forever know these songs.
Then there is Sugar Ray...well let's just say, for a long time, I could not stand them. I think lead singer Mark McGrath's ego and presence in interviews was the repellent for me to ever being open minded to them. However, I really dig the song "Falls Apart". Well, I must say, that changed on July 27th and 28th, 2001. Sugar Ray opened two shows at Giants Stadium for Bon Jovi. I was already there early to catch the other opener, Eve 6; otherwise, I would have passed on Sugar Ray. I must say I was congenially stunned with how much energy they brought to the live setting. I was disposed to loathe them and they turned me around and managed to keep 50,000 Bon Jovi fans entertained and even got them on their feet singing along to their songs.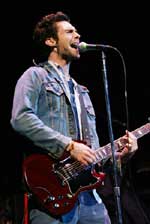 This brings us back to the congestion we are dealing with on the Kennedy Expressway as we make our way to the United Center. We arrive, get our credentials and I go to the seats while my friend Rob takes his trusty camera to the pit where he will be shooting all three bands. First up is Maroon 5. They are a new and upcoming band with whom I bet you will be hearing from a lot in the future. Their twenty-five minute opening set had energy and they managed to keep those who had showed up early entertained. I have a friend who actually forked over $45 for tickets to the show just to see Maroon 5. The lead single, "Harder To Breathe", has a catchy groove to it that is different to most other songs on radio today, received a very warm reception from the Chicago crowd. As they ended their brief set, I could see the band has promise, but we will have to wait and see if they do something with the buzz and build on it, or simply waste away into oblivion being nothing more than a one hit wonder.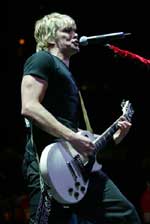 Next up was Sugar Ray and once again, they bowled me over. They played a slew of their hits, ("When It's Over", "Every Morning") and some new songs from their upcoming album In The Pursuit Of Leisure ("Mr. Bartender"). For me the two highlights were "Falls Apart" and "Answer The Phone", they are austere relationship songs performed with immense certainty by singer Mark McGrath, his voice exerts vast sentiment and takes the songs to a level much higher than that of just pop songs, but ones with illustrious emotion, force and feeling. I know what you are thinking...I can't believe I am actually poetic prose about Sugar Ray either. To their credit, they will one day put out a "Greatest Hits" disc and it will become their best selling album. They have a cluster of really high-quality pure pop songs that people enjoy, even if they are guilty pleasures. The band has a new album coming out in June, and they managed to work the new songs into this set quite well. The stage had a bar set up on it, to add to the mood of the party atmosphere, which helped the rapport the band had with the audience. We saw them as ordinary guys just hanging out on a Friday night. They even were able to get the 9,000 people in attendance to thrust their fists in the air along with a new unheard song before they launched into The Ramones "Blitzkrieg Bop"...while it does not hold a candle to the original, they get points for trying one of punks true masterpieces. The set ended with an extended version of "Fly" which found McGrath running to the back of the arena, standing on a chair with a fan and singing the chorus back and forth with her. OK, even if you want to find Sugar Ray insufferable, you would have been impressed with their act. Too often in recent years, I don't feel that younger bands give all of themselves in their performances, whereas Sugar Ray went above and beyond my expectations so much that if the stars ever align and they play a headline show, who knows, I may check it out. As Sugar Ray left the stage, the crowd waited patiently for Matchbox Twenty to make their presence known. One problem, in the two hour set that followed, they never really made it known.
Matchbox Twenty arrived on stage to a blitz of lights and commotion; little did we know this would be where the exhilaration would peak. They ran through
"Cold" a new number from their most recent disc, More Than You Think You Are, before launching into the first big hit of the evening, "Real World" from their
ten million selling debut album, Yourself or Someone Like You. What followed was a nearly two-hour show of all of their hits ("Bent", Push", Back 2 Good",
"Mad Season"), new songs ("Disease", "Unwell", "Soul", "All I Need") and even an inspired cover ("Jet" by Paul McCartney & Wings). The band consists of
top-notch musicianship, as they sounded forceful and played each and every song to meticulousness giving their dues to the proverbial album versions everyone
is familiar with. So, all in all, it would appear to have been a fantastic concert. Why wasn't it? Well, it was not in the least bit bad at all, but I can't
say I walked away wanting to see them again. They are an extraordinarily talented group of musicians who continue to make unswerving pop-rock music. I admire
them immensely for that, however, the band, especially Rob Thomas, have zero stage presence.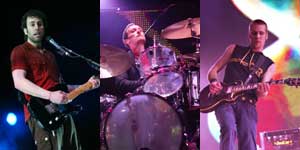 Rob Thomas has a remarkable set of pipes and demonstrated it well throughout the entire set. Too many artists who have only a few albums choose to showcase their most recent album and play a few choice hits. I must say, Matchbox Twenty respected their catalog and played a good amount of songs from all three albums. Heck, they played 30 minutes longer than John Mellencamp has played at any show in the last decade and he has four times as many albums. However, the band never lit fire to that stage. At one point in the show I found myself more enamored with a girl in a ripped red shirt that was dirty dancing with
another girl and the beer vendor. In fact as I looked at my section, more of them were more inclined to watch that spectacle than the one taking place on
stage.
Matchbox Twenty may be one of the few rock acts who will repeatedly make unswerving music for the next ten or fifteen years. When the day comes for them to put out a "Greatest Hits" disc it will be one of the best selling of it's kind ever, download or no download, people will want all these hits on one CD, I guarantee it. They have an instantly decipherable resonance and their songs are captivating and easy to get into, but they have a long way to go with their live performances. How about show more energy, work the crowd, get excited and break a sweat? Rob Thomas walks across the stage as if he is in no hurry. He's not a bad performer at all, but he's got nothing on Bono, as Thomas just appears to run through the motions while performing. This was where Mark McGrath and Sugar Ray outdid Matchbox Twenty, they got the crowd into it, worked them into a frenzy and did everything they could to seize the crowds attention, even if it meant entering the crowd and running around interacting with the fans. They managed to show why they are still here long after their fifteen minutes eclipsed years ago. While I never saw Matchbox Twenty as a one hit wonder, I don't see them gaining any new fans through their live performances, whereas U2, Springsteen and Kiss more than tripled their fan bases with their exhilarating epic shows.
All in all, if these two bands choose to tour together again, you may very well see Sugar Rays name on top of the tickets...just proving that a little sugar goes a long way.